Leonovus Torozo Secure File Sharing, Transfer and Cloud Storage Solution
$4/seat/month for individuals, or $6/seat/month for businesses, and enterprises, and basic service with 50GB of cloud storage
This is a Press Release edited by StorageNewsletter.com on May 13, 2022 at 2:02 pm
Leonovus Inc. launched its Torozo, a SaaS that meets the growing need for an all-in-one, simple-to-use, low-cost and secure file sharing, file transfer and cloud storage application.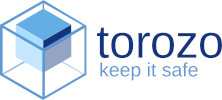 The security of private personal information is paramount in today's digital world. Individuals need Torozo, a hyper-secure, digital safety deposit box with secure sharing and work-from-home capabilities for legal documents, medical information, created content, hard and soft crypto wallets, NFT storage backup and secure messaging.

The need for enterprise data protection is also paramount. Torozo has Bring-Your-Own capabilities that provide codeless integrations for authentication, identity, communications, analytics and storage resources. It aligns with and embraces established mechanisms for maintaining control and governance. Taking advantage of company's existing policies, procedures, and controls, it slides in and blends with the IT solution stack. Once configured, IT teams manage and operate these solutions areas as they always have. Torozo is agnostic – any cloud, hybrid, or on-premises configuration that you need. Add the firm's Smart Filer technology and user immediately have a smart, secure, data lake feeding its data warehouse.
Torozo evolved from several years of product development the company undertook for the Government of Canada and its need for a secure file sharing and file transfer solution. Powerful yet easy-to-use administrator and analytic tools ensure performance, data integrity and availability beyond anything currently available. By the end of the year, Torozo will add post-quantum data protection and the firm's patented encrypt, shred, and spread technology, which provides data availability and ransomware protection.
Pay only for the storage you need
Pricing is $3.95/seat/month for individuals, or $5.95/seat/month for businesses and enterprises. The basic service comes with 50GB of cloud storage with additional low-cost storage automatically added as needed for less than a penny/GB/month. Unlike other services, Torozo customers do not have to pay monthly flat fees for compute and cloud storage that they never need.
Read also :