Raidon iR2025 Internal RAID Module Support in One CD-ROM Bay for 2x 2.5" 9.5mm HDD/SSD
Provides RAID-0/1 function.
This is a Press Release edited by StorageNewsletter.com on April 22, 2022 at 2:00 pm
Raidon, a brand name of Raidon Technology, Inc, announces iR2025 internal RAID module designed with key lock and support 1xCD-ROM bay for 2x 2.5" 9.5mm HDD/SSD.

It has the panel RAID mode button setting and is built in LCD and LED display for system monitoring the RAID and HDD status.
The iR2025 supports 2×2.5″ SATA disk at the same time, and provides RAID-0/1 function that can improve data read and write performance, and also can prevent system downtime caused by a single HDD failure. It is also equipped with a LCD display and LED indicators for system monitoring during operation so users can grasp the status of the RAID and disks at all times.

The iR2025 comes with the company's standard hot-swappable drive tray with lock to secure the drive in place, and to protect the data safely. Besides, it is equipped with the 4cm silent fan for the better heat dissipation and to extend the usage cycle of HDDs.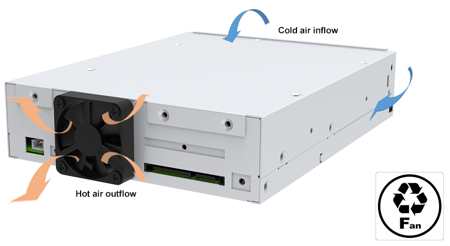 It support 1×5.25" optical disc drive size, and fits in the servers and industrial PCs and workstations. It is for users who need the convenient and secure extractable hard disk RAID internal storage.
Features
For 2×2.5" 9.5mm SATA HDD/SSD RAID module in one CD-ROM bay
Designed with LCD and LED display
Removable tray with key lock
Hot swappable drive tray
Silent fan for heat dissipation
Provide software monitoring program for status check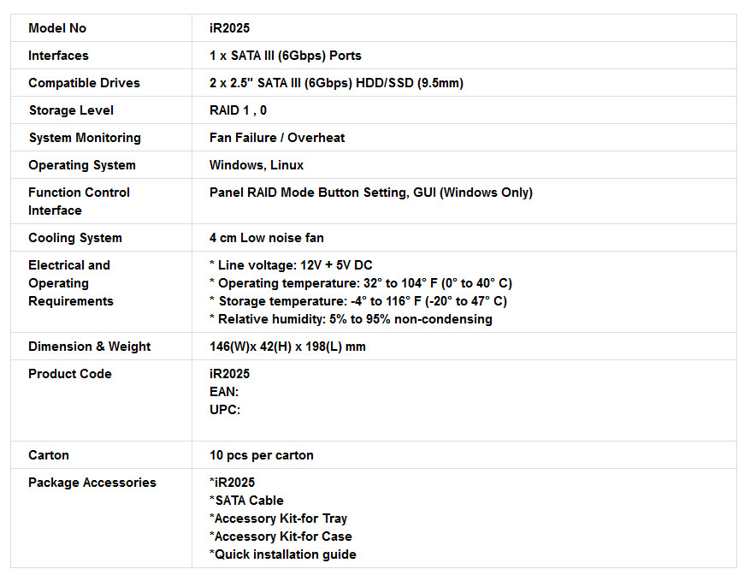 Read also :