First Global Data Environment From Hammerspace
That also expands executive team in sales and marketing.
This is a Press Release edited by StorageNewsletter.com on November 15, 2021 at 2:02 pm
Hammerspace, Inc. unveiled the first Global Data Environment that breaks down the boundaries of data access for users and applications anywhere to create, process, store, and protect data on any existing data center or preferred cloud infrastructure.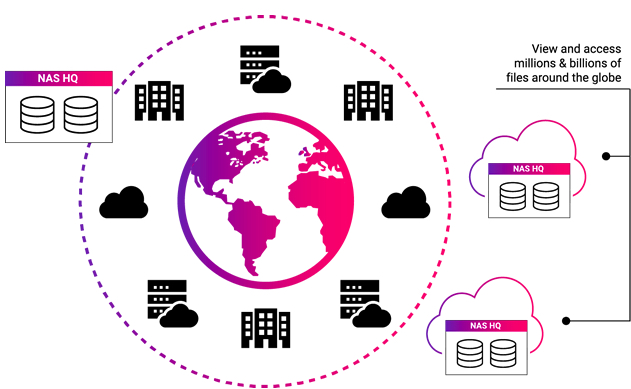 Organizations have struggled for decades with the challenge of using file data outside the data center where it was created. This limitation is holding back the speed of research, innovation, and growth of data-driven businesses.
Introducing the Global Data Environment
The company recognized that data is less valuable when it is isolated in different silos and trapped in various locations. The Global Data Environment provides a solution to connect global users and applications with their data on any existing data center infrastructure or preferred public cloud service.
Any Datacenter, Any Cloud, Any Region, Anywhere – Data silos proliferate each time new data sets are created and stored in a proprietary vendor's datacenter, NAS or object storage. Every time data is moved to a new cloud, a data silo is born and may even be isolated in a single region within that cloud. While the power of each technology is valuable and designed for a purpose in the workflow, it also limits organizations from having the flexibility to use their data where it is most cost-effective, closest to the compute, or where a distributed workforce is located. The firm allows customers to leverage existing storage investments and select from their choice of cloud providers and cloud services with Hammerspace Data Orchestration to store, move, replicate, recover, tier, and archive data.
Applications Anywhere – File data is created, processed, published, and archived by a variety of applications and software tools that reside in data centers, a variety of clouds, and on user workstations. These applications are most powerful when they have direct access to a complete data set. Company's objective-based policies enable users to automate workflows on a per-file basis or for sets of files and create rules to move files to specific locations based on milestones, activity, performance, cost, location and more.
Users Anywhere – People are increasingly working from all parts of the world. Organizations seek to grow their talent pools with access to the optimal team members no matter where they reside the firm provides users with access to the Global Data Environment, across a variety of storage network protocols, Kubernetes distributions, and with data services across a variety of clouds. Files are made available with the low latency responsiveness needed to do productive work. Hammerspace automates and optimizes the movement of data to the user with file granular replication and objective based policies.
New Channel Program
Hammerspace is also introducing its new channel program, Partnerspace, which integrates tightly with the channel for 100% of their customer engagements. The channel brings the deep experience needed to help organizations that are grappling with distributed datacenters, hybrid cloud strategies, and empowering a remote workforce. The program is designed to help our partners accelerate their business by bringing new disruptive solutions to their customer base in a consultative manner.
Expands Executive Team High with Growth Experience in Cloud, Data Management, and Storage
The firm has brought on a team of experienced leaders from high-growth companies who have led successful
company growth and customer engagement strategies as cloud adoption accelerated and workforces became
increasingly distributed.
Chris Bowen, SVP of WW sales, previous global sales leader for storage, data science and cloud gateways companies, including StorOne, Iguazio, and Avere Systems
Jim Choumas, VP of channel sales, previous channel leader with cloud and data management companies, including Panzura, Igneous, Qumulo and NetApp
Molly Presley, SVP of marketing, previous marketing leader in SaaS, cloud software, and data intensive file system companies, including Pantheon Platform, Qumulo, Quantum, DDN and Spectra Logic
"ASG has been honored to advise professional media groups on the optimal solutions to help them bring their media assets to life. With our focus on M&E post-production, we are enthusiastic to see the innovation Hammerspace is delivering to the industry to join datacenter environments with the massive scale and power of the cloud." sais Dave Van Hoy, president, Advanced Systems Group.
"P1 Technologies has been proud to bring the latest and most innovative technologies to our customers for years. Our user recent P1 Technologies Summit, our customers were inspired by the prospect of bringing together the work of their distributed workforce in a single data environment that spanned both their datacenter and cloud infrastructure." said Aaron Cardenas, CEO, P1 Technologies.
"For years, I have spoken to customers in M&E, life sciences, research computing and enterprise IT that constantly struggled with sharing their file data with distributed users. They have tried to build their own solutions, they have tried to integrate multiple data movers, storage solutions, and metadata management solutions and never been satisfied with the results. Hammerspace took on this really tough innovation challenge and have created an elegant, efficient, integrated solution," said Presley.
"What initially attracted me to Hammerspace was the executive leadership team and incredible talent being formed across the company. I knew that with this team, the culture would align to my values and the type of company I wanted to be part of. Secondly was the disruptive nature of the technology and how it was addressing the needs of the market, with huge upside. Hammerspace checked all the boxes for me, so I was thrilled and honored to join the team," said Choumas.
Read also :
Comments
The Hammerspace announcement confirms the new direction of the company after several iterations and tries. Started under Primary Data with real difficulties to preach the approach, probably too early, the company finally morphed into Hammerspace to be fully dedicated to what the firm calls today a global data environment.
The genesis of the company came from Tonian Systems, an Israeli software vendor founded in 2010 by Sharon Azulai and Benny Halevy, that developed at that time an independent pNFS - Parallel NFS - software stack, what was named Open-pNFS. Primary Data launched by David Flynn in 2013 acquired Tonian to extend the technology footprint.
Sharon Azulai was also the founder of Plexistor in 2013, developer of a memory-based storage technology, acquired in 2017 by NetApp. He is currently managing partner at Katao Venture Partners. Benny Halevy is known in this domain by his experience at Digital Appliance Corp. who became Pillar Data Systems, and he also worked for Panasas and then co-founded Tonian to land finally at Primary Data as co-founder and CTO. He currently works at ScyllaDB, the open-source NoSQL databases compatible with Apache Cassandra.
Common to several tries in the industry at different levels, vendors have developed various models and approaches to bring the promise of a global namespace. It was and it's still a holy grail for the storage industry.
Historically we have to mention DFS, AFS and OpenAFS today promoted by AuriStor among a very limited number of players bringing two interesting dimensions the size of the sharing domain with hundreds of elements in a "cell" and the geographic capabilities.
We must also list WAFS - Wide Area File Services - and later SD-WAN who indirectly offer a wide data access to remote resources. For http/S3 based access it has some successes.
For some of us who follow deeply this area, we can also mention Acirro or Scale Eight both acquired by Intel in 2003, Tricord Systems acquired by Adaptec, Z-force and Zambeel acquired by Agami Systems in 2003.
All these facts to arrive in the file servers consolidation and virtualization moment, what we named in the past NFV - Network File Virtualization - and NFM - Network File Management - with players like Attune, coming from Z-force and later asset swallowed by F5 Networks in 2009, Acopia Networks also aquired by F5 in 2007, AutoVirt who collapsed, NeoPath acquired by Cisco in 2007, Rainfinity acquired by EMC in 2005 or NuView acquired by Brocade in 2006 for StorageX. Brocade has a even tried to develop a new iteration named File Management Engine. StorageX reappeared at Data Dynamics. It was the era where vendors tried to preach FAN - File Area Network - to surf on LAN and of course SAN.
With object storage growing and associated cloud, new players are arriving such Nasuni, Panzura, Avere System acquired in 2018 by Microsoft, CTera Networks, Morro Data, Peer Software or Tiger Technology and of course Primary Data and more recently Hammerspace. Pure cloud gateways appeared on the market as well and all introduce some new dimensions around cloud/object storage support, examples such JuiceData with JuiceFS, ObjectiveFS or LucidLink. This notion of gateway had progressively a negative experience associated with it and disappeared from the industry literature.
Clearly this domain is a very active for a few decades leveraging various front-end and back-end interfaces. Some key differentiators appear on the front-end side i.e on the client part with various access methods such NAS - NFS or SMB - or S3 capabilities. It's a key element to consider when users access solutions. At the same level the back-end connectivity is critical supporting NAS, "classic"  or legacy file servers, object storage and tape librairies and drives. Some add block storage as well.

One important dimension is the multi-access point. Having a global namespace is one thing but exposing it from several points bring the geo capabilities for clients and open some new capabilities.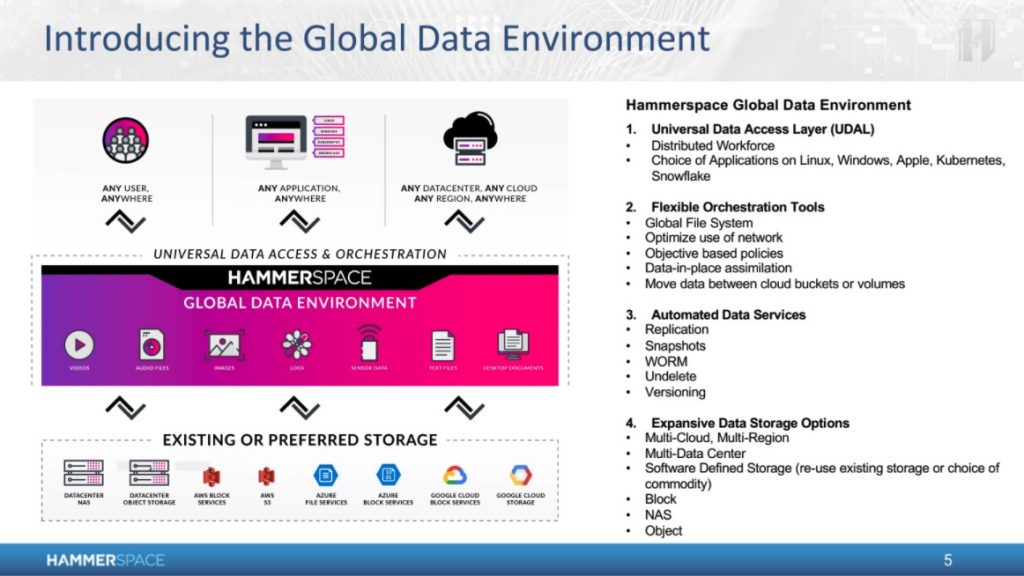 Different vendors use different term to define what they do, we see global file system, global file service, now global data environment with Hammerspace. We invite users to spend time to measure what is behind, where the meta data resides, is it centralized, distributed or even decentralized. Global file system is a delicate term for a software layer that finally unify and aggregate silos and independent back-end data sets, no new file system is created. Global file services has the beauty to include service that implicitly invite users to think about SaaS and flexibility aspects. The last approach introduced by Hammerspace tries to create some differentiators in the any-to-any flavor with sites, protocols, access methods, public, private, hybrid... to finally land onto the universality of the model. And we arrived at the notion introduced several years ago with the U3 - Universal, Unify and Ubiquitous - model.
It's clearly a new life for Hammerspace with new blood in the team. The company has to seriously improve its visibility as the product is probably today one of the most comprehensive in its category. The got-to-market execution will be key both from a channel perspective and an OEM one. To refresh our readers DataCore distributes Hammerspace's product under the name vFilO and we expect more in 2022 with also some vertical integrations.
Note also newcomers in this domain with recent announcement from Spectra Logic with its Vail product. Of course, Quantum with StorNext and StrongBox Data Solutions morphing to address enterprise now.. Globally this domain shows more than 20 players coming from various horizons but converging around the global namespace goal.
To summarize, here is a small list of elements to compare offering:
in-band vs. out-band logic i.e symmetric or asymmetric model,
software or appliance, container, SaaS flavor...
one or multi-access point,
global namespace capability,
geo zone for global namespace, exclusive/segmented zone, views, masking...
front-end access methods: NFS, SMB, S3... FTP, and clients limitations, CSI, block...
back-end support: NFS, SMB, S3, tape, public cloud... and limitations, block as well...
metadata propagation and protection, file, file size, file system... limitations,
data propagation if any, caching, topology, cascading...
data protection policies around copy, replication, erasure coding, ransomware isolation... and disaster recovery
data management with data placement, de-duple, CDP, snapshot, versioning, tiering, WORM...
data workflow and policies for cloud-based services integration specially for AWS, Azure and GCP,
performance with some parallelism dimension, load-balancing, QoS...
multi-writer behavior and protection, consistency model...
migration capabilities,
LAN and WAN support,
security of course with access protection, integration with Active Directory, IAM and encryption but also locking...
links and cross navigation across back-end environments...
chargeback, metering, billing, auditing...
open source components...