NextGen HPE StoreOnce Systems Enhance Hybrid Cloud Data Protection
Transform hybrid cloud protection with performance, simplicity and agility and protect data at edge, on-premises, or in cloud.
This is a Press Release edited by StorageNewsletter.com on September 15, 2021 at 2:02 pm

By Ashwin Shetty, product marketing, Hewlett Packard Enterprise Development LP
"I love watching superhero movies, and I am happy to report that there is no shortage of superheroes in the movie world today. The concept of superheroes and their alternate fantasy world appeals universally. It is no secret that at some point in our lives, we all – most likely – wanted to be a superhero. These larger-than-life characters engage in the classic battle of good against evil, which makes for an engaging scenario for audiences – while also driving up revenue for movie production houses."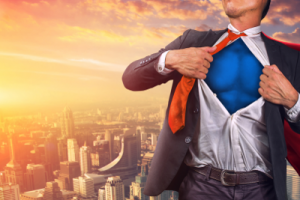 "This week I will borrow the concept of superheroes, and relate it to our own storage super hero – HPE StoreOnce."
Data is your most valuable currency
We're living in an era of digital transformation. Data is the engine of digital transformation and is an organization's most valuable currency. Companies depend on data to be instantly available and secure—wherever and whenever they need it. And, in an always-on world, the financial and business impact of unplanned downtime and data loss can prove catastrophic.
Data protection is increasingly challenging
As the value and business criticality of data increases, the challenges of protecting data are tougher than ever. Data growth, demanding service-level requirements, and an evolving threat and compliance landscape are putting pressure on escalating costs and intensifying risk.
Any loss of data can severely damage the reputation and performance of your company. Client information, payment data, personal files, bank account details, and so on, are some examples of data sets that can be hard to replace and potentially dangerous if information falls into the wrong hands. Data lost due to disasters such as a flood or fire is crushing, but losing it to hackers or a malware infection can be catastrophic to any business. What's more, as companies transform to hybrid cloud, protecting applications across the data center and the cloud can prove to be increasingly complex.
All of these concerns lead up to the inevitable conclusion that now is the time to rethink your data protection strategy.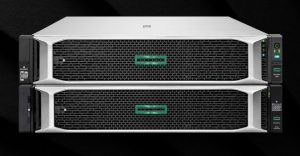 Next-generation HPE StoreOnce Systems
Today, we are happy to introduce the next generation of HPE StoreOnce systems that can scale from smaller, remote offices, to the largest enterprises and service providers. They transform your hybrid cloud data protection with better performance, simplicity and agility – than most traditional backup solutions – and protect your data at the edge, on-premises, or in the cloud. These appliances are designed to meet the increasing demands of SLAs across a spectrum of RPOs, and RTOs) From rapid recovery to long term retention, your backup and recovery operations will be streamlined and simplified.
StoreOnce modernizes data protection for your hybrid cloud environment by neutralizing threats like ransomware, simplifying operations, delivering on SLAs, and protecting data – without any lock-in, and with rapid recovery on-premises in your datacenter or low-cost archiving in the cloud.
Speaking of super heroes and amazing capabilities, here are some of the ways you can realize the benefits of the StoreOnce systems.
Achieve protection against ransomware. StoreOnce gives the confidence that data is recoverable with a data protection platform that is reliable by design. Mitigate ransomware threats with 3-2-1-1 data protection best practice, encrypted backups, data integrity checks, role-based access control, and rapid data restores. The solution includes the StoreOnce Catalyst API which reduces complexity, cost, and risk by efficiently replicating apps and data. Most importantly, HPE protects mission-critical data stores from ransomware attacks by providing data isolation and preventing ransomware from accessing data on the StoreOnce, ensuring data integrity.
Click to enlarge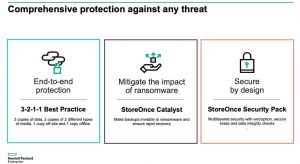 Take control of data growth. A scalable portfolio of physical and software-defined StoreOnce backup appliances provides you with a range of pay-as-you-grow capacity points, and up to 66PB in a single system. StoreOnce makes every gigabyte of storage go further with efficient de-dupe and data reduction technologies that reduce your backup costs and footprint by up to 95%, on-premises and in the cloud.
Click to enlarge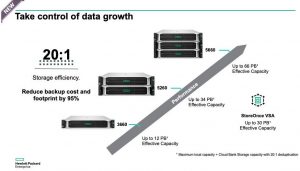 Optimize your cloud investment. StoreOnce with HPE Cloud Bank Storage delivers simple, efficient, and reliable backup to the cloud. It lets you cloud-enable your storage, backup, and enterprise apps, as well as natively integrate your choice of cloud service provider – without the need for a separate gateway or virtual appliance. You can reduce the time, cost, and network bandwidth for your cloud storage by 20x with highly efficient de-duped data transfer, as well as store encrypted, self-describing backup data or simple cloud disaster recovery.
Click to enlarge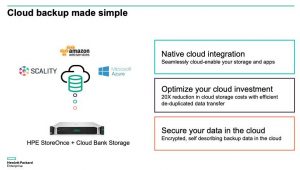 Deliver on SLAs. StoreOnce helps you break the backup window with backup speeds of up to 105TB/h. You can facilitate direct backup from your Primera or Nimble array to StoreOnce, delivering up to 23x faster backup and 15x faster recovery for your enterprise applications.

Gain flexibility – without any lock-in. StoreOnce delivers investment protection and helps eliminate lock-in with a choice of physical or software-defined deployment, and flexible-as-a-service consumption. It has integration with a rich ecosystem of ISV partners, providing the flexibility to deploy their preferred backup software for edge-to-core workloads.

Discover ease of use. StoreOnce takes the time and stress out of data protection, reducing management time – with multisystem and multisite visibility and management – from a single pane of glass. It empowers your application owners with self-service protection, enabling them to control end-to-end security easily and efficiently for all of their applications – from the data center to the cloud – using familiar native user interfaces.
Click to enlarge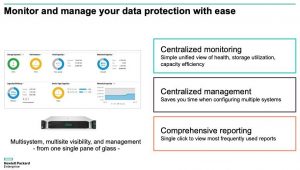 Take advantage of software-defined protection for virtual and cloud environments. StoreOnce VSA extends the deployment options with the agility and flexibility of a virtual appliance, removing the need to install dedicated data protection hardware. All the features of the purpose-built StoreOnce systems are available in a software-defined backup target of up to 500TB of usable capacity, which grow in 1TB increments.
Click to enlarge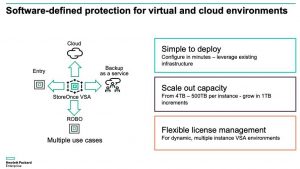 Modernize your hybrid cloud data protection
If you create a strong line of defense now to secure business-critical data and ensure application availability, your organization will be able to deliver more than business continuity. The next-generation StoreOnce platform delivers end-to-end protection for hybrid cloud – natively linking your primary, secondary, and private/public cloud storage.
The Avengers, Spiderman, Black Panther, Superman – they have some amazing powers like flight, shape-shifting, super speed and strength. We all need superheroes in our lives, and so do our business data and applications. With our enhanced super hero – StoreOnce – and its amazing capabilities, you can rest assured that your data is always protected.
Resources:
HPE StoreOnce Systems with StoreOnce Catalyst provide a single, high-performance backup architecture that spans the entire enterprise.
Counter ransomware attacks to prevent data loss and downtime Secure your data and restore quickly and simply with HPE data protection solutions.
Data is your most valuable asset. Protect your hybrid cloud environments with StoreOnce Systems Infographic.
5 tips to defend against ransomware attacks. Infographic