Credence Security and ACE Lab Strengthen Partnership
To cover Middle East and Pakistan region
This is a Press Release edited by StorageNewsletter.com on September 14, 2021 at 1:30 pm
Credence Security DMCC, a regional distributor of specialized solutions in cybersecurity, forensics, governance, risk and compliance, has strengthened its existing partnership with ACE Lab, in data recovery and digital forensics technologies to extend in order to cover the entire Middle East and Pakistan region.
(L) Garreth Scott, MD, Credence Security, and Max Putivtsev, chief commercial officer, ACELab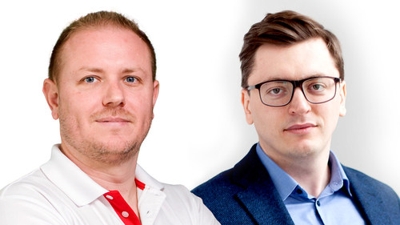 ACE Lab is a manufacturer of professional-grade data recovery equipment. Its proprietary PC-3000 product line comprises solutions that enable successful data recovery and digital investigation from storage drives.
Credence Security will bring ACE Lab's PC-3000 products to law enforcement agencies, government departments, digital forensics laboratories and enterprises across the GCC and greater Middle East region. By leveraging PC-3000, customers will be able to retrieve digital assets that seemed unrecoverable before. The industry-proven PC-3000 tools empower organizations to recoup data and extract digital evidence even from physically damaged and password-protected devices.
Credence Security will be responsible for the pre-sales activities, product demonstrations, end-user enablement and post-sales support for PC-3000 customers.
The VAD will provide regional organizations access to tools from ACE Lab's PC-3000 portfolio including:
PC-3000 Portable III Ultimate System, a hardware-software solution that enables quick and easy recovery of digital evidence from logically and/or physically damaged SATA/PATA/USB HDD drives, SATA/PCIe SSDs, RAID as well as USB flash thumb drives AND SD/mSD.
PC-3000 flash All-in-One Package, a set of solutions that offer advanced modes for NAND data recovery.
PC-3000 Mobile, a specialized solution that allows data recovery from smartphones and tablets. It features a set of analytical functions, tools for forensic analysis, and content parsing modules, enabling users to retrieve as much data as possible.
"Data loss is a serious problem for organizations of all sizes. It can be caused by several factors including hardware malfunction and physical damage. Losing data means losing time and resources to recover information that is crucial to any business. This is driving the emerging need for professional tools that enable effective data recovery," said Max Putivtsev, chief commercial officer, ACE Lab. "Credence Security is renowned for its outstanding expertise in the fields of cybersecurity and digital forensics, and we are proud to partner with them in bringing our innovations to the region."
Kevin Buchlsales manager, digital forensics & incident response, Credence Security, said: "ACE Lab's unmatched reputation as a pioneer in the digital forensics market makes their hardware-software solutions among the most sought-after tools for professional data recovery. We are honored to add their portfolio to our existing basket of world-leading Digital Forensics solutions that we distribute across the region, and we are committed to supporting them as they continue to deliver state-of-the-art data recovery technologies."
About ACE Lab
ACE is a trendsetter in professional tool development for the HDD repair and data recovery industries. Under the ACE Lab trademark, it develops proprietary data recovery technologies, and provides customers with comprehensive and reliable professional data recovery tools through its PC-3000 product line. IT has set the standard for professional data recovery tools by continuously perfecting it and remains the proven leader in the field. Purpose-built solutions combine technologies, solutions and expertise gained over the last 29 years. PC-3000 systems are now being sold WW in 124 countries.