Sony and Fujifilm Pass LTO-9 Format Interchange Compliance Testing
They are the only two manufacturers of these tape media.
This is a Press Release edited by StorageNewsletter.com on September 13, 2021 at 1:31 pm
The Linear Tape-Open (LTO) Program Technology Provider Companies (TPCs), Hewlett Packard Enterprise, IBM Corporation and Quantum LTO Holdings, LLC, announced that Fujifilm Corporation and Sony Corporation have completed interchange testing and achieved LTO Ultrium gen 9 format compliance.

The completion of this testing permits these companies to use the LTO Ultrium gen 9 format trademarks on LTO technology products.
"LTO technology continues to pave the way for data protection and BC protecting vs. the growing threat of ransomware," said Sam Werner, VP, storage product management, IBM. "Building on more than two decades of data protection and storage innovation, LTO-9 offers end users more energy-efficient storage capacity than previous gens. It delivers a powerful, scalable and adaptable open-tape storage format that can provide industries around the globe secured and protected data vs. storage cyber threats."
These qualities are more important today as ransomware attacks have increased by 15% per year. The total cost of these attacks could exceed $6 trillion in 2021 alone. (1)  LTO tape products are designed to allow for an easy backup and fast recovery of data that can then be taken offline and physically unavailable from virus and other malicious attacks that can affect business operations and increase risk for loss of data.
"Storage best practices call for having a copy of data offline to ensure that infected files aren't able to corrupt the system," said Christophe Bertrand, senior analyst, ESG. "LTO products have an important role in data protection and are a critical component in ensuring that your system can be restored in the event of an attack."
The LTO Program enhances quality and confidence for storage managers by ensuring that all licensees pass a series of verification tests involving data interchangeability requirements prior to licensure for use of the LTO Ultrium trademarks. Additionally, annual tests of LTO technology products are performed by the TPCs to confirm that all manufacturers adhere to the Ultrium format specs. This means that buyers of tape drives and data cartridges, that include the LTO Ultrium format trademark logo, know that these products are Ultrium format-compliant when reviewing backup and archiving solutions.
Click to enlarge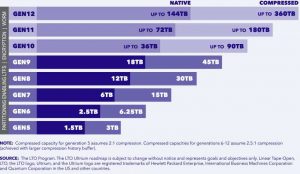 Announced in September 2020, LTO-9 specs are designed to support increased tape cartridge storage capacity of up to 45TB (2) when compressed. LTO-9 drives will provide backward read and write compatibility with LTO-8 cartridges, as well as many previously introduced features, including multi-layer security support via hardware-based encryption, WORM functionality and support for LTFS.
How to license LTO Ultrium technology
The LTO Program offers several different license packages – from enhanced packages that provide the specs and licenses to manufacture LTO Ultrium products, to basic packages providing LTO format specs.
Buyers seeking LTO Ultrium format-compliant products should look for the LTO Ultrium format verification trademarks on both tape drives and data cartridges.

About LTO format
The LTO Ultrium format is a scalable, adaptable open tape format developed and continuously enhanced by technology providers HPE, IBM and Quantum LTO Holdings, LLC (and their predecessors) to help address the growing demands of data protection in the mid-range to enterprise server environments. This high capacity gen of tape storage products is designed to deliver performance, capacity and reliability combining the advantages of linear multi-channel, bi- directional formats with enhancements in servo technology, data compression, track layout, and error correction. The LTO Ultrium format is licensed to, and format-compliant products are made by, multiple manufacturers; their production is not limited to one sole proprietor.
The LTO Ultrium format has a roadmap for growth and scalability. The roadmap represents intentions and goals only and is subject to change or withdrawal. There is no guarantee that these goals will be achieved. The roadmap is intended to outline a general direction of technology and should not be relied upon in making a purchasing decision. Format compliance verification, the AP-95 spec, is vital to meet the free-interchange objectives that are at the core of the LTO Program. Ultrium tape mechanism and tape cartridge interchange specs are available on a licensed basis.
(1) Cybercrime To Cost The World $10.5 Trillion Annually By 2025," Cybercrime Magazine, November 2020.
(2) Assuming a 2.5:1 compression achieved with larger compression history buffer available beginning with LTO gen 6 drives
Read also :