IBM LTO-9 Native 18TB Data Cartridge
45TB with 2.5 to 1 compression
This is a Press Release edited by StorageNewsletter.com on September 13, 2021 at 1:32 pm
IBM Ultrium 9 18 TB Data Cartridge models 553 and 653 deliver increased capacity than previous gen LTO Ultrium cartridges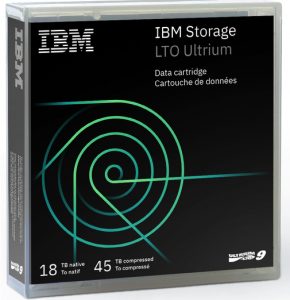 IBM 3589 Ultrium tape cartridges provide the ability to order Ultrium 9 18TB data cartridges with the following features:
Color-coding and prelabeling with the ability to specify a starting volume serial to help save time and labor when adding new cartridges into existing inventory
Individual jewel cases or bulk packaging
Cartridge memory built into every data cartridge to help enhance functionality and media reliability by storing access history and media performance information for use by the tape drive every time the cartridge is accessed
Half-inch particle tape with 18TB native capacity in a single cartridge
Ultrium 9 18TB data cartridges deliver flexibility in the spec and ordering of prelabeled and bulk packaged data cartridges for the LTO Ultrium family of products.
Shipping with or without jewel cases can also be specified when prelabeled cartridges are ordered.
Ultrium tape format is the implementation of LTO technology that is designed to provide capacity and performance with reliability in either a stand-alone or automated environment. It uses a single-reel cartridge and is for large volume backup, restore, and archive applications.
New models of 3589 are available to be ordered with Ultrium 9 18TB data cartridges. The Ultrium 9 18TB LTO format delivers tape cartridge capacities of up to 18TB native physical capacity (45TB with 2.5 to 1 compression). These cartridges can be used in LTO Ultrium 9 tape drives, the ninth-gen LTO Ultrium tape drive in the IBM LTO Ultrium family of products.
An Ultrium LTO-9 5-pack plain data cartridge option is also available.
Key requirements: This product is only for use with Ultrium 9 tape drives.
Planned availability date: September 10, 2021