SK hynix Launches Gold P31 Low-Power 2TB M.2 PCIe Gen3 SSD
Up to 3,500MB/s and 3,200MB/s sequential RW speeds, 1,200TBW
This is a Press Release edited by StorageNewsletter.com on August 24, 2021 at 1:32 pm
SK hynix, Inc. launches 2TB Gold P31 low-power SSD.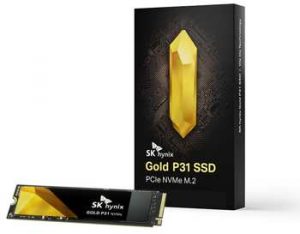 The Gold P31 line of SSDs will be complemented with a 2TB capacity version.
This PCIe NVMe M.2 SSD, has garnered praise from professional tech reviewers for its performance and power efficiency benefits. The drive released last year in 1TB and 500GB capacities, and is now adding a 2TB option for users of high-capacity storage including gamers and content creators. The 2TB version will be marked with a sleek, black-color PCB instead of the usual green.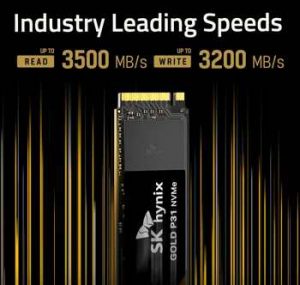 The 2TB Gold P31 will offer 3,500MB/s in sequential reads and 3,200MB/s in sequential writes, the highest from a PCIe Gen3 drive, as well as an endurance rating of 1,200TBW (for 2TB capacity; Terabytes Written: total amount of data an SSD can write in its lifetime), thus providing performance, capacity, power efficiency, and reliability. With read speeds of 172.2MB/s per watt of power, the Gold P31 is indeed 434% more efficient than comparable products (for 1TB capacity; Tallis, Billy. The Best NVMe SSD for Laptops and Notebooks: SK hynix Gold P31 1TB SSD Reviewed,  AnandTech. August 27, 2020).
Sanglae Lee (Robert), head, marketing, said: "For customers' demand for high-capacity and high-performance, the 2TB Gold P31 SSD will be their best choice. SK hynix will continuously expand the consumer SSD product line-up in order to enhance its market presence."
The company sells the PCIe NVMe Gold P31 lineup along with a SATA-interfaced Gold S31 series, both of which are available on Amazon.com for $280. The drives will be offered on Amazon's deal of the day sale on August 23 to celebrate the 2TB Gold P31's launch.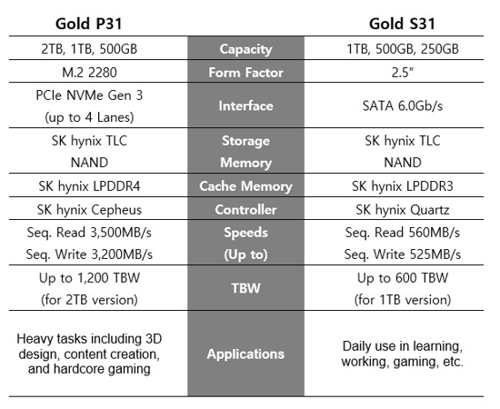 (1) PCIe (Peripheral Component Interconnect Express): via direct connection between storage device and mainboard, PCIe interface supports faster input/output transfer rate than SATA (Serial Advanced Technology Attachment) interface, which connects storage device and mainboard through cables.
(2) NVMe (Non-Volatile Memory Express): a communication protocol standard connected via PCIe interface, NVMe is a more advanced standard for ultra-high speed, high capacity data processing, supporting six times faster transfer rate than AHCI (Advanced Host Controller Interface) standard.
(3) M.2: a form factor of connecting storage device to a mainboard, M.2 supports faster transfer rate than existing SATA form factor, and its small size allows for small devices such as laptops and tablet Pcs.
(4) Sequential R/W: data transfer rate while reading or writing data on a single file
(*) Respectively, random R/W indicates data transfer rate while reading or writing data on multiple files (ex. running a program).