Neo Semiconductor Granted US Patent For NAND Flash Memory
X-NAND can achieve SLC speed with TLC and QLC densities.
This is a Press Release edited by StorageNewsletter.com on August 9, 2021 at 1:30 pm
NEO Semiconductor,  Inc., the developer of X-NAND architecture, announced the company has been granted two US patents under the title Methods and Apparatus for NAND Flash Memory.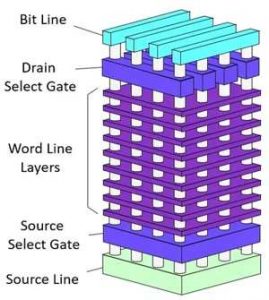 These patents describe new ways to program and access NAND flash memory including inventions related to buffering, reading, and writing techniques.
The X-NAND architecture addresses a large and unmet requirement for designing the next gen of NAND flash memory without disrupting fabrication processes or impacting any cell and array design structures.
"Technological leaps have a history of driving innovation, so the expectations for NAND flash memory becoming faster by more than one order of magnitude are high," says Andy Hsu, founder and CEO. "Imagine the possibilities when X-NAND QLC flash memory offers higher bandwidth than conventional SLC flash memory."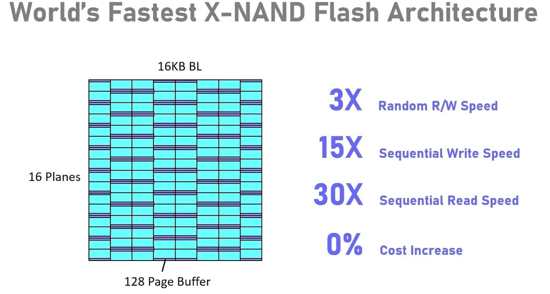 The X-NAND architecture deploys as a design solution, delivering precise control with benefits for any flash memory including SLC, MLC, TLC, QLC, and PLC technologies. Typically, X-NAND lowers costs by reducing page buffer size by 94%, which enables the array to be divided into 16 to 64 planes without increasing the die size while increasing performance 27x for sequential reads, 15x for sequential writes, and 3x for random reads and writes. X-NAND design options can reduce die sizes by up to 33% while lowering cost and increasing performance. The ability to design a product portfolio with unique outcomes makes X-NAND suitable for many manufacturers of storage applications, devices, and modules.
According to Jay Kramer, chairman, Flash Memory Summit awards program, and president, Network Storage Advisors Inc., "When considering the cost, speed, and other benefits with power, cooling and footprint efficiencies delivered by X-NAND, it's no wonder NEO Semiconductor won a Best of Show Award for Most Innovative Flash Memory Start-Up at Flash Memory Summit 2020."
IP is the lifeblood of the semiconductor and memory industry, so developing critical IP shapes future technology. These X-NAND patents join the company's portfolio to demonstrate that innovation can enable game-changing outcomes. Also, these latest patents reflect a continuing focus on invention and innovation and set the stage for further advancement and rapid commercialization of X-NAND enhanced flash memory.
About X-NAND
The X-NAND architecture by the company supports all 3D NAND layer counts and bit cell gens to enable flash memory manufacturers to deliver more innovative products. X-NAND lowers flash memory costs by minimizing page buffers, die sizes, and power consumption. Also, X-NAND accelerates flash memory performance by increasing parallelism and throughput during reads and writes. Products incorporating X-NAND will advance new use cases and grow market share for SLC, MLC, TLC, QLC, and PLC flash memory.
About NEO Semiconductor
It is a technology innovator focused on the next gen of 3D NAND flash memory technology. The company was founded in 2012 by Andy Hsu and a team in San Jose, CA. It currently owns 22 US patents in-memory design architectures and cell structures. In 2018, the company made a breakthrough in 3D NAND architecture named X-NAND that can achieve SLC speed with TLC and QLC densities. This provides a high-speed, low-cost solution for 5G, AI, and many applications.