Open-E JovianDSS Certified by VMware
For iSCSI, FC, and NFS protocols
This is a Press Release edited by StorageNewsletter.com on August 6, 2021 at 2:01 pm
Open-E GmbH passed the certification process for NFS, and is certified by VMware for the Open-E JovianDSS's iSCSI, FC and NFS (for NAS) protocols drivers.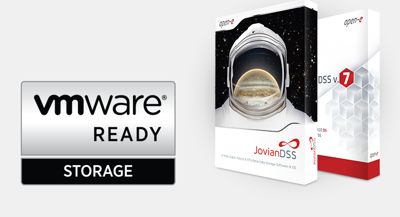 All of them are listed on the VMware Compatibility Guide list.
Open-E JovianDSS is a VMware-ready storage solution that utilizes iSCSI, FC, and NFS (for NAS) protocols for hosting hundreds of VMs on optimal storage space. The result is a cost-effective, flexible, and scalable storage solution for virtualization that offers HA, performance, and data efficiency.
"The majority of Open-E JovianDSS implementations includes virtualization, and VMware is one of the most popular choices of our customers. That is why we strive to constantly certify our solution and maintain its compatibility with this hypervisor. We work closely with VMware to make the storage appliances of our customers ready to support as many VMs as their business might require with a reliable, secured, and flexible environment," says Krzysztof Franek, CEO.
Open-E JovianDSS is a ZFS- and Linux-based storage software designed for SDS environments. The software addresses the needs of enterprises, SMB users, data centers, and cloud providers seeking a unified NAS and SAN solution with on- and off-site data protection, consistent snapshots, thin provisioning, compression, de-dupe, and more.
Read also :