GigaOm Radar for Enterprise Kubernetes Storage V1.0
Leaders: Pure Storage, Linbit, VMware, NetApp, and Dell
This is a Press Release edited by StorageNewsletter.com on July 13, 2021 at 2:02 pm
Here is an abstract of a report, published on June 29, 2021 and written by Enrico Signoretti, Arjan Timmerman, and Max Mortillaro, analysts for GigaOm. It is available on the web site of Portworx, Inc., acquired by Pure Storage last year.
GigaOm Radar for Enterprise Kubernetes Storage V1.0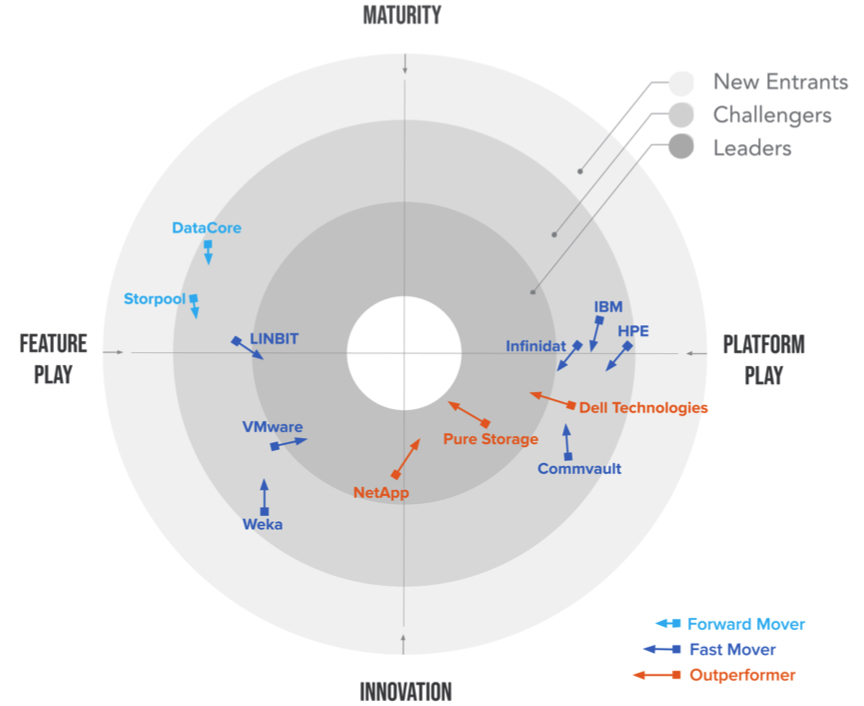 The GigaOm Radar plots vendor solutions across a series of concentric rings, with those set closer to center judged to be of higher overall value. The chart characterizes each vendor on two axes – Maturity vs. Innovation, and Feature Play vs. Platform Play-while displaying an arrow that projects each solution's evolution over the coming 12 to 18 months.
As you can see in figure above, Kubernetes storage solutions for the enterprise are distributed across the entire radar, due to the broad spectrum of solutions and various levels of development and maturity.
The lower-right sector highlights the innovation leaders in enterprise Kubernetes storage. Thanks to its strategic acquisition of Portworx and the swift integration of Pure Storage Orchestrator in Portworx Essential, Pure Storage is now in a position to offer the most complete set of features for Kubernetes storage on its own as well as third-party storage arrays. Trailing Pure Storage, Dell Technologies is the only other vendor with complete support for Kubernetes across its entire range of storage arrays. In addition, it offers additional management features on top of its CSI plug-in.
Crossing from feature play to platform play is NetApp, with its excellent Trident platform and its Astra software-as-a-service Kubernetes storage solution that can also manage on-premises workloads deployed on NetApp storage arrays. This solution is quickly maturing and offers an interesting take on advanced data services and application mobility.
The lower-left sector of the radar shows VMware, on its way from challenger to becoming a leader. Its Tanzu solution is very complete and offers substantial capabilities to organizations. The dependency on VMware vSAN is a concern, but with vendors leveraging its vVOLs technology, that dependency will lessen. Still, better integration with other storage platforms would be preferable.
Another challenger in this sector is Weka, which is moving from innovation toward maturity. It excels in high-performance primary storage, giving the company a strong presence in the world of HPC and AI. It partners with SUSE to deliver a Kubernetes storage stack based on Rancher, but with storage delivered by the WekaFS shared file system presented through a CSI plug-in. Weka has also developed a partnership with Red Hat OpenShift and Run.ai to better support diverse use cases from its customer base. It scales well and is performance-oriented with low latency and strong throughput and IO/s capabilities. Its data protection feature, called Snap2Object Weka, allows snapshots to be taken in S3, and can enable immutable snapshots at the virtual filesystem level. Weka offers excellent capabilities for its market segment, but needs more and faster development for tighter integration into Kubernetes for things like CSI integrated snapshots.
On the right side of the radar, we find 3 vendors crossing or approaching the x-axis from Maturity to Innovation: Infinidat, IBM, and HPE. This kind of movement usually occurs when a vendor is in the midst of a profound transformation initiative. Infinidat offers a performant and robust platform with proven enterprise-grade capabilities including DR. Its solution is engineered to cope well under a variety of workloads and can help organizations segment container initiatives without negatively impacting production workloads. Trailing slightly is IBM, with a new solution for the OpenShift cloud platform called Spectrum Fusion that targets mission-critical/AI workloads. The solution integrates well with the Red Hat/IBM ecosystems and includes a number of deployment packs to support various applications out of the box. Last to cross the dividing line is HPE. The company has a very compelling roadmap and a unified set of capabilities across its CSI plug-ins, and we expect it to execute on the roadmap in the coming 12 to 18 months.
Commvault is a fast moving vendor in the innovation area of the radar (lower right). Its Commvault Distributed Storage (CDS) solution provides a good set of Kubernetes capabilities through its CSI driver, including dynamic provisioning of PVs, lifecycle management, encryption, multi-tenancy, replication and more. Commvault CDS is improving fast and keeps adding new features at a high rate.
On the left side of the radar, crossing from Maturity to Innovation, is LINBIT, a SDS solution built entirely on open source Linux components with a strong focus on replication capabilities, thanks to its DRBD component and its many replication modes.
Finally, 2 SDS solutions can be found in the upper-left sector of the radar: StorPool and DataCore. Both offer entry-level Kubernetes storage capabilities while focusing their development efforts on other areas, as the smaller arrows indicate. DataCore provides basic capabilities with SANsymphony, but note that investments in MayaData and its OpenEBS cloud-native Kubernetes storage solution make major development efforts on SANsymphony redundant and uneconomic in light of MayaData's advanced capabilities. StorPool, on the other hand, has a robust platform with good enterprise-grade features, but those are not yet exposed at the CSI plug-in level to be seamlessly integrated with automation tools.
Vendor positioning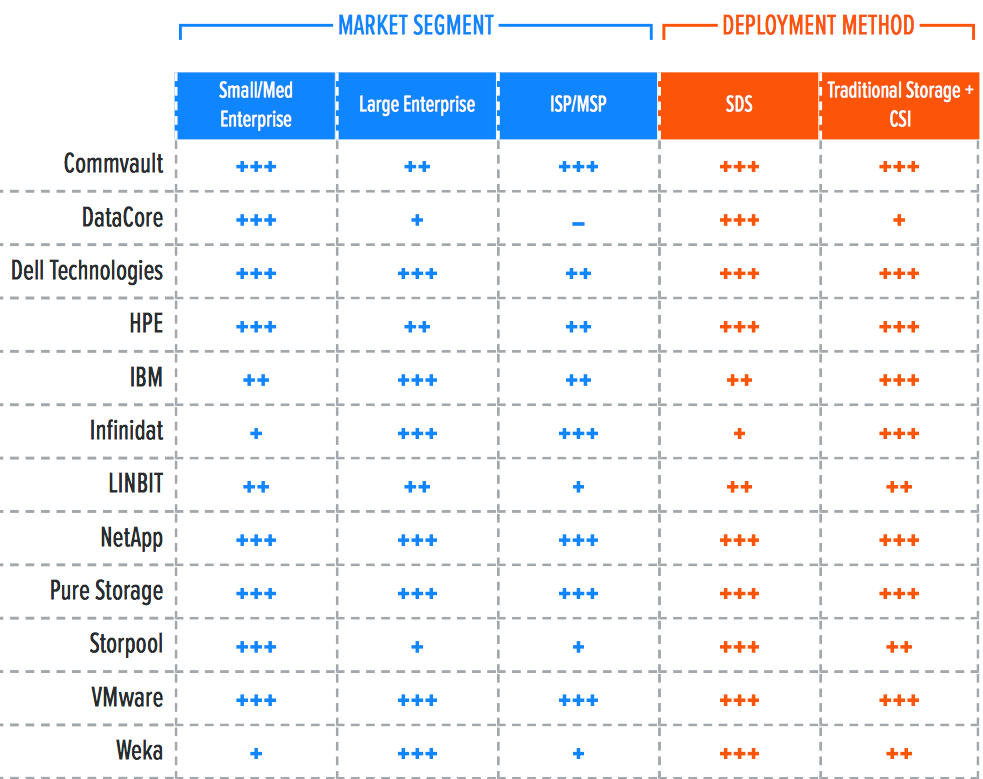 +++ Exceptional: Outstanding focus and execution
++ Capable: Good but with room for improvement
+ Limited: Lacking in execution and use cases
– Not applicable or absent