$8.3 Million Raised for Italian Cubbit; Total at $12 Million
European provider of distributed cloud storage
This is a Press Release edited by StorageNewsletter.com on July 12, 2021 at 2:02 pm
Cubbit Srl., an European provider of distributed cloud storage, whose services go beyond current market standards of security, privacy and environmental sustainability, has closed a €7 million funding round, comprising €3.5 million in equity, €2.4 million in convertible notes and €1.1 million in debt.
Techstars and Primo Ventures reinvest in the start-up. Fondo Digitech – Azimut Libera Impresa SGR S.p.A, CDP Venture Capital Sgr, Gellify S.r.L., the partners of IAG (Italian Angels for Growth, together with the holdings Moffu, Ulixes Capital and 10x Club of Federico Pistono), the F.O. of Massimo Prelz Oltramonti join as new investors.
The raised capital will support:
the growth of B2C and B2B Sync&Share cloud services,
the R&D of new solutions (i.e. backup and object storage),
the launch of next gen cloud: the first distributed cloud network reserved to pioneers companies.
"Few companies in the world are intercepting the trend of distributed cloud, and Cubbit the first in Europe," says Stefano Onofri co-CEO and co-founder. "The entry of qualified and influential financial partners shows that it is possible to develop Web 3.0 solutions also on this side of the planet. We are, in fact, seeing great interest from the most innovative Italian and European companies to adopt our solutions, while the US keeps being the market where we have most (40%) of our users."
Alessandro Cillario, co-CEO and co-founder of Cubbit, adds: "The deployment of Cubbit Cells will boost the domestic and international expansion of B2B and Enterprise distributed storage solutions. In addition, Cubbit will continue its R&D activities dedicated to both new product development and high-performance SaaS solutions. The raising of this capital will allow us to position ourselves among the players who are building Web 3.0 internationally."
Cubbit was founded in 2016 by four co-founders: the CTO Marco Moschettini, Stefano Onofri and Alessandro Cillario, co-CEOs, and Lorenzo Posani, PhD.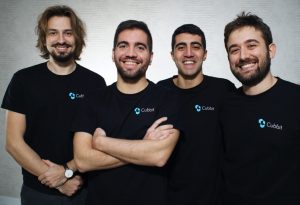 Gianluca Dettori, president of Primo Ventures, Fabio Nalucci, CEO of Gellify, and Mario Scuderi, managing partner of CDP Venture Capital, join the founders in the board of directors.
Read also :