History (1995): One Ramac 2 = Two Ramac 1
Second gen of RAID-5 for IBM System/390
By Jean Jacques Maleval | April 5, 2021 at 2:31 pm
The Ramac 2 is the second gen of RAID-5 for System/390 from IBM (San Jose, CA).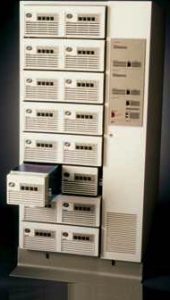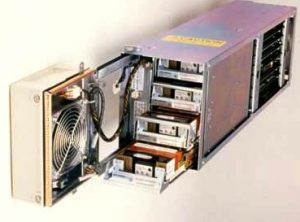 The main difference between the first (Ramac), announced last year, and the second (Ramac 2), consists of an upgrade of HDDs, from a 2- to a 4GB capacity for 3.5-inch units (Ultrastar XP with MR heads), able to double the storage capacity of the subsystem.
Thus, a maximum of 90 to 180GB can be achieved, using the same amount of required floor space, energy and cooling.
This time, each RAID-5 drawer with 4 drives, provides 11.35GB of usable storage. Each cabinet contains a maximum of 16 drawers.
The addition of faster parity calculation and dynamic disk reconstruction makes it possible to achieve Ramac 1 performance and availability despite the fact that each new drive handles twice as many I/O operations.
As with the Ramac 1, there are two different versions, one which connects to the 3390 model 6 controller, and another with an integrated controller. But, in the last case, it is only possible to connect a single Ramac 2 to the controller, which doesn't seem to correspond with IBM's game plan when it launched Ramac 1.
What this means is, to exceed 180GB, you have no choice but to buy a second controller. Big Blue decided to sell two 3390-6 controllers for the price of one, to avoid controversy.
All of the Ramac 2 will be available next year, as of August 30, including the remote copy option.
The connectable Ramac 2 version costs $1,176,000, including a 3390-6 controller, with 180GB on magnetic disk, 256MB of cache and 4 Escon channels. The same-capacity version with an integrated controller sells for $1,017,000. Each drawer is listed at $50,000 ($4.40 per MB). For Ramac 1, they went for $30,000 ($5.30/MB).
In principle, everyone is holding out for next year's announcement of the Ramac replacement, based on a totally different architecture, for mainframe peripherals. The unit will probably be called Seastar and will not support any of the existing Ramacs. Seastar will use Seascape technology and will be based on a new fault-tolerant ring design called Common Control Node (CCN) with a Serial Storage Architecture (SSA) interface at 100MB/s. It will accept disks as well as Magstar tape cartridge drives, and support mainframes and Unix systems. Its principal advantages include an ability to access the same peripheral by many different paths, fault-tolerance to connector failures, and to replace one peripheral by another while the system is running.
This article is an abstract of news published on the former paper version of Computer Data Storage Newsletter on issue 90, published on July 1995.
Read also :