GigaOm Radar for Hyperconverged Infrastructure
HP, Dell, Scale Computing, Microsoft, VMware, Cisco, Stormagic, Starwind, Nutanix leaders
By Jean Jacques Maleval | January 20, 2021 at 2:15 pm

This report was written on January 14, 2021 by Enrico Signoretti, senior data storage analyst, GigaOm.
Hyperconvergence has quickly become a popular option for IT infrastructures, no matter the size of the company or the industry in which it operates. Users like the simplicity and cloud-like experience offered by most advanced solutions. Moreover, several vendors are now working on solutions that keep the user experience similar across multiple environments, including major public cloud platforms, to help customers reach their hybrid and multi-cloud goals.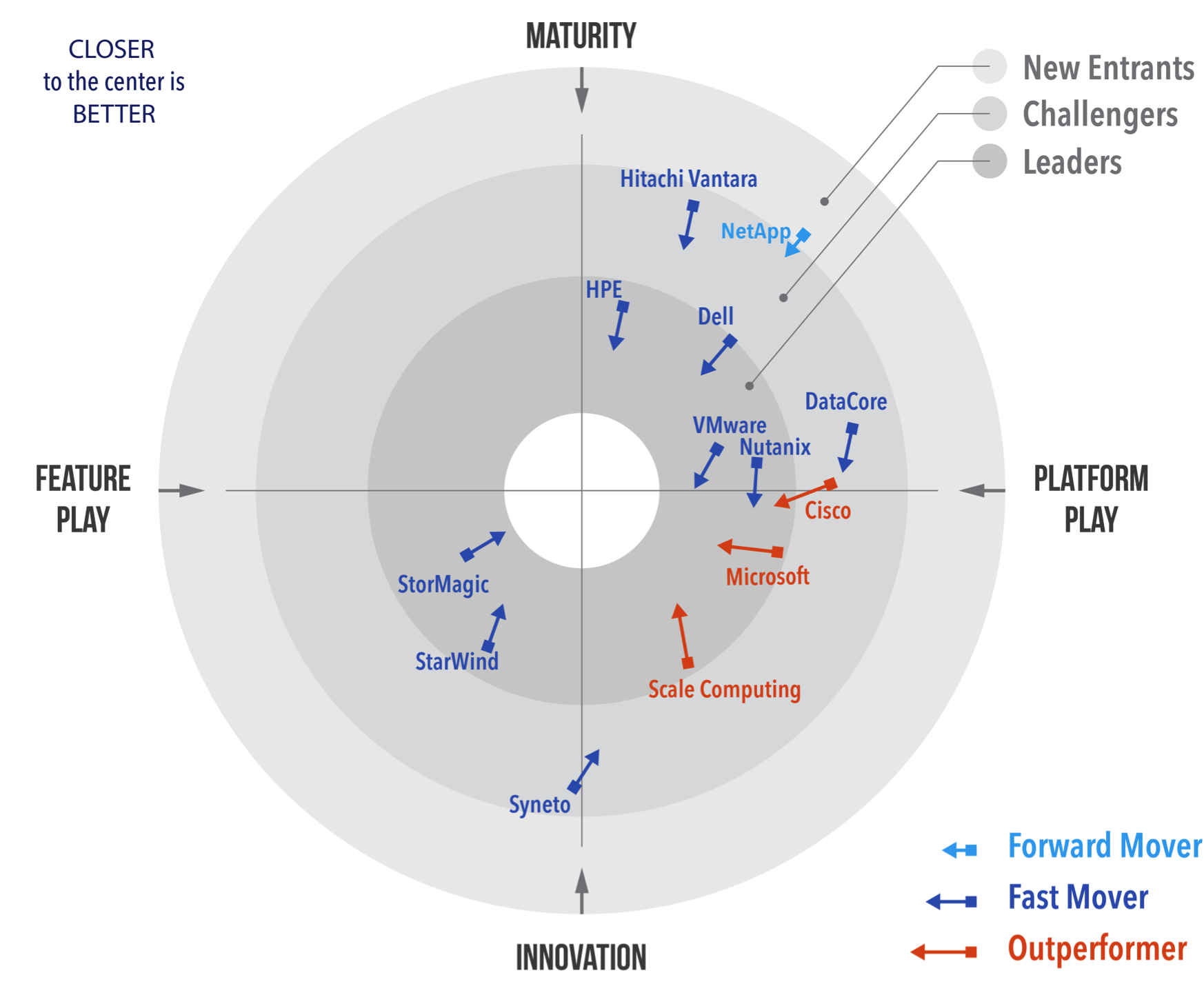 Vendor Insights

Cisco
Its strategy around HCI and, in general, around infrastructure management, is based on a holistic management layer provided by Cisco Intersight. Users will eventually be able to get an end-to-end monitoring and management tool that abstracts all infrastructure components, no matter the vendor, and provide a common user interface for provisioning, monitoring, and management of the entire infrastructure.
Also in the last year, the compay introduced several new features and enhancements that will be at the core of future product development. It has also committed to accelerating the release cycle of new versions of HyperFlex.
Using a minimum of 2 nodes, the solution is already proven for SME and ROBO use cases and Cisco is also working to separate the hardware and software to allow third-party hardware vendors to provide solutions for industrial environments and other edge use cases. Fleet deployment, management, and automation are available, and additional cloud services, including a cloud witness for remote 2-node clusters are aimed at simplifying the infrastructure while keeping costs at bay.
Users already can create edge-core solutions to replicate data from the edge to the core for backup and DR purposes. And the firm is investing heavily in the cloud to provide additional integrated services for its customers.
Last but not least, the solution supports both Cisco and third-party Kubernetes solutions on both its native and VMware ESXi hypervisors.
Strengths: The vision and roadmap around Intersight and HyperFlex is exciting. The solution will become more flexible and will offer multiple solutions to Cisco customers.
Challenges: Cisco is showing strong acceleration, however execution of its roadmap will be key and it will be some months before additional features and integrations become available to users.
DataCore
Its SANsymphony is a very flexible SDS storage solution that can be used to build HCIs with hybrid or storage-only configurations. This allows SMEs to minimize their initial investment as well as the risks involved with HCI, enabling them to reuse existing hardware and convert resources without disruption. The solution is scalable and offers block, file, and object storage protocols.
SANsymphony is efficient, requiring only 2 nodes, 8GB of RAM, and 1TB of storage in its minimal configuration, making it a good solution for small deployments in remote locations. The software is also flexible in terms of configuration options, thanks to several mechanisms that optimize the use of all available storage resources.
In recent years, DataCore made several enhancements to the platform, adding more integrations with the cloud, including a new analytics system and a better tiering option, and at the core of the product with support for NVMe in the back end and better encryption capabilities. The company also offers a series of pre-configured appliances, providing an end-to-end solution for those who want a single point of contact for support. Unfortunately, DataCore doesn't yet offer automation tools to manage large distributed infrastructures, limiting the use cases in edge computing scenarios.
SANsymphony has a simple licensing scheme and offers traditional perpetual licenses or subscriptions. It is very partner friendly, with all business driven by channel partners, and has specific programs for CSPs and MSPs.
Strengths: SANsymphony is a simple yet complete solution that eases the path to hyperconvergence. The company has been making steady progress with new features and optimizations.
Challenges: Large-scale edge deployments can be challenging due to the absence of an integrated orchestration and automation tool.
Dell Technologies
Its extensive product portfolio gives users plenty of choice regarding how to design their infrastructures for hyperconverged solutions. One solution, VxRail, has been particularly well received, and boasts one of the largest ecosystems and numerous certifications for enterprise use cases. Developed in conjunction with VMware, it takes full advantage of the entire VCF stack, with additional tools to simplify deployments and automate management operations.
VxRail is not specifically designed for edge use cases, but users can select nodes from a number of models for various use cases, including ROBO and SME. Dell also provides its own managed cloud service that users can access to create a cloud experience for infrastructures physically installed in their data centers. Kubernetes support is now available as well through VMware Tanzu Kubernetes Grid. System lifecycle management is a key aspect of this solution and heavily contributes to improving its TCO.
Dell hyperconverged solutions can be acquired via traditional CapEx models or new flexible subscriptions.
Strengths: VxRail is a well-integrated solution for large organizations, with an extensive partner ecosystem and a cloud-like experience, thanks to Dell Cloud. There are several models to choose from, including SME and ROBO dedicated nodes.
Challenges: The solution is not optimized for edge use cases involving several small sites characterized by very few VMs, space efficiency, and very low power consumption needs.
Hitachi Vantara
It has developed a compelling hyperconverged solution based on VMware vSAN and VCF, with additional features to automate first deployments and Day 2 operations. This includes end-to- end system lifecycle management, fast provisioning, and seamless integration with existing Hitachi Vantara storage systems.Its Unified Compute Platform HC series is available in multiple models and can be deployed in enterprise data centers as well as ROBO or SME scenarios. It is not designed for edge use cases, but Hitachi Vantara, thanks to its broad lineup of analytics products and services, can build very compelling end-to-end solutions for specific industry scenarios.
Hitachi Vantara doesn't provide its own cloud services but, because of the VMware VCF stack, users can take advantage of multiple solutions from major cloud providers, based on the same stack.
Kubernetes support is now available through VMware Tanzu Kubernetes Grid.
The company is also expanding its subscription program to include HCI solutions, but traditional purchasing options are available as well.
Strengths: This solution is an interesting value proposition with a solid stack and well-designed automation and management tools. The HC series also complements Hitachi Lumada
solutions.
Challenges: Large distributed infrastructures for edge use cases can be expensive compared to other solutions dedicated exclusively to edge use cases.
HPE
Its Simplivity is one of the most mature and feature-rich platforms on the market. It supports both VMware ESXi and Hyper-V, and provides a clear, simple, and cost-effective migration path for existing HPE Proliant customers who want to move to hyperconvergence.
One of the main factors differentiating Simplivity is its core storage architecture, which is designed to optimize the data footprint. This allowed HPE to build a solid set of data protection services-including snapshots, backups, and remote replication for DR-that are particularly bandwidth-conscious, an important feature for remote site data protection. In addition, Infosight, the AI-based analytic platform now available for most HPE products, offers a complete view of the entire stack and helps users with daily operations, system tuning, reporting, and support and capacity planning. Initial deployment is streamlined as well, so end users can get the system up and running quickly. Daily operations are also made simple with an easy-to-use interface and good integration with the hypervisors. HPE Simplivity supports Kubernetes through its CSI plug-in and virtualization platforms like VMware Tanzu.
Users can choose from a broad range of preconfigured appliances, including high-capacity and workload-specific nodes, as in the case of VDI. HPE Simplivity is part of the HPE GreenLake program, which provides added flexibility and a cloud-like purchasing experience.
Strengths: Simplivity is a solid platform that is easy to use and has the solid performance and capacity optimization associated with top-notch analytics.
Challenges: While ROBO and SME use cases are served very well by Simplivity, the hardware options and automation tools to support edge infrastructures are limited. Simplivity doesn't support direct backup or DR in the cloud.
Microsoft
Its strategy regarding Azure Stack HCI has evolved in the last year; now HCI is practically an extension of Microsoft Azure Cloud. Users can download and install a specific OS designed for HCI and opt for the pay-as-you-go model that is based on the resources used, starting at one core per day. Deployment is simplified, thanks to wizards and automation tools aimed at speeding up the provisioning of infrastructures of any size. System management is delivered through a management console available on Azure. Support is available via Azure Cloud as well, further simplifying the entire process while creating a consistent user experience across different services and environments.
Microsoft has also improved the core of Azure Stack HCI. Its distributed storage layer (Storage Spaces Direct or S2D) has been greatly optimized for better performance and lower resource consumption, while native backup and DR services are integrated in the stack. Infrastructure lifecycle management, including firmware upgrades, is possible via select hardware vendors.
An important feature is the ability to run AKS services directly on Azure Stack HCI, helping to bring Kubernetes to the edge. System administrators can also enable users to create and manage VMs in a self-service fashion.
The solution doesn't have a complete fleet monitoring solution yet, but it is quite clear that Azure Stack HCI can support infrastructures of any size for SME, ROBO, and edge use cases.
Strengths: Azure Stack HCI now looks like an extension of Azure Cloud, improving the overall user experience and purchasing model while also providing a seamless hybrid cloud user experience.
Challenges: Even though Microsoft has an enticing roadmap for Azure Stack HCI, fleet management is not yet available, making it harder to manage large distributed infrastructures.
NetApp
Based on the SolidFire Element OS, its HCI platform is a disaggregated HCI solution that is well integrated with the rest of the NetApp product line. The minimal configuration for this HCI starts with 2 storage and 2 CPU nodes, making it adequate for high-end SMEs, distributed enterprise infrastructures, and ROBO use cases, but not really suitable for edge scenarios in which power and resource efficiency in tiny clusters is mandatory to contain costs.
One of the main benefits of company's HCI is its support for VMware ESXi hypervisor, RedHat OpenShift, and Google Anthos, opening additional options for customers who plan to deploy Kubernetes in relatively small remote sites. Project Astra, still in preliminary release, will add further options to take advantage of this platform.
NetApp HCI can be deployed quickly, thanks to a series of automation mechanisms that simplify both initial deployments and system expansions. It can also present storage volumes to external servers for further consolidation in a remote site, but integration with the cloud is limited. Still, all remote locations can use a centralized SolidFire array at the core to bring together copies of data for DR through remote replication, helping users consolidate sites and workloads for better overall TCO.
The solution is available with standard purchasing models and through the Keystone subscription program.
Strengths: It is a good solution for large, distributed enterprises planning to standardize on solid storage technology while reaping the benefits of HCI.
Challenges: The product is not designed for small remote deployments and cloud integration is not on par with the competition.
Nutanix
It is a global market leader in enterprise HCIs, with a take on edge infrastructures that is quite different from the competition.
The solution can start with a minimal 1-node configuration, which can be a good solution for ROBO use cases in which HA is not a requirement. However, the resources needed to run the infrastructure make for a relatively expensive solution when compared with products specifically designed for edge deployments. Fortunately, users have plenty of choices, including Acropolis Hypervisor (AHV) instead of VMware ESXi and Hyper-V, to mitigate costs and simplify the entire stack.
Management and automation tools are well designed and scalable, but the real differentiator comes from the additional features the company is building into its platform-as-a-service offer. In fact, Karbon Platform Services (KPS) tremendously simplifies the development and deployment of custom applications for edge use cases in industrial scenarios, with integrated analytics and AI frameworks that can be leveraged both on-premises and in the cloud. And the availability of a native Kubernetes environment for this platform gives additional options to users considering future Kubernetes deployments at the edge. The solution also offers strong system lifecycle management functionality to ease entire stack (hardware+software) maintenance and upgrades.
Nutanix software is available for major hardware and cloud providers on a subscription basis. The channel and technology partner ecosystems are very extensive and provide additional assurance for the user about the overall flexibility of the solution.
Strengths: Nutanix is an end-to-end solution for building edge-to-cloud infrastructures with integrated and portable services. It has a strong ecosystem and partner network.
Challenges: It is more expensive than specialized solutions if you need to manage many small sites, each with only a few VMs.
Scale Computing
It offers a complete end-to-end solution based on its own virtualization stack, which is designed for small, medium, and distributed enterprises with a particular focus on edge use cases.
Even though its ecosystem of technology partners is still limited, in the last couple of years the company has signed important agreements with key partners such as Lenovo, Google Cloud, Acronis, Leostream, Parallels, Milestone, Intel, and others. It is noteworthy that the company is often praised by its large user base for the quality of its support, and it has a very friendly approach with channel partners as well.
When it comes to edge computing deployments, the vendor offers one of the most cost-effective solutions on the market, the Scale Computing HE150, based on Intel NUCs compute nodes connected to a clever networking solution on the back end that doesn't require external switches. This brings the cost and the number of components down to a bare minimum, making it ideal for unattended remote sites.
The company is also working on fleet management to provide a complete view of the entire infrastructure and automate operations on large-scale deployments. This SaaS solution can be leveraged as well by MSPs. DR on Google Cloud is an option that allows users to minimize upfront infrastructure investments.
Finally, ease of deployment and use are other areas in which Scale Computing has invested heavily.
New clusters can be installed in minutes and day-to-day operations are simplified, thanks to clean, well-designed dashboards. And the latest hardware appliances have improved VDI support, due to GPU support.
Strengths: This is an end-to-end solution that is easy to deploy and use. It is cost-effective, with tools designed to manage large ROBO and edge infrastructures. It is also MSP-friendly and now has better GPU support for VDI use cases.
Challenges: Scalability of single clusters is not comparable with what HCI market leaders provide. Even though the solution ecosystem is growing and all major use cases are covered, options are still limited.
StarWind
Its Virtual SAN (VSAN) is a mature product with thousands of installations around the world.
Deployed in 2- or 3-node configurations, it has been very successful for ROBO and SME use cases.
The company worked very hard on performance and efficiency, and VSAN can be installed on very small hardware setups and still leave enough room to run VMs.
VSAN is compatible with VMware ESXi, integrated via a vCenter plug-in, and with Microsoft Hyper-V, for which a full UI is available. This helped the company build a solid customer base among Windows users in the SME market. In fact, alongside the dedicated UI, standard Windows Server licenses can be used to run the product and reduce overall infrastructure cost.
The software is available on all major cloud providers, allowing users to build their own disaster recovery infrastructure by having virtual appliances in standby mode.
Centralized management is not available yet, but StarWind is well integrated with Microsoft System Center Operations Manager for automated upgrade management. And the vendor does provide a centralized monitoring and analytics platform for health checks, capacity planning, and performance analysis.
The software is available on pre-configured appliances on Dell and HPE hardware, but can be also purchased as a standalone product. Integration with StarWind VTL simplifies backup operations and moves them to the cloud for DR. A free version of VSAN is available for testing and for users without business-critical requirements.
Strengths: A mature, efficient product with a large user base, VSAN is well integrated with major hypervisors and is an optimal choice for both small and large Microsoft users. Multiple cloud options exist for backup and DR.
Challenges: The lack of a centralized management platform may induce the user to adopt Microsoft SCOM to manage large distributed infrastructures.
StorMagic
It has one of the few solutions designed specifically for edge and SME use cases. With more than 1,300 customers across all industries, and partnerships with the most important hardware manufacturers and cloud providers, StorMagic has built a simple yet very efficient product with strong security features and additional cloud services to ease deployment while improving user experience.
Usually deployed with VMware ESXi, StorMagic SvSAN also supports the Hyper-V and KVM hypervisors. It can run on practically any x86 hardware, with minimal resource needs, in cost-effective 2-node configurations. Leading server manufacturers such as HPE and Lenovo also offer servers with SvSAN preinstalled, which simplifies the purchasing process.
The management platform enablesbusers to manage thousands of sites from a single console, and the cloud-based witness service further eases deployment of large distributed infrastructures.
The firm has invested heavily in security over time, with a specific product for encryption key management (SvKMS) that complements the HCI solution. For customers with enterprise key management already in place, SvSAN can also work with third-party KMS solutions.
Users can choose between perpetual licenses with support and subscriptions based on capacity, with additional options for improved security, performance, and other services.
Strengths: Designed for edge computing deployments, with lightweight and resource-savvy architecture, this solution is easy to manage at scale and very cost-effective. There's also strong data encryption and integrated key management.
Challenges: Data protection, such as backup and DR, requires external products.
Syneto
It is a European company focused on SME and ROBO, with more than 70% of its 1500 customers in the manufacturing industry. The sweet spot for its hyperconverged solution is a 2-node cluster with ESXi hypervisor, though single-node installations are also supported for secondary sites and DR. Built around a solid, open-source core, Syneto has added several extensions to improve metadata handling, as well as several features to enhance security, performance, and data footprint optimization. VM data stores-file and block volumes-can be shared with external servers for improved infrastructure consolidation.
The hyperconverged solution is complemented by firm's Central Cloud Platform, a series of cloud services aimed at simplifying fleet management, remote system administration and support, and day-to-day operations for small environments.
The company offers a good snapshot mechanism and tools to manage local backups with replication capabilities for moving data to a secondary system for DR. Replication to a virtual Syneto appliance in the cloud is also supported. Other noteworthy features include integration with GPUs for small VDI deployments and integrated data protection appliances based on the same core technology.
Syneto has an SME-friendly channel program that focuses on direct resellers and MSPs, lowering costs and yielding better service for the end user.
The solution is currently available only as a pre-configured appliance, but the company plans to release a software-only version of the product in 2021.
Strengths: The solution is specifically designed for the SME market, with integrated cloud services to simplify system management and operations. There is a compelling roadmap for the integrated cloud services platform, VDI, and secondary storage.
Challenges: The firm has potential but it is still small, available only in the European market at the moment. Its minimum configuration is still too large for some edge use cases, but the company is working on future Intel NUC-based products and a cloud-based UI.
VMware
VMware Cloud Foundation (VCF) is the market leader in enterprise virtualization. Already at the base of many HCI solutions from third-party vendors, VMware has, in the last few years, expanded its reach to edge use cases, too. In fact, it is possible to run a VCF cluster in a 3-node configuration, making the solution a viable option for ROBO deployments and scenarios where it is necessary to run a small infrastructure in remote locations. VMware also ported its ESXi hypervisor to ARM CPUs, with an experimental version of the product available for free download, hinting at future support for tiny, power-efficient edge infrastructures for IoT and other advanced use cases. VMware provides several licensing options to meet the needs of all types of SME organizations.
The main advantage of VMware VCF at the edge is its ecosystem. In fact, the stack is totally integrated and tools like vCenter and vRealize Suite for automation and orchestration enable users to manage large distributed infrastructures with the same tools already in place for datacenter operations.
VMware has also made significant investments in the cloud, and the platform is now available from all major cloud providers, enabling organizations of all sizes to take advantage of these services.
Moreover, after acquiring Datrium, the company is now working on a compelling and cost-optimized DRaaS option for its customers.
Last but not least, VMware is quickly becoming a credible and strong player in the Kubernetes realm, thanks to the native integration and all Tanzu portfolio.
Strengths: The firp is a market leader with solid solutions for organizations of all sizes. VCF is now available on-premises and in the cloud, with additional cloud services planned for the future, for greater flexibility.
Challenges: vSAN may be expensive for deployments where non-traditional infrastructure approaches are taken at the edge to optimize cost savings.