Lightbits Labs: LightOS 2.1 Expanding Scale Out Disaggregated Storage Capabilities for Private, Hybrid and Edge Deployments
Software-defined NVMe/TCP storage solution scales infrastructure and reduces cost.
This is a Press Release edited by StorageNewsletter.com on December 18, 2020 at 2:13 pm
Lightbits Labs announced advancements to its cloud-native storage solution, enabling customers to confidently scale their private, hybrid, and edge cloud deployments.
The company, recently backed by Intel Capital, has extended its solution's capabilities with the delivery of LightOS 2.1.
This release further enhances performance, scalability, and low latency. This news underpins the company's vision of enabling organizations to unleash hyperscale storage for private clouds, but at a fraction of the cost of even the most advanced cloud storage offerings. LightOS 2.1 further enhances QoS for logical volumes during drive failure recoveries, multi-tenancy capabilities and adds directed-availability of snapshots and thin clones.
The new age of 5G, IoT, AI and ML and increasing analytic data, calls for cloud-optimized block storage volumes that support higher IO/s and bandwidth, and sub-millisecond, low-variance I/O latency. Like the Amazon EBS io2 Block xpress volumes, which was recently announced at the AWS Re:Invent conference, LightOS provides performance, low-latency block storage volumes for on-prem cloud native application environments.
Click to enlarge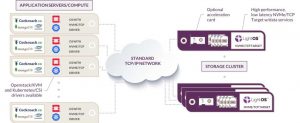 "Lightbits realized early on that disaggregated, high-performance SDS that utilized standard Ethernet networking is what would drive successful on-premises cloud deployments," said Avigdor Willenz, co-founder and chairman, Lightbits Labs, and previously co-founder, Annapurna Labs, acquired by Amazon in 2015. "The new Amazon EBS io2 Block Express volumes utilize scalable reliable datagrams that are implemented using custom-built, dedicated hardware. We specifically developed LightOS and NVMe/TCP to avoid the need for special network hardware yet provide a level of performance similar to local NVMe."
As AWS extends its infrastructure offerings to hybrid cloud with its Outpost offerings, the future of scalable infrastructure is in native cloud practices regardless of where cloud is deployed. For private, hybrid and edge cloud deployments, LightOS delivers the same or better performance than the latest Amazon EBS io2 Block Express volumes at lower cost.
"This enables us to bring high-performance infrastructure for all data centers with our key Intel product portfolio," said Remi El-Ouazzane, VP and data platforms group chief strategy and business development officer, Intel Corp. "Given our recent partnership with Lightbits, we've had strong customer momentum in the space of disaggregated storage over TCP with customers deploying the solution in production on bare metal edge, enterprise private cloud (financial), and multi-tenancy Kubernetes-based environment for cloud service providers."
LightOS scale out disaggregated storage solution is for the largest, performance-sensitive cloud native applications with improved price-performance, ease-of-implementation, availability and scalability. Further, as AWS is now announcing with EBS Gp3 volumes, LightOS has always decoupled IO/s from storage capacity and allowed for independent scaling of storage and compute. When combining this level of performance and flexibility along with other standard features such as thin provisioning, compression, snapshots and thin clones and the ability to utilize and extend the endurance of any flash, including QLC SSDs, it delivers exabytes-like 'Hyperscale Storage for All' for enterprise private clouds.
El-Ouazzane further states: "Our work with Lightbits to optimize the joint solution around Intel Xeon Scalable Processors, Optane Persistent Memory, 3D NAND QLC SSDs, and Intel Ethernet 800 Series network adapters has delivered improved performance and TCO for our customer ecosystem."
LightOS 2.1 is available and offers better performance, scalability and latency than the most advanced cloud offerings for private clouds. With a programmatic API, and integration with Kubernetes and OpenStack, and the choice of software-only or a fully integrated and ready-to-run appliance, LightOS unleashes the full power of private, hybrid and edge clouds for the next 10 years of cloud architecture.
Resources:
Blog: LightOS 2.1 – An NVMe/TCP storage solution and maturing at an accelerated pace
IDC Research: NVMe/TCP Enables the Democratization of Disaggregated NVMe-based Storage (registration required)
Video: Lightbits Labs Hyperscale Storage for All
LightOS 2.0 Product Overview: Software-Defined Composable Storage
Kubernetes and LightOS: Performance, Persistence, Simplicity
Apache Kafka and LightOS
Read also:
NVMe/TCP Enables Democratization of Disaggregated, NVMe-Based Storage
IDC research concluding on Lightbits Labs
December 11, 2020 | In Brief
Intel Capital Invests Into Lightbits Labs
It includes technical co-engineering, go-to-market collaboration.
October 1, 2020 | Press Release
Lightbits Labs LightOS 2.0 Enabling Cloud-Native Persistent Storage Integration for Kubernetes
Enables independent scaling of compute and storage, availability via clustering, provides virtual NVMe volumes, delivering low latency and high performance, and providing HA via target-side storage server failover.
July 1, 2020 | Press Release
Exclusive Interview With Lightbits Labs CEO Eran Kirzner
Accelerating storage with disaggregated architecture thanks to NVMe/TCP
May 7, 2020 | by Philippe Nicolas