TerraMaster: D2 Clone 2-Slot HDD/SSD Duplicator and Enclosure With USB-C
$120 diskless
This is a Press Release edited by StorageNewsletter.com on November 19, 2020 at 2:22 pm
TerraMaster Technology Co., Ltd. launches the D2 Clone 2-slot drive cloning and enclosure.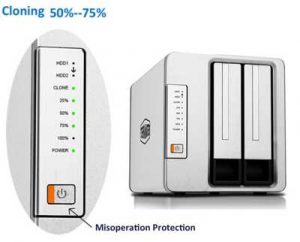 The D2 Clone is for professional content creators, businesses, and users that handle large amounts of storage, offering a fast way to clone data for backup and safekeeping. It can clone hours of video editing file, backups of media files, entire music libraries, surveillance video footage, business data, and more.
The D2 Clone features multi-drive compatibility, supporting a range of brands and models of 2.5″ HDDs and SSDs and 3.5″ HDDs, supports drives of up to 18TB capacity per disk slot. It has status LED indicators for progress monitoring and misoperation protection to prevent accidental cloning. The aluminum chassis with fan keeps installed drives cool at all times. It works as a DAS when connected to a computer. It uses a compatible USB-C connectivity and supports Windows, Mac, and Linux devices.
D2 Clone rear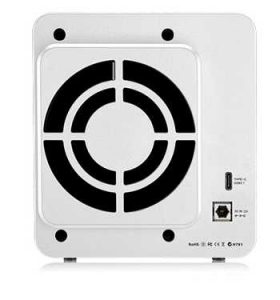 High-speed cloning
The D2 Clone offers offline high-speed from drive to drive without connecting to a computer. It can clone SSDs at speeds of up to 550MB/s, and HDDs at speeds of up to 200MB/s. It offers simple and hassle-free cloning. The device comes with 5 LED indicators in the front panel for progress monitoring.
Misoperation protection and power protection
It features misoperation protection to prevent accidental cloning and data loss. For users to start cloning without connecting to a computer, users simply need to press the power button twice within 10s. It also has power protection that prevents data loss in cases of power failure.
Aluminum casing with smart fan
Unlike most HDD cloning docks, it uses a sturdy aluminum alloy enclosure that provides better protection and heat dissipation for HDDs. It also comes equipped with a fan that keeps the drives cool at all times.
Worry-free warranty
The company's systems users can enjoy improved and exclusive worry-free warranty services with 24/7 rapid support and brand-new replacement within 2 years on registered products.
The Clone is available at the company's Webstore and partner resellers for $119.99/€119.99.
Read also :
TerraMaster: F4-210 1/2GB 4-Bay NAS With ARM V8 64b Quad-Core Processor
Diskless from $200 for F4-210 (1GB) to $260 for F4-210 (2GB)
October 28, 2020 | Press Release
TerraMaster D8 Thunderbolt 3 8-Bay Desktop RAID System
Up to 128TB, supports single disk, JBOD, RAID-0/1, -5 and -10.
October 15, 2020 | Press Release
TerraMaster F2-422 2-Bay NAS With Celeron Quad-Core Processor and 10GbE Networking
Backup apps at TOS NAS system include Aomei Backupper, Time Machine, duple backup, and others.
September 14, 2020 | Press Release