Gigabyte Technology Launching 3 Rackmount GPU-Centric Servers Using AMD EPYC Architecture
G482-Z53, G482-Z54, and G292-Z43 are designed for eight or more GPUs, and have space available for storage, networking, or other accelerators.
This is a Press Release edited by StorageNewsletter.com on November 19, 2020 at 2:24 pm
Gigabyte Technology Co., Ltd. announced 3 GPU-centric servers (G482-Z53, G482-Z54, and G292-Z43) aimed at HPC, AI, scientific simulation and modeling, and more.

Using AMD EPYC architecture, realizing 8 GPUs in PCIe Gen 4 x16 lanes is possible, while maintaining room for storage and networking. The G482-Z53, G482-Z54, and G292-Z43 are designed for 8 or more GPUs, but have space available for storage, networking, or other accelerators.
Improved accelerator performance
The 3 servers can run all their PCIe Gen 4 lanes to function at x16, which means there can be as many as 160 PCIe lanes available, and they all have a theoretical bandwidth of 32GB/s for communication between CPU and GPU. This is made possible by AMD EPYC 7002 architecture that allows a single socket-to-socket Infinity Fabric link (1 of 4) to reallocate the bandwidth to PCIe lanes for other purposes. This is possible because a dual EPYC 7002 system uses 64 PCIe lanes from each CPU to link to the adjacent CPU. By freeing up one of these 4 links, 16 lanes per CPU can be redirected for Gen 4 speeds in storage, accelerators, or networking.
G482 Z53 and G482 Z54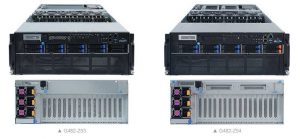 G482-Z53 and G482-Z54
The G482-Z53 and G482-Z54 are built for 8xGPUs, such as the AMD Instinct MI50, slotted next to each other and linked via the AMD Infinity Fabric link. These servers have been tested and designed for Instinct MI50 and other accelerators. The servers utilize dual EPYC 7002 processors operating with 128+ PCIe Gen 4 lanes. Recognizing the potential of high bandwidth PCIe Gen 4 lanes, the 2nd Gen EPYC processors are capable of reallocating bandwidth dedicated to CPU to CPU connectivity to be redirected for accelerators and networking. All GPUs have their own dedicated PCIe Gen 4 x16 lanes, without the use of a PCIe switch to share a single lane with two GPUs. All G482 servers fully support up to 280W 2nd Gen EPYC processors, 32 DIMMs, 3,200MHz DDR4, and 128GB memory modules. The G482 series of servers have some key differences, as seen in the following table.
Click to enlarge

G292-Z43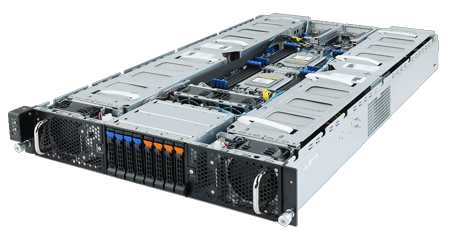 The G292-Z43 is GPU (single slot) density pushed to the max. In a 2U chassis, dual EPYC 7002 processors allow for 16 DIMMs of DDR4 memory up to 3,200MHz, and in 128GB memory modules. With this GPU centric design, support for EPYC 7002 series processors is for models that have a TDP up to 240W. Keeping with the importance of PCIe lanes, it adds support for 16 low profile accelerators using PCIe switches. This allows for future expansion or expanded networking.
Read also:
Gigabyte Technology Unveils 6 Rackmount High-Density Servers for AMD EPYC Platform
R182-Z93, R282-Z94, R152-Z33, R272-Z34, H262-Z6A, H262-Z6B models, with support of PCIe Gen 4 for front drive bays and onboard M.2 slots, and for Broadcom Tri-Mode storage adapter
October 19, 2020 | Press Release