Kasten Integrates K10 Data Management Platform With vSphere and Tanzu Kubernetes Grid Service
Delivers scalable and secure system for backup/restore, DR, and mobility of Kubernetes applications for VMware users.
This is a Press Release edited by StorageNewsletter.com on September 29, 2020 at 2:19 pm
Kasten, Inc. announced the integration of the K10 data management platform with vSphere and Tanzu Kubernetes Grid Service.
Click to enlarge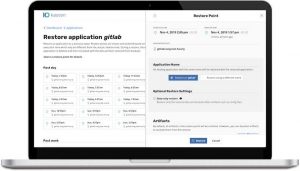 As a VMware, Inc.'s design partner, the company will deliver a scalable, and secure system for backup/restore, DR, and mobility of Kubernetes applications for VMware users.
"Cloud-native applications built on Kubernetes are growing dramatically, and VMware has doubled down on tightly integrating Kubernetes and making containers a first-class citizen in vSphere," said Gaurav Rishi, VP product. "The shift to cloud-native microservices has delivered major benefits like scalability, reliability, and agility. However, legacy data management offerings are still stuck with monolithic architectures that are often hardware centric. Kasten K10 addresses that head on, and we are thrilled to work with VMware to meet critical enterprise needs for backup and mobility of modern applications."
Legacy data management solutions do not work in modern, cloud-native application environments. As a result, the company has worked with VMware to integrate its Kubernetes-native data management capabilities with VMware's Cloud Native Storage (CNS) constructs and First Class Disks (FCDs) to optimize backups with capabilities such as Change Block Tracking (CBT).
"The definition of an application has changed – enterprises today are building modern applications based on a micro-services paradigm, leveraging a variety of technologies including Kubernetes and modern databases. Kasten's K10 is a highly scalable, secure, and easy to use data management platform for modern applications on vSphere. This partnership enhances VMware's partner ecosystem for modern data protection, and supports our customers' digital business and operations goals, regardless of where they are deployed," said Lee Caswell, VP, marketing, cloud platforms business unit, VMware.
Click to enlarge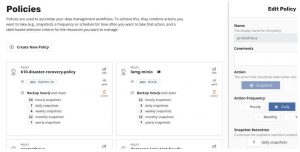 K10 offers an enterprise-ready solution for managing data across multiple Kubernetes distributions on vSphere 6.7 U3 (and higher), as well as VMware Cloud Foundation VCF 4.x. It provides users a spectrum of backup consistency options including crash-consistent, logical database dumps, and coordinated log and replica capture. It also supports multi-layered application capture that integrates with extensible blueprints for NoSQL/Relational modern databases like MongoDB, Redis, and others to give users the freedom of choice across physical infrastructure and Kubernetes environments.
The company will join VMware in a joint, on-demand presentation at VMworld 2020, held virtually September 29 – October 1. The session Data Management for Kubernetes and Modern Applications on VMware, will provide guidance for enterprises looking to improve their data management approach as they rapidly adopt containerized applications. Gaurav Rishi, VP, product, Kasten, alongside Shobhan Lakkapragada, director, product management, VMware, will explore how firms can manage data through VMware's ecosystem of partner solutions such as the company, in order to leverage Kubernetes backup, and protect their workloads as they implement a dynamic application deployment solution on VMware solutions.
The firm will also participate in a live webinar with Veeam Software, Inc., a VMware ecosystem partner, in conjunction with VMworld 2020 on September 29. Rishi will join Veeam experts on the panel, 2021 Are We There Yet? Preparing for the future of Data Protection, where they will discuss the outlook for the IT industry for 2021, DR for growing multi-cloud environments and remote workforces, amounting security needs and the growing threat of ransomware, and the rise of containers for critical business infrastructure.
The company's K10 is available on the VMware Cloud Marketplace.
Read also:
Kasten K10 Kubernetes Backup and Recovery Capabilities for Bottlerocket Launch on AWS
Data management platform provides increased security and operational ease for Kubernetes application backup and mobility on open-source OS for containers built by AWS.
September 8, 2020 | Press Release
KubeCon and CloudNativeCon Europe: Kasten Unveils K10 Enterprise Data Management Platform
Backup automation and infrastructure portability, capabilities supporting Kubernetes adoption in Europe and regional data sovereignty laws
August 28, 2020 | Press Release
Kasten K10 Available on VMware Cloud Marketplace
To provide customers with Kubernetes backup and mobility
May 1, 2020 | Press Release