MinIO Subscription Network Launched Globally
Combines licensing, operational and security benefits to facilitate production deployments.
This is a Press Release edited by StorageNewsletter.com on August 19, 2020 at 2:18 pm
MinIO, Inc. launched its Subscription Network.
Customers are now able to subscribe to firm's products over the web, on a consumption basis. This approach to provisioning private cloud object storage reduces the friction of obtaining licensing while delivering substantial operational and security benefits. 
Subscription Network benefits fit into 3 core categories:
Commercial License
A commercial license provides exceptions to the obligations inherent in the MinIO GNU AGPL v3 license. As the copyright holder, only MinIO can provide this exception. While many enterprises require commercial licenses where AGPL v3 is present, subscribers still enjoy the benefits associated with open source – namely freedom from lock-in and freedom to inspect the source.
"MinIO has continually lived up to its promise of pioneering high-performance object storage while serving as a key component of our data architecture,"
said Amir Karuppaiah, CTO,
PRGX Global, Inc.
"Through MinIO's Subscription Network, we have direct access to their skilled team of engineers who work tirelessly and collaboratively to resolve our issues and address our requirements."
Data Loss Prevention
Large scale data infrastructure must consider and plan for failure as part of the design. The Subscription Network delivers access to technology and talent to manage and minimize this risk. These include direct-to-engineering support, one hour SLA, access to the Panic Button, performance and optimization audits as well as diagnostic capabilities designed to assess the health of customer deployments. 
"With data on more than 90,000 video advertisements, MinIO's object storage suite has become a vital and resilient part of our hybrid infrastructure" noted William Parducci, CTO, Ace Metrix.  "The MinIO Subscription Network is a key part of that relationship. The response time and engineering-first engagement model accelerates our development and gives us the confidence to expand our use of the software."
Data Breach Prevention
Data infrastructure is in a state of constant change, and change brings risk. Customers of the Subscription Network have 24/7/365 access to cryptographic experts, quarterly security audits, and a suite of other technologies that will ensure company's security features are properly configured while proactively identifying vulnerabilities and evolving risk. 
Transparent, Capacity Based Pricing – With a Ceiling
The Subscription Network offers 2 tiers – Standard and Enterprise, which customers select based upon their SLA and legal requirements. The Standard Tier is priced at $.01/GB/month. The Enterprise Tier is priced at $.02/GB/month. Capacity minimums start at 25TB and 100TB respectively. Pricing is month to month and subscribers can cancel at any time. 
"The MinIO Subscription Network is a critical component of any production deployment of our object storage software," said Garima Kapoor, co-founder and COO. "With transparent, capacity based pricing, monthly billing and the ability to transact online, MinIO now matches the convenience of the public cloud buying process while adding a superior collection of benefits focused on modern object storage use cases. By digitizing the sales process and investing relentlessly in automation we have aligned ourselves with the new normal facing enterprise software companies."
The Subscription Network also includes a pricing ceiling. Above certain capacity levels, 10PB for Standard and 5PB for Enterprise, there are no additional charges. This effectively caps the software cost component, delivering cost certainty and creating a massive incentive to repatriate large scale data infrastructure from the public cloud.
"As global leader in data storage and management solutions, Seagate Technology understands the need for predictability in costs and working collaboratively to solve problems," said Ravi Naik, CIO and SVP, Seagate Technology llc. "The MinIO team continues to raise the bar on engineering excellence and willingness to work alongside customers to solve any issues. The simplicity of Subscription Network pricing and ease of use gives CIOs cost predictability and tier-1 support."
Comments
MinIO clearly accelerates with this initiative, tons of integration and team recruitment. In term of features, the company continues to bring to the market innovative capabilities well aligned with AWS S3 such versioning, object locking, object tagging, server-side replication, rewind, among others. For instance the object tagging invite users and partners to create some lifecycle policies for objects and group them by tag.
For deployments, recent talk with AB Periasamy, co-founder and CEO, confirms that the firm is used for different use cases, small ones and very large and everything in the middle. The sweet spot seems to be in the 8-16 servers range with capacity from 100s of terabytes to multiple petabytes.
The recent withdrawal of OpenIO confirms the status of MinIO, the pressure on the market for commercial and other open source players.
Here are some events, trends and evolution:
Even if object storage is recognized as a needed solution and answer to some storage challenges, the number of players is huge, more than 20...
Lack of differentiators among vendors. A few years ago it was a different story, some of them didn't offer erasure coding to name one key fundamental capability and differences were easy to list. Today it's a radical new battle and products are pretty similar. Recently, we ran a short survey presenting features with product names and several partners and end-users picked the wrong one confirming a sort of product convergence.
Pure object storage players have difficulties especially commercial ones with the complexity to find new era of growth as many of them reached a form of plateau. Exception is MinIO.
Users require file and object access methods to address global unstructured data needs.
File storage vendors started to offer S3 as another access method, this is the case for Qumulo, Vast Data, Pure Storage or Dell EMC with PowerScale.
S3 is available on many general purpose offerings like Nutanix confirming the difficulty pointed with the first argument with the long list of players.
The access to the same content via a network file sharing protocol like NFS and/or SMB plus S3 starts to popup on the market. Example of that is pretty obvious. We all remember release server populated via a local NFS share but globally accessed via ftp. This is the same idea, imagine a video shoot uploaded via NFS and immediately available via S3 thousands miles away without the need to copy files multiple times across namespaces and avoiding to consume spaces. Or we can mention as well a remote ingest via S3 for IoT needs and locally computed via NFS in the data center. Again it is the same content access immediately.
Ecosystem contributes to the difference among vendors.
And of course open source vs. commercial flavors.
S3 eats the world, we wrote this last year, illustrating the rapid adoption on the planet shaking players who didn't make this choice and tried to promote other access methods to finally join the wave. Users, partners and vendors speak about S3 storage. This success explains also why several others have difficulties:
OpenIO got absorbed by OVHcloud, French technologies stays in France,
Amplidata swung between WDC and Quantum to finally landed a few months ago at Quantum,
SwiftStack was silently swallowed by Nvidia,
Igneous made a pivot,
Veritas gave up,
Formation Data Systems, Coho Data, Skylable disappeared.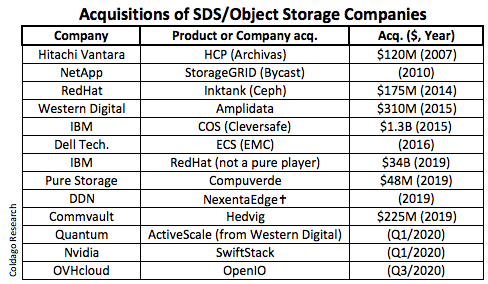 MinIO was positioned as a leader in the object storage landscape in its Map 2019.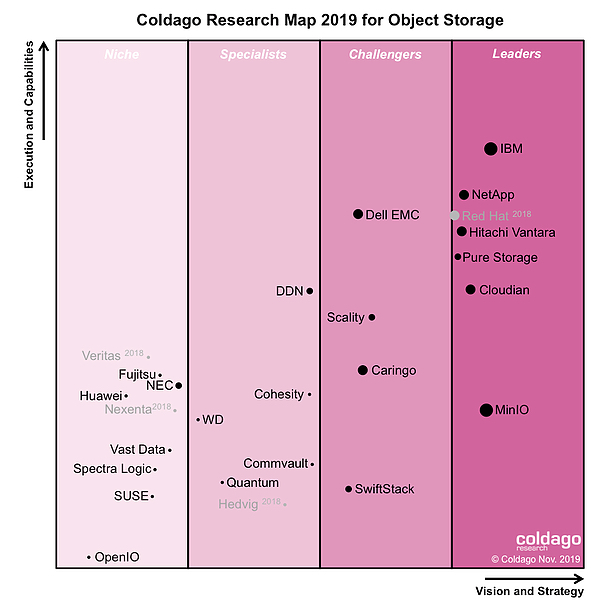 The trajectory of the company is interesting following Gluster period. The company has raised a very limited amount of VC money just $23.5 million and last round - series A at $20 million - was in 2017.
Being very frugal, founders control their destiny so far. We don't think the company needs another round. We discovered MinIO in 2015 just a few months after its creation in 2014 and invited the world to discover a future potential gem, at that time it was too early, but the DNA of founders made this story appealing. And the rest of the story is just amazing, you probably remember an article in 2016 when we anticipated a MinIO tsunami. With any doubt, it is the most integrated object storage with solutions the company even discovers everyday as their approach is so popular.
Thanks to its simplicity, MinIO has been selected by many partners. Among them we can list Cisco, Datera, HPE MapR, Humio, iXsystems, McKesson, Nutanix, Pavilion Data Systems, Pivotal, Portworx, Qumulo, Robin.IO, Splunk, Ugloo, Veeam and VMware. Three seem to be strategic for MinIO: Splunk for log management, SIEM, machine learning and analytics, the integration is with SmartStore, Veeam for data protection and VMware for Kubernetes.
As said above, one of the differentiator can be the cost and pricing model. MinIO just announced, displayed here, 3 package sets: open source, standard and enterprise with data loss and breach prevention. As there is no cost above 10PB for the standard model and above 5PB for the enterprise one, it means that for 20PB, MinIO fees is $5/TB/month or $100,000/month. This is just for the software and service around as you need to consider servers and other stuff. On AWS and reasonable traffic (?), for 20PB we found more than $500,000/month and Wasabi is at $122,675/month.
MinIO Subscription Network pricing

Read also:
Exclusive Interview With AB Periasamy, CEO and Co-Founder, Minio
Following Gluster story, company's adoption growing fast
by Philippe Nicolas | August 1, 2018 | News
Start-Up Profile: Minio, in Open Source Object Storage
For developers to build their own cloud storage, just raising $3.3 million seed funding
by Jean Jacques Maleval | June 25, 2015 | News