WD/G-Technology Launches G-Drive, G-RAID, G-Speed Shuttle and G-Speed Shuttle XL With Thunderbolt 3, Based on UltraStar 3.5-Inch 18TB HDD
To manage volumes of content for optimized creative workflows
This is a Press Release edited by StorageNewsletter.com on July 31, 2020 at 2:25 pm
Western Digital Corp. (WDC) is extending capacity Ultrastar HDDs to a selection of its G-Technology products, empowering professionals with reliable solutions to manage massive volumes of content for optimized creative workflows.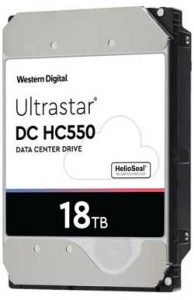 For the consumer and professional markets, the 18TB enterprise Ultrastar drives are available in 3 G-Technology brand product families, including G-Drive, G-RAID with Thunderbolt 3, G-Speed Shuttle with Thunderbolt 3 and G-Speed Shuttle XL with Thunderbolt 3.
The commercially available enterprise 18TB Ultrastar HDDs deliver a high areal density by leveraging new technologies including 'Energy-Assisted Magnetic Recording' technology, the Triple Stage Actuator, and a 9-disk HelioSeal platform. The 7,200rpm drives come with a 2.5 million hours MTBF rating (*) and a 5-year limited warranty.
"Over the course of my career as a commercial and fine art photographer, director, and director of photography with a specialization in aerial photography, I've captured over 300TB of content. Peers often inquire about my digital storage best practices and I point them in the direction of G-Technology's RAID-configurable G-SPEED Shuttle family for their heavy-duty archival storage needs. The massive capacities available cuts the overall costs for my storage needs and allows me to be incredibly efficient when I'm in the field," said Vincent Laforet, G-Team ambassador, G-Technology.
G-Speed Shuttle with Thunderbolt 3 front and rear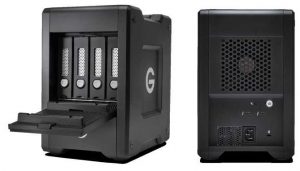 The G-Speed Shuttle range of studio-ready storage solutions were designed to meet the workflow needs of industry demands and asks of its media production creatives. Available in 4-bay and 8-bay form factors, the G-Speed Shuttle and G-Speed Shuttle XL are configurable in RAID-0, 1, 5, 10, and JBOD and 0, 1, 5, 6, 10, 50, JBOD, respectively. The products are engineered to run fast and around the clock making them for fast transfers, consolidated master backups, and scalable workflows. The range is built tough and transportable with an available Pelican case.
G-Speed Shuttle Xl with Thunderbolt 3 front and rear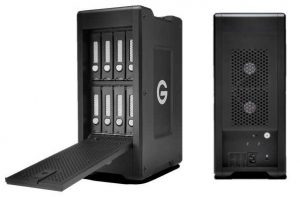 These high-throughput solutions utilize high-capacity, performance enterprise HDDs that can be user-configured into a range of RAID options weighted toward speed or additional data protection and are available in capacities up to 144TB in one system.
G-Raid with Thunderbolt 3 front and rear
G-RAID with Thunderbolt 3 is a desktop solution designed for rigorous applications and multi-stream HD, 2K, 4K, and HDR workflows. The dual drive bays of the G-RAID device support hardware-controlled RAID-0 and RAID-1. The default RAID-0 stripes the 2 drives together, providing enhanced read and write speeds, but no data redundancy, while RAID-1 mirrors the content of one drive to the other, providing 1:1 data redundancy at the cost of performance. Additionally, G-RAID offers the ability to daisy chain up to 5 additional devices using the Thunderbolt 3 interface. For those who do not need the benefits of a RAID, JBOD is also supported. With the inclusion of the 18TB drive, G-RAID now offers up to 36TB of storage.
G-Drive with Thunderbolt 3 front and rear

G-Drive solution is available with USB 3.0, USB-C or Thunderbolt 3 connectivity. These external HDD offerings are built for storage-intensive applications like audio/video editing and digital photography. The G-Drive external drive products provide up to 18TB of enterprise storage, a rotational speed of 7,200rpm, and an interface to meet the standards of the creative enthusiast or professional. The drives are encased in an aluminum enclosure that is macOS-compatible and Time Machine-ready. The G-Drive USB-C external drive can support up to 45W of USB power delivery through the USB-C port, this drive can charge your compatible MacBook or MacBook Pro without having to take a separate MacBook charger out of your bag.
"We understand the value of digital content, and we create products that match the passion of the digital creators. G-Technology products improve the efficiency of digital workflows and protect high-value media with a wide range of storage solutions that enable creators to push the boundaries of what's possible. We are excited to be able to offer this innovative, best-in-class technology to help simplify workflows and assist with archival consolidation," said Jim Welsh, SVP and GM, content solutions business unit, WD.
The G-Speed Shuttle/G-speed Shuttle XL, G-RAID and G-Drive with 18TB drives will be available to US customers at the company's webshop in August.
(*) Projected values. Final MTBF and AFR specs will be based on a sample population and are estimated by statistical measurements and acceleration algorithms under typical operating conditions, workload 220TB/year and temperature 40°C. Derating of MTBF and AFR will occur above these parameters, up to 550TB writes per year and 60°C ambient (65°C device temp). MTBF and AFR ratings do not predict an individual drive's reliability and do not constitute a warranty.
Read also:
Western Digital: Ultrastar 18/20TB and 16/18TB CMR HDDs With 9 Platters
20TB to ship next quarter
July 13, 2020 | Press Release
Western Digital Sampling Record 20TB SMR and 18TB CMR 3.5-Inch HDDs
Volume shipments expected in 1H20
December 23, 2019 | Press Release