Cactus 730P Series PCIe M.2 2242 Up to 64GB Industrial SSD Based on SLC NAND
0°C to 70°C or extended -40°C to 85°C operating temperature, up to 305MB/s to 610MB/s read speed, and up to 85MB/s to 365MB/s write speed (based on capacity)
This is a Press Release edited by StorageNewsletter.com on July 31, 2020 at 2:25 pm
Cactus Technologies released the 730P Series industrial grade PCIe M.2 in the 2242 form factor.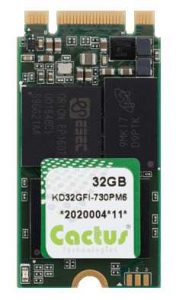 Based on SLC NAND, these native NVMe interface flash storage devices, provide reliability in a PCIe M.2 Module. They are available in capacities from 8 to 64GB.
The M.2 modules are designed for embedded Industrial and OEM applications which require a small, thin module with the PCIe interface. All products have Locked BOM control, performance, rugged construction and wear leveling, ECC and defect management as OEMs have come to expect from the company.
Steve Larrivee, VP, sales and marketing, said: "The Cactus 730P Series is the highest reliability M.2 with PCIe interface in the market. Not only does it provide high reliability, but also has high performance and a very small form factor."
Cactus 730P Series PCIe M.2 2242 module features:
M.2 2242 form factor

PCIe Gen3 x2 configuration

Capacities from 8GB to 64GB

Endurance SLC NAND

Compliant with PCIe (ver. 3.0) and NVMe (ver. 1.2)

Sustained read: 305MB/s to 610MB/s (based on capacity)

Sustained write: 85MB/s to 365MB/s (based on capacity)

Standard 0°C to 70°C or extended -40°C to 85°C operating temp

TBW: 8B-480TB / 16GB-960TB / 32GB-1,920TB / 64GB-3,840TB

Locked BOM control

3,000G Shock; 20G vibration

Multiple ECC schemes capable of correcting up to 300-bit errors per 4K

Supports NVMe defined SMART attributes
Joseph Chang, VP, engineering, added: "Our use of SLC NAND and an extremely reliable controller technology in the small 22x42mm M.2 PCIe Module offers a great solution for embedded industrial OEM designs. Our technical staff is available to assist with design questions."
Click to enlarge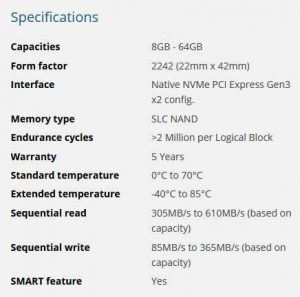 For 15 years, the company has been supporting OEMs WW with reliability industrial embedded flash storage products using industry leading controller technology and industrial strength flash memory.
These Industrial products enable OEM's systems to operate without a fault in the harshest and most mission critical environments. In addition, the firm offers commercial grade embedded products based on MLC NAND, which have Locked-BOM and Extended Life Cycles for budget limited applications.
Read also:
Embedded World: Cactus Exhibited Flash Storage Products
Including PCIe M.2, 3D NAND 2280 and PCIe M.2, SLC NAND 2242 form factor
March 5, 2020 | Press Release