Kioxia: NVMe, SAS and SATA SSDs Interoperability With Broadcom 9400 Series of HBAs and MegaRAID Adapters
Solution tested
This is a Press Release edited by StorageNewsletter.com on July 30, 2020 at 1:48 pm
Kioxia America, Inc. announced that its lineup of NVMe, SAS and SATA SSDs have been successfully tested for compatibility and interoperability with Broadcom, Inc.'s 9400 series of HBAs and MegaRAID adapters.
HBA 9400 16i Tri Mode storage adapter
Making up a broad portfolio of SSDs, the company's drives are available for client PCs, as well as data center, hyperscale and enterprise servers and storage systems.
Today's enterprise technology landscape demands increased interoperability among diverse products. Broadcom, a provider of adapters for servers and storage, developed the 9400 series of Tri-mode HBAs and RAID adapters to enable connectivity with any combination of NVMe, SAS and SATA devices. As NVMe technology continues to gain traction within data center and enterprise environments, the 9400 series enables the use of this newer technology without losing the benefits of existing SAS and SATA storage.
MegaRAID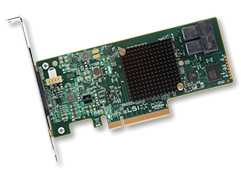 "Customers expect products to just work together, but it takes a full-suite of testing to ensure proper operation and full functionality," said Jas Tremblay, VP and GM, data center storage group, Broadcom. "Collaborating with Kioxia and testing with our industry-leading 9400 series Tri-Mode storage adapters gives customers the confidence that our combined solution will deliver. In addition, we are pleased to continue this effort with Kioxia on our PCIe Gen 4.0, 9500 series of storage adapters."
"We take quality seriously, and want our customers to have a great out of the box experience," said Jeremy Werner, SVP and GM, SSD business unit, Kioxia America, "As a leader in data center and enterprise SSDs, we recognize the importance of collaborating with other innovators to ensure that current and future products and technologies work together seamlessly."
Resource:
Kioxia's Broadcom 9400 series-compatible SSDs

Read also:
Microchip and Kioxia Complete 24Gb SAS End-to-End Storage Interoperability Testing
Using 24Gb SAS SSDs, SmartROC 3200 PCIe gen 4 Tri-Mode RAID On Chip controller, SmartIOC 2200 I/O controller, and SXP 24Gb SAS expander
June 26, 2020 | Press Release