Record of 114EB of LTO Tape Capacity (Compressed) Shipped in 2019
But shipments of cartridges decreasing
This is a Press Release edited by StorageNewsletter.com on July 9, 2020 at 2:28 pm
The LTO Program technology provider companies, Hewlett Packard Enterprise, IBM Corporation and Quantum released their annual tape media shipment report, detailing Y/Y shipments.
The report showed a record 114,079PB of total tape capacity (compressed) shipped in 2019.
Total capacity by CQ (exabytes compressed) program life through Q4 CY19*compressed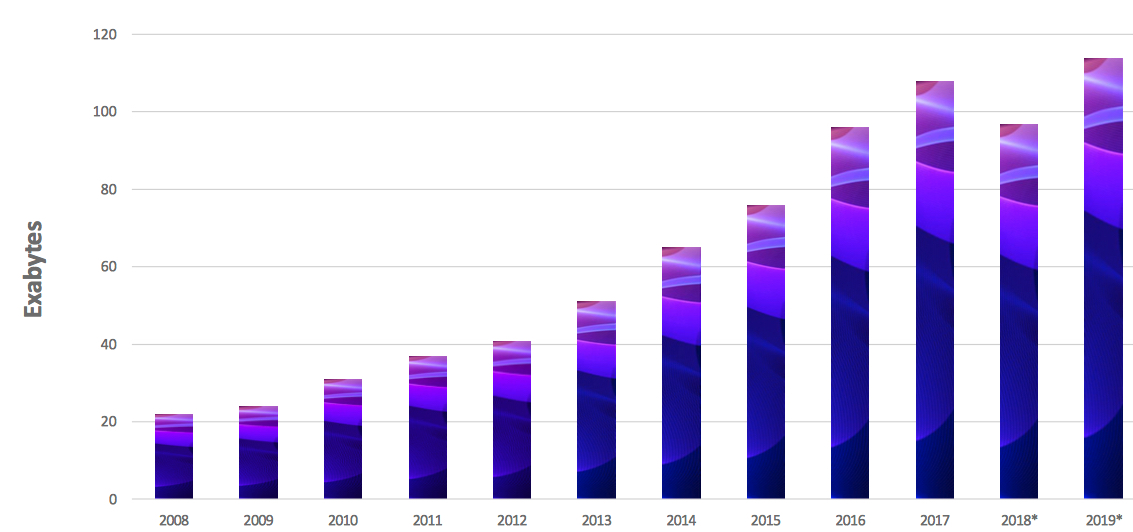 * Aggregate capacities in 2018 and 2019 to do not include LTO-7 Type M shipments.
Total LTO media unit shipments
Program life through Q4 CY19

"As the datasphere continues to grow at astronomical rates and cybersecurity defense becomes a priority for organizations of all sizes, LTO tape technology remains a leading solution in addressing modern-day storage needs," said Sam Werner, VP, storage offering management, IBM. "LTO technology's inherent air-gap along with its low cost of ownership make tape technology one of the most secure and most cost-effective storage options for enterprises that require reliable long-term archival storage to manage the surge in data gen."
LTO-8 technology, available, offers up to 30TB* of compressed capacity, with transfer speeds of up to 360MB/s native, 750MB/s compressed. When you compare native data rates LTO-8 tape is faster than the latest gens of HDDs with transfer rates of 210MB/s.
Additionally, LTO tape technology offers an inherent air-gap, to thwarting increasingly ransomware and malware threats that may corrupt live, backup, and archive data simultaneously.
"Ransomware is more rampant than ever and a significant challenge for protecting data, especially as employees continue to work remotely amid the current pandemic," said Christophe Bertrand, senior analyst, Enterprise Strategy Group, Inc. "Air gapping with tape technology should be a serious consideration for any company looking at best practices to ensure their company's data and their customers' privacy."
LTO tape's features make it a component of storage infrastructure. It offers secure and reliable long-term archival storage for data after it is no longer accessed frequently at a cost substantially lower than flash disk or cloud when considering factors such as power, cooling and retrieval.
This increase in capacity shipments comes after a decline in 2018, which was due to a pause in manufacturing. Once tape cartridge production resumed, capacity shipments rose to record amounts in 2019. Though media unit shipments have declined, this has been a consistent trend as customers continue to rely on high-density tape cartridges as part of their data retention and security strategies.
*Assumes a 2.5:1 compression achieved with larger compression history buffer available beginning with LTO-6.