Addition of Fast Object Storage to Pavilion Hyperparallel Flash Array Enables Customers to Get High Performance for Native S3 Data
Offering high performance block, file, and object storage on single unified platform
This is a Press Release edited by StorageNewsletter.com on June 5, 2020 at 2:26 pm
Pavilion Data Systems Inc. announced support for S3 object storage on its Hyperparallel Flash Array (HFA).
The addition of S3, a high performance object interface, extends the HFA storage capabilities with native support for block, file, and object storage.
Until now, organizations that needed to take advantage of S3 object storage had to choose between the capacity of public cloud providers with their inherent latencies and greater IO/s expense, or the limited scalability or performance of local object storage solutions. With the release of native S3 support, HFA customers are taking advantage of high performance local object storage, along with the ability to easily tier to the public cloud for long term archive.
Delivering high performance is critical to use cases such as Splunk, Greenplum, Hadoop and others, which are embracing S3 object storage as the standard for next generation workloads. Pavilion's fast Object Storage demonstrates an 80GB/s read and 35GB/s write throughput. The performance of the HFA solves the challenges customers are facing regarding the lack of affordable, performant object storage options, which leaves organizations to continue using block or file protocols, limiting the value they can get from their applications.
With up to 20 controllers per 4U array, the HFA is capable of delivering maximum performance to all block, file, and object workloads simultaneously. Customers also enjoy the flexibility to linearly and independently scale capacity or performance as needed.
"As organizations and applications increasingly adopt object storage as the platform of the future, they need the same high performance they have come to expect from their existing block and file based solutions," said Gurpreet Singh, Pavilion CEO. "With the addition of native fast object support to the Pavilion HFA, customers can, for the first time, enjoy both industry leading high performance and ultra-low latency from one platform in a small footprint."
"Adding object storage to the Pavilion HFA was a natural extension of our commitment to technology innovation for our customers," said Sundar Kanthadai, founder and VP of engineering. "As scale out applications move to a native S3 interface, Pavilion is proud to be the first HFA vendor to deliver block, file, and object storage capabilities on a single platform providing ease of use as well as performance and scalability for today, tomorrow, and beyond."
The addition of S3 to the existing storage capabilities of the HFA further extends the role of Pavilion in the third wave of storage, in which Pavilion arrays break free from the legacy architecture of dual controller arrays to take advantage of many controllers. This architecture is known as HFA, and it leverages NVMe-oF and the parallelism of flash to deliver an order of magnitude better performance and lower latency than legacy dual controller AFAs.
This first release of native S3 support for Fast Objectstore on the Pavilion HFA has been driven by market demand, with additional enhancements planned over the year.
Comments
Pavilion shakes the market with the introduction of S3 storage as the third access method exposed by its Hyperparallel storage array. It was a surprise.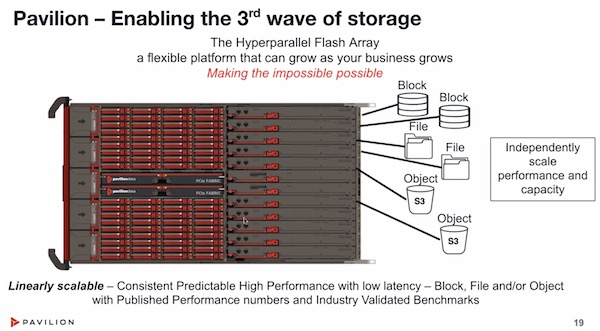 The design of the product allows up to 20 controllers - 10 cards of 2 controllers. Ekach controller can expose one type of protocol among block with NVMe-oF (over TCP or RDMA on Ethernet - RoCE - or IB), file with NFSv3 or v4 or object with S3.
Building an object storage is not an easy task and takes time so Pavilion finally adopted the P of the famous approach Build, Buy or Partner. The team picked MinIO for this S3 service like Datera and Fujitsu indirectly recently, Qumulo, Portworx, Pivotal, iXsystems, Render, Robin.IO, Splunk, Ugloo, Sia, Storj/Tardigrade and Nutanix to name a few. We wrote a few years ago and tweeted multiple times that we anticipated a tsunami from MinIO, we're in for several months now, MinIO is everywhere, this is just a fact. Coldago Research positioned MinIO in the leader portion of its Map 2019 for Object Storage.
This Pavilion object storage service has 3 phases:
In phase 1, for S3 it means one S3 namespace per controller and a namespace can't span other controllers. In other words, namespaces are not cross controllers yet.


Phase 2, later this year, will allow namespaces to span controllers but it will be only one namespace per controller.


Phase 3, supporting all capabilities introduced in phase 1 and 2, multi-chassis namespace will be available.
But similarly to one controller exposing one protocol, a controller can manage only one namespace. The capabilities of multiple namespaces is achieved via the consideration of multiple controllers and therefore you can assign different namespace to different tenant.

Also a file written via NFS can't be read via S3 and vice-versa as you need to copy data across namespaces and protocols, it consumes extra capacity - double here and even triple when SMB will be available - and potentially it creates a data divergence. Pure Storage with FlashBlade behaves the same but Qumulo and Vast Data offer this multi-protocols access.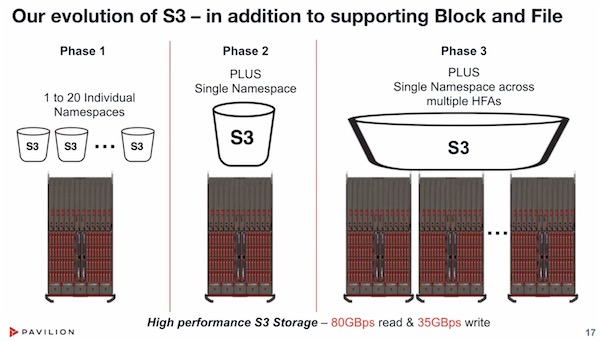 Pavilion strategic direction seems to be around unified storage now delivering performance numbers for multi-protocols instead of only a top block array. The idea is to make available the array and its enormous bandwidth to any protocols and workloads. Good idea, market traction will tell us how the product lands in the field and if this strategy resonates...