Ctera : Taking File Services to Edge With HPE SimpliVity
Integrates fast data access and unlimited scale into hyperconverged infrastructure.
This is a Press Release edited by StorageNewsletter.com on May 28, 2020 at 2:21 pm

By Oded Nagel, chief strategy officer, Ctera Networks Ltd.
Here I unveil a new chapter of our Hewlett Packard Enterprise Development LP partnership that brings the power of Ctera 's edge-to-cloud file services to the HPE SimpliVity community.
Available through a simple, no-cost software download, Ctera File for HPE SimpliVity integrates fast data access and unlimited scale into hyperconverged infrastructure. HPE and CTERA are making this software and cloud bundle available at the company's website to all SimpliVity customers, who now can replace aging NAS systems and securely connect remote users wherever they are.
Following the success of the Ctera Edge X Series, the first integrated hyperconverged edge filer, we had been looking for ways to bring our technology to a wider set of hyperconverged platforms to address the growing demand we see from customers of all sizes.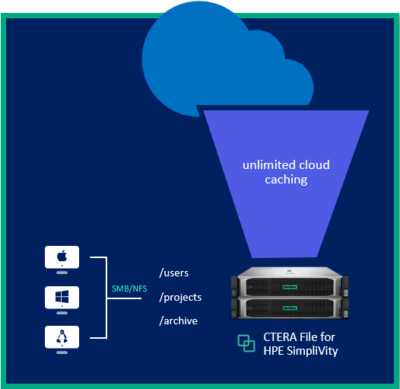 Through our discussions with HPE, we  learn that we share a vision for edge to cloud infrastructure and an understanding that customers need modern file services to support edge locations connected by hyperconverged systems. We're also aligned in our focus on helping IT organizations optimize their infrastructure and deliver secure, reliable remote access in the wake of Covid-19.
Ctera File for HPE SimpliVity offers the company's software-defined SMB/NFS filer and 90-day subscription to a Ctera cloud service that includes elastic cloud scaling and multi-site collaboration. At the end of the 90 days, users may either extend the hybrid cloud service or keep the local filer.
Hybrid file services are a natural add-on to a hyperconverged solution, eliminating the overhead associated with dedicated storage and backup systems and enabling a range of practical use cases, such as:
Remote office file services

VDI workspaces

Application data
Read also:
Exclusive Interview With Ctera Networks CEO Liran Eshel
Expanding ROBO and edge strategy with new edge filers and DevOps
by Philippe Nicolas | April 23, 2020 | News
Ctera Extends Global File System to DevOps
SDK for Python and Ansible Collection enable engineers to provision hybrid cloud storage services across distributed topologies with thousands of edge locations, applications and users in few lines of code.
April 22, 2020 | Press Release
60% Y/Y Annual Recurring Revenue Increase in 2019 for Ctera
Accelerates amid soaring enterprise demand for edge-to-cloud file services.
March 11, 2020 | Press Release