Nexsan/StorCentric E-Series 32F 2U Rackmount Storage Platform With QLC or TLC SSDs
Up to 245TB of storage using QLC, 491TB with TLC
This is a Press Release edited by StorageNewsletter.com on May 11, 2020 at 2:22 pm
Nexsan, a StorCentric, Inc. company, announced the launch of the E-Series 32F storage platform, a compact QLC SSD solution offering 245TB of storage using QLC SSDs in 2U of rack space, and up to 491TB if configured with TLC SSDs.
E-Series 32F storage platform front

Designed to deliver enhanced performance and economics for the most demanding enterprise platforms, the E32F delivers fast random read performance to analyze the high capacity, performance-sensitive workloads that fuel business. These include real-time analytics, ML, AI, big data, media content delivery, user authentication.
E-Series 32F storage platform rear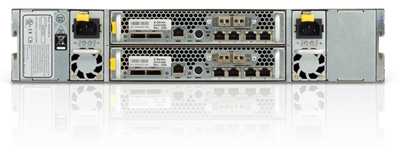 Connectivity options (FC, iSCSI) deliver interoperability along with a qualified OS support matrix. The producr also supports the company's E-Flex architecture, which allows users to select up to 2 of any of four expansion systems available and expand to over 2PB. This gives organizations the flexibility to size systems as required within their rack space requirements.
QLC NAND packs 33% more data into every memory cell compared to its TLC equivalent at a more reasonable price point. QLC storage delivers 7x the performance over 10,000rpm HDDs. This makes the E32F a replacement for HDDs in performance-sensitive workloads.
"The Nexsan E-Series storage arrays give customers the capacity and performance needed for their data workloads, along with the ultra-reliability Nexsan is long known for," commented Mihir Shah, CEO, StorCentric. "Hard working, ultra-reliable and offering market-leading performance, the E32F delivers storage without worries."
Click to enlarge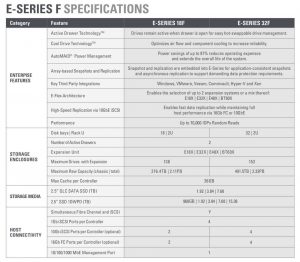 Read also:
Nexsan: Enhancements and Improvements in Performance and Connectivity for Beast Elite and Beast Elite F 4U 60-Bay Storage Platforms
Increases throughput and IO/s by 25% while maintaining architecture's price/performance, connectivity has been tripled, providing twelve high-speed FC or iSCSI host port.
March 2, 2020 | Press Release
Nexsan Assureon V.8.3 Active Data Vault Storage Solution With RoCE and Private Blockchain Technology
For organisations that need to implement regulatory and corporate compliance, long-term archiving of unstructured data, or storage optimisation
January 22, 2020 | Press Release