History (2004): Dimitrov, Gigastorage CEO, Sentenced to 6 Months in Jail
After lot of troubles and finally missing to launch French start-up to manufacture HDDs
This is a Press Release edited by StorageNewsletter.com on April 20, 2020 at 2:24 pm
The founder and CEO of former HDD maker Gigastorage, Bisser Dimitrov, was sentenced by a French court to only six months in prison, suspended.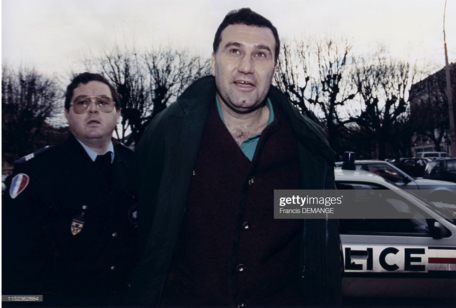 Gigastorage's "gigastory" finally laid an egg.
The criminal court of the Territoire de Belfort in France, in a ruling handed down on October 8, and with considerable clemency, condemned Bisser Dimitrov, the former CEO of Gigastorage, to a suspended sentence of 6 months in prison, accompanied by a €10,000 fine and a ban from running any company in France for a period of 5 years.
The basis for the court's ruling, in the end, boiled down to the following motives: "misuse of corporate assets and infractions of labor legislation."
The only other convicted party, Jean-Pierre Maillot, the former director of ADEBT, the Agency for Development of the Territory of Belfort, was fined €3,000 for "accounting forgeries."
All other indicted parties were released: Christian Proust, a former Bull employee, and at the time of the deeds, president of the Regional Council for Belfort; Jean-François Orosco, the former corporate auditor for Gigastorage, the hot headed Gunter Melze, president of Austria's CW Bank and for a short period, CEO of Gigastorage, who never bothered to appear before the investigating magistrate, and was at one time under an international arrest warrant; and finally, Jean-Louis Lassource, head of a company that acquired the former Bull site in Belfort that became the Gigastorage facility.
This gigastory, which began in 1994, made sizeable waves in France and found a regular home in these pages. In France, of course, because it led in 1996 to the imprisonment for 2 weeks, excessive to say the least, of the president of the Belfort regional council, provoking street protests demanding the release of their elected official.
The story involved a new HDD drive plant. Bisser Dimitrov, now 56, a Bulgarian-born naturalized US citizen, who dreamed of following in the footsteps of such HDD legends as Al Shugart or Finis Conner, decided to launch an assembly plant for HDDs in France in 1994. He wanted to make low-cost high-capacity 5.25- inch desktop units (at the time that meant 1.2 and 2.4GB on 2 platters, which was considered enormous) building on inexpensive end-of-life components, since all HDD makers had already moved on to 3.5-inch and smaller form factors.
The idea took hold, actually, since Quantum followed suit shortly after, even if that venture didn't prove that profitable.
Novel too was Dimitrov's choice of Europe and France, specifically Belfort to the East of the country, near the Swiss German border.
France, then as now, was notoriously not a friendly labor environment. And this proved to be the first big mistake, because all European HDD plants have disappeared, due to expensive labor costs and to their distance from the supply of components, nearly all manufactured in Southeast Asia.
Those responsible for the site, however, promised him the wonders of the world in exchange for his commitment to create 270 jobs in a region hard-hit by unemployment.
So it was that Gigastorage International was founded in April 1994, with registered capital that eventually peaked at just over €3 million, a ridiculous sum for an HDD manufacturer to begin, and the origins of which are more than suspect.
Noteworthy among the shareholders was MultiGroup, a Swiss company whose discreet fayade allegedly masked the laundering of dirty money from Eastern Europe. Another was someone named Ilia Pavlov, who according to the investigating magistrate, Christine Schlumberger, had been "convicted in Russia for fraud and burglary and was suspected by a US federal agency of being mixed up in cocaine trafficking and money laundering," not to mention Ognian Bozarov, "arrested in the United States for illegal exportation of information technology."
In early 1996, yet another gross misstep by Dimitrov: he flies in 46 Malaysian and Singaporean workers to Belfort, including some minors, allegedly for only 3 months, in order to launch the production line and to train the French onsite. They never make it past the border, and were arrested by the police.
Meanwhile some in Belfort are seriously beginning to worry: what about those promised jobs, if the company is seeking labor from Asia?
At precisely that same time, the French police issue fines to Gigastorage's foreign managers who are working illegally in Belfort.
On February 8, 1996, Dimitrov is taken into police custody in town. On the 11th, he is placed under formal investigation by Christine Schlumberger, for organized fraud, misuse of corporate assets, forgery and passing a commercial forgery, illegal hire of foreigners, etc., and then placed in detention in the jail in Besançon, where he stayed 49 days before being released, although under judicial control.
Ever since, and until the trial ended in September, he has had to report in regularly to authorities in Belfort, for a total of 8 years until the case came to trial.
Of course, Dimitrov was not the only one to make mistakes. Regional authorities had promised that his firm would receive a €2 million bonus for creating jobs. The sum was slow in coming, and ultimately would never be paid, since the French authorities had aired serious doubts about Dimitrov's past, particularly the 183 nights he spent in prison in Bulgaria in 1987, and more importantly, about the origin of the firm's registered capital.
Nevertheless, to keep the project moving forward, although the measure was entirely outside of its mandate, ADEBT, through its chairman Jean-Pierre Maillot, took the in sane risk of acquiring for €380,000, from a U.S. firm, Belfort Memory International (BMI) in Los Gatos, CA, supposedly Gigastorage's US subsidiary, manufacturing equipment that was subsequently placed at the disposal of Gigastorage's plant.
Bisser Dimitrov's personality has long intrigued more than a few people. A well-educated and polite man, he was capable of convincing anyone of anything, and equally capable the next day of turning around and maintaining the contrary, while still remaining convinced and convincing. Ultimately, however, he was not credible.
He had meandered through the HDD industry in Bulgaria, Germany and California, with little success, and certainly without becoming the kind of figure who counts in the sector.
If he sincerely intended to establish a successful factory in Belfort, he certainly did not ensure the necessary financial means for that sort of enterprise, which requires a minimum kick-off of $50 million (HDD start-up Cornice is already at $81 million), whereas he raised only several million.
Nor did he sufficiently surround himself with competent people, no doubt because he couldn't pay them. And he wanted to do too much too quickly.
Gigastorage, in the end, assembled only several thousand 5.25-inch HODs, and of mediocre quality at that.
Local officials in Belfort, prepared to do anything it takes to create jobs in their region, allowed themselves to be taken in by Dimitrov's speeches, made promises they couldn't keep, then proved incapable of supervising the facility's operations, eventually obliged to turn to irregular financial transactions to subsidize Gigastorage.
The investigating magistrate made the grave mistake of putting a popular local official from the region in prison, who in turn blamed the judicial system for Gigastorage's failings.
What's more, she submitted a very skimpy final investigation report, while the final decision took forever to come, 7 years after the company's dissolution.
As best we can tell, there are still 2 unsettled questions that both the investigating judge and the accused have ignored:
What was the true source of Gigastorage's capital?
Once Gigastorage had been liquidated and its 192 employees laid off, an auction of all the company's equipment was held in Belfort on October 10, 1997. In the absence of any real publicity for the event, only one person showed any interest, and succeeded in taking almost all of the lots for peanuts. Who exactly was the mysterious person, apparently German, but English-speaking, who refused to tell us his name? One example of what was acquired for a song: 28 servo-writers sold at the absurd price of $500 per unit, when ADEBT had previously acquired just one of them from Gigastorage's US subsidiary for more than €200,000! Was this an underhanded acquisition by Dimitrov through a front man? Where did all the equipment go? In China, where Dimitrov no doubt had acquaintances who could resell it at a more realistic price? Was he, ultimately, the only person to profit from the operation? He, ironically enough, who had made almost no personal stake in the company, outside of attorneys fees, of course?
The gigastory is over, then. If nothing else, it revealed in the end that the failure can be ascribed equally to the incompetence of the company's management, that of local elected officials, and finally, the inadequacy of the French investigation.
One expert estimated that nearly €7.5 million in public funds were transferred to "subsidiary" BMI. All that for some €13,000 in fines paid by the sole two people convicted. Something else for French taxpayers to chew on.
Choice Morcels From Dimitrov During Trial
"I'm currently manufacturing HDDs in China with an R&D division in California." (First we've heard about this. -Ed.)
"We're waiting for the trial to end before returning to Belfort…"(He'll have to wait another 5 years, since he's not allowed to conduct business in France for that length of time. -Ed.)
Asked about his income: "Zero. Invested everything."
His total worth? "Several dollar millions, but it's not something I'll talk about in a courtroom."
Your taxes? "Since I don't have any money coming in, I'm not paying any tax."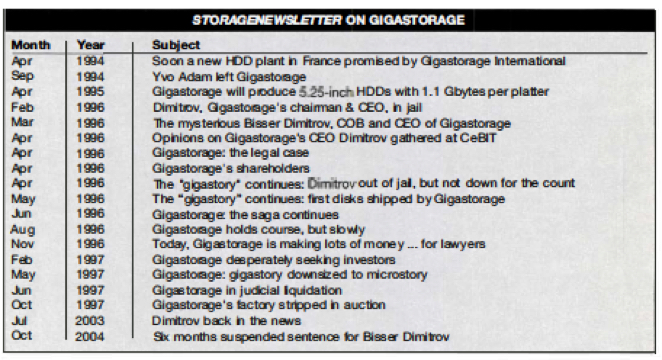 This article is an abstract of news published on the former paper version of Computer Data Storage Newsletter on issue ≠201, published on October 2004.