Kasten: K10 Data Management Platform V2.5 for Kubernetes Backup and Mobility
Cloud-native transformation engine with de-dupe and resource transforms, improves reliability, mobility, and automation for simplified Kubernetes data management.
This is a Press Release edited by StorageNewsletter.com on April 3, 2020 at 2:33 pm
Kasten, Inc. announced the availability of its K10 v2.5.
Click to enlarge

For Kubernetes, it provides enterprise operations teams with a scalable, and secure system for backup and restore, DR, and mobility of Kubernetes applications. This release incorporates company's Cloud-Native Transformation Engine to enhance the automation and reliability of data migration in Kubernetes environments.
"Cloud-native is a critical part of the Kasten DNA, and we've developed the transformation engine to optimize the benefits of Kubernetes application backup and mobility at scale," said Gaurav Rishi, head, products. "Our Kubernetes-native data management capabilities have created a new standard for data security, reliability, and performance in the backup and DR market. This has been instrumental in our customers' efforts to protect data and accelerate workload migration."
Software-only solution deployed securely in Kubernetes cluster


Click to enlarge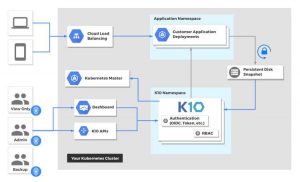 Traditional backup and DR solutions do not work in today's cloud-native environments resulting in scalability issues and data loss. K10's Cloud-Native Transformation Engine introduces capabilities to capture both underlying data and metadata for application backup and mobility in Kubernetes environments. These include parallel data transfers, lock-free algorithms, pluggable encryption and compression, deduplication, and smaller fault domains that ensure backup efficiency and increased reliability for cloud-native applications and infrastructure.
The engine also introduces metadata capabilities, such as resource transforms that reduce the manual effort, complexity, and risk associated with migration of applications, data, and workloads between Kubernetes environments. This critical capability simplifies backup and restore and DR, enabling enterprises with improved flexibility and adaptability by taking captured data and making it suitable for use in a different destination than where it originated.
Click to enlarge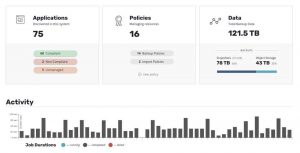 "We initially started using Kasten K10 for backup and DR, but as its new capabilities for data migration were added: we've been able to apply it to successfully migrate hundreds of projects from not just OpenShift 3.11 to OpenShift 4.2 but also across storage systems," said Michael Courcy, architecte DevOps, Sopra Steria Group SA. "K10's migration and intelligent transform capabilities delivered a powerful but simple, reliable and secure solution that matched our scalability needs as we made major updates to our infrastructure."
Click to enlarge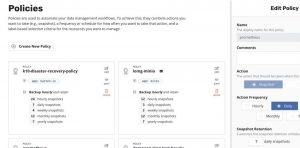 K10's application-centric approach and integrations with relational and NoSQL databases, Kubernetes distributions, and all clouds give IT teams the freedom of infrastructure choice without sacrificing operational simplicity. Policy-driven and extensible, K10 provides a native Kubernetes API and includes features such as full-spectrum consistency, database integrations, automatic application discovery, multi-cloud mobility, and a web-based user interface.
Read also:
Kasten Secured $14 Million Series A
Offering data management platform using novel application-centric approach to data management for cloud-native applications
August 14, 2019 | Press Release
Kasten: K10 on Google Cloud Platform Marketplace
For data management of stateful applications on Kubernetes
July 25, 2018 | Press Release