Quantum Spatial Standardized on Igneous
For fast file movement, cloud capabilities, and simplified operations
This is a Press Release edited by StorageNewsletter.com on March 24, 2020 at 2:16 pm
Igneous, Inc. announced that Quantum Spatial, Inc. has standardized on Igneous for its fast file movement, cloud capabilities, and simplified operations.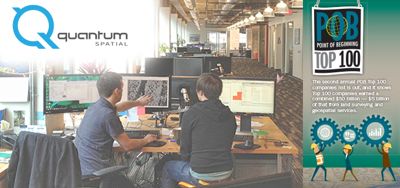 Quantum Spatial, an NV5 company, is the nation's largest geo-spatial data firm. A pioneer in advanced mapping technology, its end-to-end solution delivers data and services, leveraging a wide array of technologies in all types of landscapes. Igneous' data management services have enabled the firm to manage petabytes of data across seven remote locations, with just one person.
"We move petabytes of data each month as we offload and process customer projects," said Carl Lucas, VP of IT, Quantum Spatial. "Igneous' SaaS-based monitoring alerts us if anything is happening. It helps me sleep at night."
Quantum Spatial's reputation has led to substantial growth in both customer projects, and of course, large amounts of data. In addition, new technology from sensor manufacturers continues to increase the resolution and quality of the images they capture.
Igneous is Quantum Spatial's single data management strategy across 3 primary and 4 remote sites. The software allows to hit aggressive protection and compliance SLAs. That means scalable, fast, and enterprise backup, visibility, and archive flexibility between on-premise infrastructure and Azure for petabytes of data.
Igneous has also helped Quantum Spatial optimize their limited datacenter space by building trust and best practices between IT and production teams. When data are moved between locations or to Azure, the company is confident they will be able to get it back.
"That's pretty impressive given how protective our teams are over their data," said Travis Spurley, senior systems engineer, Quantum Spatial.
From camera to cloud, Quantum Spatial's data processing pipeline is optimized to move data with performance at scale. Archiving data to the cloud frees up valuable primary NAS for new projects, while still allowing users to retrieve their data when needed. The result is greater operational efficiency and confidence when deciding to move data.
"My engineers are very happy with Igneous. The ability to search across millions, if not billions of files is huge. The Igneous solution definitely improved our ability to do our job," said Lucas.
Case study: Quantum Spatial Manages Massive Data Growth with Igneous