Wasabi and Comet in Partnership to Protect Data
Service providers can earn more and charge less for secure cloud backups to protect vs. ransomware.
This is a Press Release edited by StorageNewsletter.com on February 18, 2020 at 2:13 pm
Wasabi Technologies, Inc. announced its partnership with Comet Licensing Limited to offer customers Comet Backup interoperable with Wasabi's secure, reliable, and affordable backup cloud storage platform.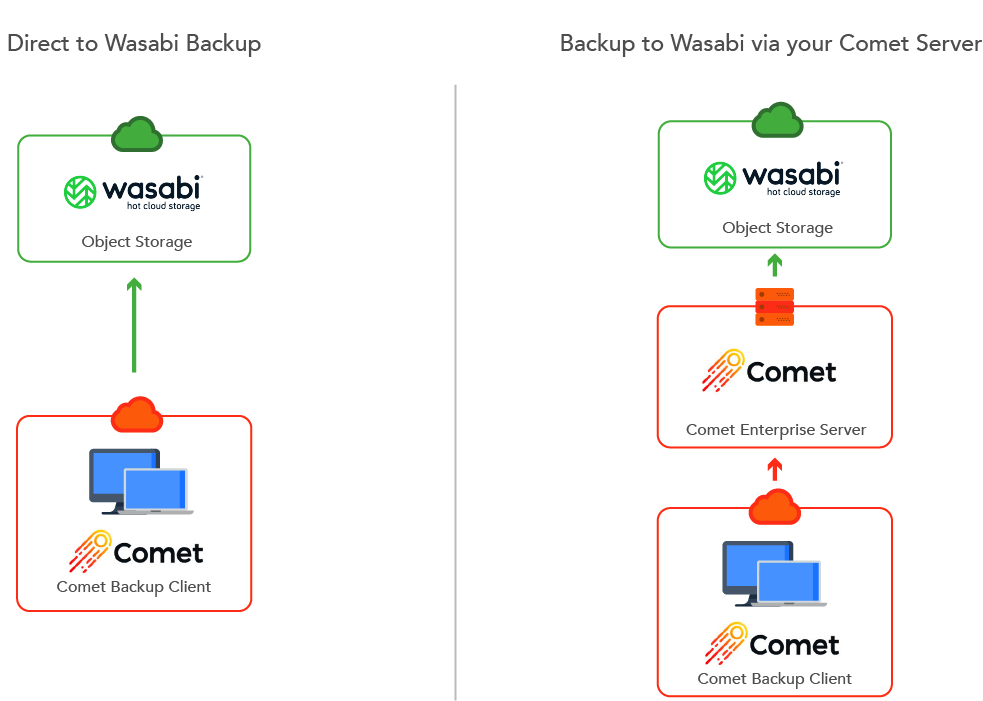 This will suit any business or customer base for backups, restorations, and robust protection vs. ransomware. Using Comet Backup in conjunction with Wasabi provides customers that have migrated to the cloud with an enhanced backup performance and reliability for a competitive business edge.
The digital economy has made businesses increasingly reliant on digitized information systems, but ransomware attacks have accelerated, making backup services mission critical for BC. Comet Backup was designed from the ground up with functionality and features specifically built for service providers.
It provides fast, reliable backups with its underlying 'chunking' technology that makes backups incremental forever with no periodic full re-uploads. Comet offers a full rebranding and easy deployment options so services providers can build out fully customized backup environments and ensure that their brand is at the forefront of backup technology.
Pricing of Comet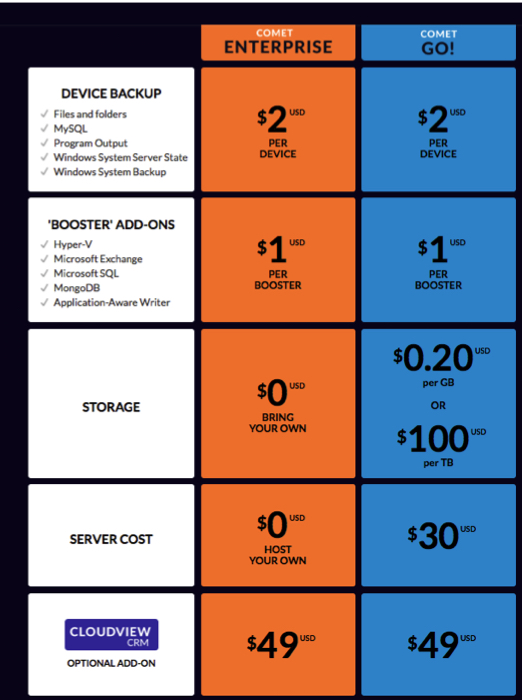 "The world is moving to the cloud for affordable storage and to be able to leverage technologies like ML and AI", shares David Friend, CEO, Wasabi. "The Wasabi and Comet joint solution provides new revenue streams for service providers while deploying a reliable cloud platform that is affordable, flexible and most importantly, secure."
Utilizing Wasabi cloud storage alongside Comet Backup is 80% less expensive and faster than first gen cloud storage vendors with no fees for egress or API requests. Wasabi is designed with eleven nines of object durability and data immutability that guarantees stored objects cannot be deleted or modified by anyone, and Wasabi keeps all data hot so it can be accessed in milliseconds.
Josh Flores, GM, Comet, shares: "We are proud to partner with Wasabi to streamline backup efforts for our customers. In conjunction with Wasabi, our customers will now have a reliable and secure place to store their data."
Efficiency and security are the cornerstones of any backup platform. Comet Backup's client-side deduplication ensures that only necessary data is stored and uploaded; improving backup speeds and reducing storage costs. For enhanced security, it encrypts all user data during transit and at rest, using AES-256-CTR with Poly1305 encryption. Data is only decrypted during a restore.
The combination of Wasabi's CJIS, HIPAA and GDPR compliance and data immutability coupled with Comet's end to end encryption ensures security, data integrity and compliance.
Comet Backup
Founded in 2015 and launched in February 2017, it is light-weight, fast, re-brandable backup software. It is 100% focused on developing Comet for the service provider industry only. It provides a secure, encrypted backup system that lets customers backup to the storage destination of their choosing. It integrates with technologies and storage providers such as Amazon AWS, Google Cloud Storage, Microsoft Azure, Backblaze B2, Wasabi, Let'sEncrypt, OpenStack.