HighPoint Technologies: NVMe Solutions With Bootable RAID for 2019 Mac Pro
From $400 for SSD7120 4x U.2 NVMe RAID controller to $1,100 for SSD6540M 4-bay M.2 NVMe RAID enclosure
This is a Press Release edited by StorageNewsletter.com on January 30, 2020 at 2:20 pm
HighPoint Technologies, Inc.'s NVMe solutions represent a shift in system acceleration.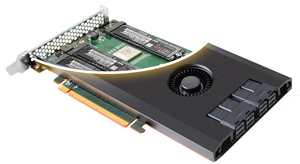 Its hardware architecture and game-changing NVMe RAID technology enable a single, compact PCIe controller or small-footprint external enclosure to deliver up to 14,000MB/s of performance from 4 M.2 or U.2 SSD's. Any 2019 Mac Pro system with a free, dedicated PCIe 3.0 x16 slot can now experience a level of performance once exclusive to large-scale platter disk configurations and enterprise hardware platforms.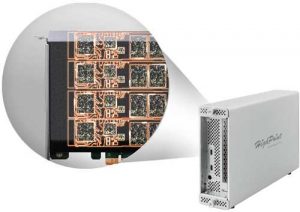 Performance-focused hardware architecture
The firm's NVMe hardware architecture delivers end to end PCIe 3.0 x16 bandwidth; integrated Smart-Switching technology allocates 4x dedicated lanes for each SSD to ensure performance and immediate response time. This design allows each port to deliver 3,500MB/s of transfer speed, and 14,000MB/s from single, compact NVMe RAID solution.
SSD7110 NVMe RAID controller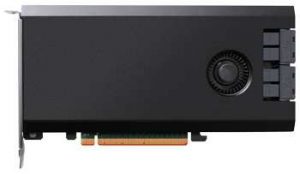 Cross Sync RAID technology
Cross-Sync NVMe RAID technology can boost performance and storage capacity by linking 2 SSD7100 controllers or SSD6540 series enclosures to act as a single storage device. A single NVMe RAID card or enclosure can support up to 8TB of storage and deliver 14,000MB/s of transfer speed. This technology doubles capacity to 16TB while delivering and 27,000MB/s of transfer speed.
SSD6540 series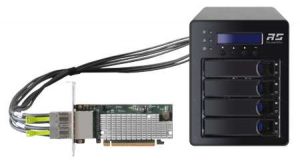 Bootable RAID solutions for 2019 Mac Pro
Several bootable NVMe RAID solutions are available for customers that need to accelerate the performance of one or more OS platforms.
The SSD7110 Hybrid NVMe + SAS solution is available for macOS Catalina, and supports up to 3 M.3 SSD's and 16 SAS/SATA HDDs simultaneously. Customers are free to configure a bootable volume using any individual drive or RAID array. Other NVMe-based solution in  marketplace offers this flexibility and storage capability.
RS6661A-NVMe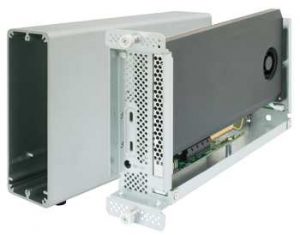 Mac platforms – Fan control
The SSD7101A-1 and RS6661A-NVMe feature fan control when used with Mac platforms and macOS 10.14 and later. Customers can track the temperature of each NVMe SSD using the management interface's SHI feature (Storage Health Inspector), and select from 3 speed settings or power-off the controller's fan for silent operation. This feature is for media and design applications that require low-noise working environments.
NVMe storage health and life span monitoring
The SSD7100 Series RAID controllers include a web-based interface, that in addition to RAID creation and storage management, features integrated TRIM support, SMART monitoring, and total Terabyte Written (TBW) tracking – essential data points for maintaining the longevity and endurance of any NVMe storage configuration. SMART monitoring allows to check a variety of physical attributes for each NVMe SSD, including temperature readings, voltage and TBW in real time.
SSD7120 4x U.2 NVMe RAID controller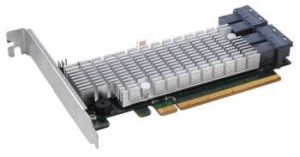 Price and availability:
NVMe solutions are available from North American retail and distribution channels.
Read also:
HighPoint SSD6540M PCIe 3.0 x16 External M.2 NVMe RAID Storage Solution
$1,100, including 4-bay M.2 SSD enclosure, PCIe 3.0 x16 controller, and 2 SFF- 8644 PCIe Gen3 x8 cables
November 19, 2019 | Press Release
HighPoint: SSD7103 Next-Gen NVMe RAID PCIe Controllers for M.2 SSD, Up to 14GB/s
$449 for SSD7103 (bootable, 4xM.2), $399 for SSD7101A-1 (4xM.2), $799 for SSD7110 (3xM.2/16xSAS/SATA), and $399 for SSD7120 (4xU.2)
June 7, 2019 | Press Release
HighPoint Technologies: RocketStor 6661A-mSAS3 8-Channel Thunderbolt 3 Hardware RAID
$599, with two external Mini-SAS ports (SFF-8088), supporting up to 8 SAS/SATA drives and 112TB of storage in one or more RAID configurations
March 14, 2019 | Press Release
HighPoint: RocketStor 6314B, Thunderbolt 3 Hardware RAID
$529, supporting 4 SAS/SATA HDDs or SSDs for up to 56TB of storage
February 28, 2019 | Press Release
HighPoint: RocketStor 6674T Rackmount RAID Enclosure for Apple Mac Mini 2018
$2,299 in North American, adding up to 224TB of RAID
December 13, 2018 | Press Release