NGD Awarded 30th Patent
Interface compatible with M.2 connector socket for high capacity SSD
This is a Press Release edited by StorageNewsletter.com on October 28, 2019 at 1:33 pm
NGD Systems, Inc. announced its 30th patent awarded by the U.S. Patent and Trademark Office (USPTO); the company also has submitted additional patents that are pending.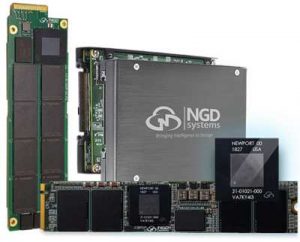 The latest patents include a method and system for executing host data-processing tasks during data retention operations in a storage device. The firm has spent the last 6 years developing and deploying solutions that solve customer storage issues by reducing the data movement required to analyze mass data sets and the strain on customer infrastructure.
Since achieving its first patent in August 2014, the company has gone on to create the storage innovative technology, including a large capacity and power-efficient NVMe Computational Storage Drives (CSDs). The CSDs enable customers by delivering compute resources to the stored data. These NVMe SSD-based products reduce latency and the power required to deliver results and value from massive data sets nearly instantly. Customers can derive meaningful answers more effectively with applications, such as Hadoop or AI related needs, in near real-time, based on their customer-facing SLAs, without having to add acceleration specific hardware.
The company's new patent makes it possible to combine the execution of a query with other operations, such as a data-retention scan, in a storage device, when the execution of the query is not time-sensitive. The storage device may be connected to a host and may operate during intervals of time in a power-save mode. When a host receives a query that is not time-sensitive, the query may be stored in the host or in the storage device until the device would otherwise return to a normal operating mode, at which time the query may be executed.
The firm was also awarded its 29th patent for a system and method for adaptive multiple read of not and (NAND) flash, which showcases its focus on both Computational Storage Services (CSSes) as well as standard NVMe SSD needs in a single device.
"Innovation is in our DNA, at NGD, we're focused on being a major pioneer in the enterprise storage space since we founded the company. We were the first company to offer 'in-situ' processing in a commercially available product." said Vladimir Alves, CTO and co-founder, NGD. "We continue to excel at generating innovation and IP, and have registered 30 patents in just six years, a feat that showcases our commitment to delivering cutting-edge engineering solutions to solve real-world problems faced today in hyperscale, edge and CDN environments."
Read also:
FMS: NGD Systems Embedded Azure IoT Edge Service With Computational Storage SSD, and 32TB Newport U.2 SSD
Platform to support service directly within storage device
August 13, 2019 | Press Release
NGD Systems: Computational Storage for Intelligent Edge
Adding M.2 form factor to Newport platform for 8TB capacity
June 21, 2019 | Press Release
NGD Systems: Availability of Newport Platform for Deployment of Computational Storage Devices
Leverages 14nm SSD controller enabling in-situ processing to eliminate moving datasets across intelligent edge and hyperscale networks.
March 15, 2019 | Press Release