Emtec Power Plus Series 2.5-Inch X150 and X160, X200 Portable, and M.2 2280 SATA SSD
From €23 (120GB) to €110 (960TB) for X150/X160, from €39 (128GB) to €139 (1TB) for X200, and from €25 (128GB) to €120 (1TB) for PX250
This is a Press Release edited by StorageNewsletter.com on October 9, 2019 at 2:16 pm
After launching its first 2.5″ SATA SSDs earlier this year, Emtec, division of Groupe Dexxon announces a series of internal and external SSDs using Phison controllers, based on the next gen of 3D NAND, which transform user experience by offering a faster start-up speed and increased durability of computer devices.
Complete range for consumer and professional use: Plus and Pro series

The company unveils the Power Plus range, made of four SSD models reaching up to 520MB/s (*) read speed and 500MB/s (*) write speed, to improve the performance of a tired computer or increase its storage capacity through an additional disk: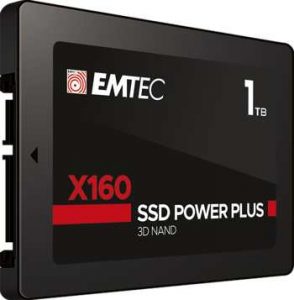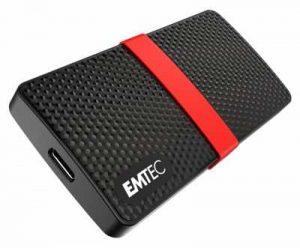 External X200 Power Plus portable SSD: pocket-size, lightweight and stylish portable SSD, with a USB-C interface, available in October 2019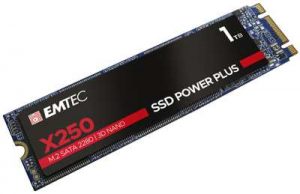 M.2 2280 SATA series: internal X250 Power Plus SSD adapted to new gen computer slots, available in November 2019
Next models on the way are the Power Pro series, targeted at a professional market, offering higher transfer rates and supporting security suite (TCG Opal 2.0, AES 256-bit, eDrive), for demanding office or gaming environments:
X300 Power Pro (NVMe M.2 2280 PCle Gen 3×4 – 3D NAND): up to 1,500MB/s (*) read speed and 1,000MB/s (*) write speed, available in January 2020.

X350 Power Pro (NVMe M.2 2280 PCle Gen 3×4 – 3D NAND): up to 3,200MB/s (*) read speed and 2,200MB/s (*) write speed, available in January 2020.
"Emtec has over 18 years of experience in the flash industry, with a long history as a leading European brand on USB sticks and memory cards. Since the beginning of this year, we are witnessing a turning point on flash market. Now SSD technology has reached a price point where it offers good value for money, especially compared to conventional HDDs. It was time for us to launch our SSD product ranges", explains Henri Vignat, director, Emtec.
The two Power Plus and Power Pro ranges fulfill all PC upgrade and storage extension needs, from home computing to workstations and HPC .
Up to 40x faster than conventional HDD
This is what SSDs let achieve, namely the X350 model within the firm's line-up, thanks to 3D NAND technology allowing for a much higher storage density without any compromise on performance.
Benefits:
Increased performance when starting and stopping computer devices.

Accelerated loading of the most demanding applications (for example video games).

Quiet and more impact-resistant storage device, compared to a conventional HDD.
X150 and X160 MSRP:
120GB: €22,90

240GB: €35,90

480GB: €59,90

960TB : €109,90
X200 MSRP :
128GB: €39

256GB: €55

512GB: €79

1TB: €139
PX250 MSRP :
128GB: €24,90

256GB: €42,90

512GB: €72,90

1TB: €119,90
Power Plus SSDs range up from 120GB to 1TB, Power Pro SSDs will be available from 128GB to 2TB.
All models come with a 3-year warranty.
(*) Speeds based on internal tests, may vary depending on usage and equipment used.
Read also:
Emtec Power Plus X15: 2.5″ 6Gb SATA SSD internes basés sur des chips 3D NAND    
120 à 960GB, jusqu'à 520MB/s en lecture et 500MB/s en écriture
April 18, 2019 | Press Release