Exclusive Interview With Luc d'Urso, CEO, Atempo
Confirming new era for French data protection player just raising €8 million
By Philippe Nicolas | September 25, 2019 at 2:23 pm

Luc d'Urso is the current CEO of Atempo-Wooxo Group. He founded Wooxo in 2010, before he launched Futur, a subsidiary of SFR, Reflex Industries, Mistral Snowboards and started as GM at Serfiac, the last three stories in the sport business. He's also VP of Hexatrust.
StorageNewsletter: Atempo is well established and went through different periods, where the company comes from?
Luc d'Urso: Atempo is an European software vendor with a global WW presence and headquarters south of Paris. Over the past 25 years, we have built a reputation in data backup and archiving sectors. We protect mission critical assets of public and private organizations in demanding business areas such as media, banking and insurance, defense, healthcare, aviation and aerospace…
And what is the new mission of Atempo?
Most of our customers need to tackle recent challenges such as the data tsunami or managing data in a multi-location storage environment. Conventional solutions no longer meet expectations.
Storage policies must adjust to the type and nature of data produced and managed.
Sheer volume growth and the changing nature of data mean human decisions are too slow. Static storage policies have become inefficient. In other words, data needs to be moved more often and be exploited more efficiently.
Our new mission is centered on developing a new generation of AI-powered solutions enabling our customers to protect and manage their digital assets easily and cost effectively in the big data era. This means offering them dynamic storage policies and the opportunity to move their data simply and securely to flash, nearline SAS or cloud storage when needed.
Could you share some numbers in terms of company size? Number of employees? Number of sites or offices? A range for the revenue? We think Atempo belongs to the $20-25 million range, do you confirm?
The Atempo-Wooxo Group accounts for 200+ employees in our Parisian head office and sales/technical branches throughout Europe, Asia and North America. With revenues in the $20-25 million range, we recently entered the Trufle100 of French software vendors.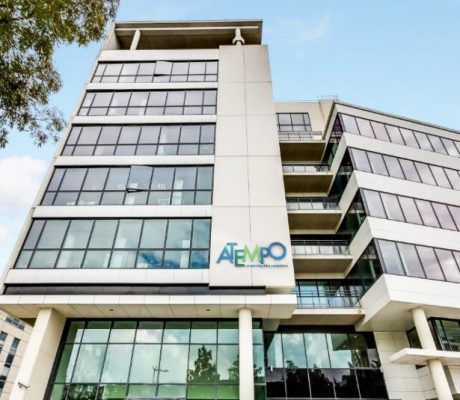 And we just announced a new round of €8 million led by IdVector and a pool of banks with LCL, HSBC, Société Générale and BPI. It will accelerate our engineering effort around data science, Miria, and our lab of IA, NextIno.
How do you split your activity between structured and unstructured data?
Our revenue is still mostly fueled by Tina and Lina, our conventional backup solutions. However, Miria, our new platform, is enjoying 3-digit growth and takes the lion share of new business.
What was your goal when you acquired the company following the ASG era?
We founded Wooxo in 2010 on a market dominated to a large extent by US firms.
Over the past decade, IT environments have become increasingly complex. They have rapidly evolved to become ever more virtualized, hybrid, hyperconverged. At the same time, with growing computing power, the volume of data managed by an organization to remain competitive has grown considerably.
This evolution have rendered obsolete, or have significantly reduced, the value of conventional solutions. The time has come for a technological break.
What we're seeing is that AI technologies are providing agile companies with the opportunity to reshuffle the cards. And closer to home, in France, we are fortunate to have access to some of the world's leading data scientists.
Acquiring Atempo in 2017 from ASG, a US firm who had purchased the company in 2011, was for us a strategic move. Atempo, founded 25 years ago has acquired an international customer portfolio of advanced HPC and big data users for whom we develop open innovation programs. We also inherited a marketing and engineering team with experience in storage and data protection. It makes a huge difference when it comes to managing solutions both in legacy and new generation storage environments. Last but not least, we also acquired and strengthened an international distribution network able to promote our new platform Miria which is designed to protect, archive and migrate petascale volumes of data. 
Atempo is well known for Tina, any update of the product, its market footprint and figures?
We continue to develop and enhance Tina to cover infrastructure and application updates. We will, for example, be supporting Microsoft Office 365 in a forthcoming update. Historically, Tina is an outstanding enterprise backup solution with its tape management and deduplication technologies associated with its renowned Time Navigation feature. These characteristics maintain Tina as a solution of choice despite the current trend towards hyperconvergence and hybrid cloud infrastructures. Our customers continue to choose Tina because they trust us with their sensitive data and our 'air gap' and on-premise storage solutions.
What about the other products such as Lina, Backstone and ADA?
Lina, our laptop and workstation backup solution is principally deployed on premise on customer sites from a few dozen to several thousand protected machines. To accelerate its sales development, we are currently working on a PC constructor and MSP offering. The aim is to enrich their product lines with an added-value data protection and BMR service approach.
Backstone is a backup appliance developed on the solution know-how of our sister company Wooxo. This range of appliances offers simplicity and power to data and application protection particularly when the IT infrastructure is spread over multiple sites  for example in the case of retail, construction and logistics customers.
ADA is successful large data backup and archiving solution particularly in the media and post-production industry and continues to evolve towards archive-oriented workflows.
Last time we met, you told us that Atempo acquired the assets of Lima, the sync-and-share tool, what's the idea behind this?
Lima has been honored 4 times at the CES. With more than 60 cumulative years of R&D, it is part and parcel of the French IT heritage. Since the number of connected devices is expected to reach 6 per person within 5 years. Lima's crossover filesystem may well become an essential technological brick in this multi-OS environment.
You have a recent product, Miria, give us the pitch and why it's important for large environment?
We're witnessing massive unstructured data growth right now which is of course fueled by AI, IoT, etc. What's new is that this growth means traditional yet vital storage, backup and archiving and data movement solutions are becoming increasingly obsolete. Miria, benefits from the experience acquired through ADA in very large archiving environments. Thus we know how to move billions of objects and petabytes of data with a multi-site approach. Miria stands out from the crowd thanks to:
its scalability based on its Data Mover architecture,
the efficiency of its data access speeds with FastScan technology,
the integration with all storage types from tape to cloud along with NAS, PFS and object storage,
the ongoing use of open formats to guarantee the longevity of the solution.
Over and above data protection and management, Miria will also benefit from the latest IA developments to optimize infrastructure usage, and also provide a global analytical vision of the unstructured data in each organization.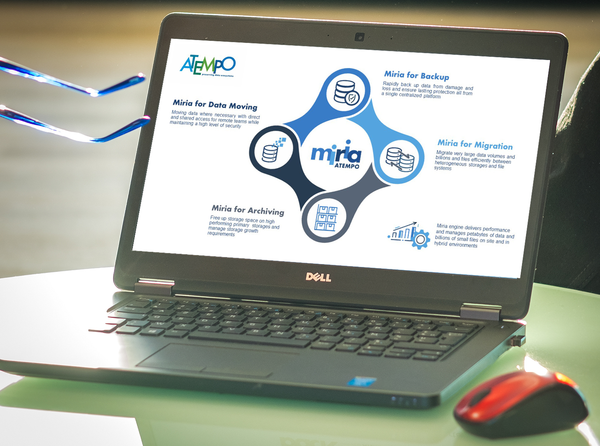 There are some overlaps in your product line, how do you address these?
From a go-to-market point of view, the product-market couples we commercialize are very clear. Tina protects data and applications on physical and virtual servers, Lina is a continuous data protection solution for workstations and laptops, Miria covers the need to protect, archive and move large volumes of unstructured data. From a development point of view, we share some components and technologies such as deduplication, filesystem access layers or storage management between products.
You signed some agreements with Huawei, DDN and Qumulo, could you articulate how these deals work?
Miria architecture is designed to address large environments where data movement performance is critical for handling billions of files of all sizes on large primary storages. The goal is to reduce scanning pressure on storage such as GPFS/Lustre/CIFS/NFS as well as leveraging multi-threaded operations to move data for migration/sync/backup/archive purposes. It became logical for Atempo to identify and develop advanced integrations with storage-at-scale market leaders. We had already established some interesting relations with vendors such as EMC, Western Digital, NetApp. We are keen to go even further with other alliances. DDN is a natural high-performance leader for AI and HPC today. They made the choice to partner with us offering their customers the DDN Data Flow solution powered by Atempo to unleash migration and data protection performance on their customer sites. The great value for their customers is they have a one-stop shop from POCs to supporting their infrastructure.
Other vendors such as Qumulo partnered with Atempo to offer their integrators and end-users solution ecosystem to solve pain points such as migration of legacy systems or backup windows taking forever due to high daily change rate and millions of 10Kb files to move/protect. The same pattern is followed with Huawei which is a major storage player in different geographies.
In both scenarios, before being a sales relationship, this is a technical partnership to develop advanced capabilities such as FastScan or StorStory and increase the benefits of global solutions solving customers challenges. Atempo has several new partnerships in the pipeline and 2020 will see the addition of new key partners. By the way, it is interesting to note that the discussions we are entertaining are targeting multiple high-performance use cases such as the backup of large object storage to tape, cloud backup and others.
How do you see this market segment? Who do you identify as your competition for Miria?
The unstructured data management market sector is highly dynamic both for traditional players and new arrivals. Use cases are also rapidly evolving. Data migration, backup and archiving in high performance environments today share similar challenges. If many players are strong on one solution, today, the market is more primed for flexible and unified approaches. Our Miria platform provides this precise unified approach without being restricted to stubbing or virtual links, for example, which continue to show their limits.
Miria supports file servers and NAS, essentially every storage entity exposing a NAS protocols but also GPFS. In what mode do you support GPFS? And is there any plan to add Lustre, Panasas, Quobyte or WekaIO?
Miria has a very thorough compatibility guide thanks largely to our experience with ADA. For GPFS, accesses are granted in file mode to collect all GPFS and Posix attributes to guarantee 'true image recovery' on GPFS, and cross-platform recovery to filesystems other than GPFS. Integration with ILM means we can propose FastScan features and missing file detection Lustre is already in our compatibility guide for archiving and we are working on an advanced support notably for advanced backups. Panasas, Quobyte and WekaIO are also perfect fits for our targets and are being studied.

You started your own AI lab named NextIno in Orleans, France. What is the purpose of this and what will be the first features we'll see? For which products?
The first features to come for 2019 are an ecosystem discovery solution and a self-tuning capability providing 100% control for data migration projects. We will soon introduce dynamic storage, backup or archiving policies based on the evolution of the data managed, their storage and network ecosystem. These new features will be based on neural learning engines.

What about the cloud, multi and hybrid, we don't see a real or obvious cloud strategy? Any plans to run on AWS, GCP or Azure?
Atempo has taken great strides recently in supporting the cloud technologies you mention. What we have in our roadmap takes this integration to a new level. We already have many customers who combine multi-site, on-prem and edge infrastructures. Our vision today is to integrate the cloud further into the mix and provide the possibility to manage data seamlessly wherever it is stored. Miria will address cloud-to-cloud (intra-cloud) and reverse cloud data movement requirements. Ultimately, Miria will offer access to a genuine, homogeneous hybrid cloud environment which can unify all data management needs, be they backup, migration, synchronization or archiving. By providing additional data targets and interoperability, Miria will further empower our customers.
What about compliance especially CCPA and GDPR?
On the subject of support for compliance, there are two parts to consider. On one hand, there is a need to address data protection requirements and the quality of access rights to protected data. On the other hand, new AI applications and particularly data analysis based on Natural Language Processing (NLP) are becoming possible as backup and archiving solutions are already fueling data lakes which regroup a consolidated vision of all enterprise data. The groundwork and development of these technologies are addressed today by our advanced research center and AI lab NextIno.
What is you pricing model? Globally and for each product?
We are very flexible about adjusting our pricing models to fit customers needs: perpetual licenses, SaaS, pay-per-use, and even special prices for verticals in line with their usual metrics.
Any change in the go-to-market strategy? How do you sell product in different geos?
In Europe, the decision to change from a tier-1 to a tier-2 policy has significantly increased our network density.  On an international level, the focus is on Miria, our new platform and we favor an approach based on strong technological partnerships with storage and HPC vendors.
What are the directions for 2020?
We will significantly reinforce our innovation and engineering teams and offer an aggressive marketing program to our partners. We are also studying external growth opportunities.