Universal Scientific Industrial Unveils Enterprise PCIe NVMe Gen3 SSD Mass Production Test Solution
Testers utilize different types of adapter cards and brackets to support various SSD form factors such as U.2 and HHHL/FHHL.
This is a Press Release edited by StorageNewsletter.com on August 9, 2019 at 2:25 pm
To address the growth of the SSD market, USI (Universal Scientific Industrial) announced a test solution for the mass production of enterprise PCIe NVMe Gen 3 SSD.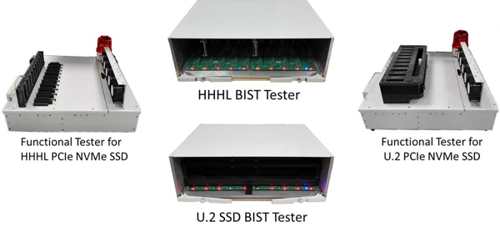 The test platform – from circuit design, software to test integration development, was developed in-house. It will enhance the firm's SSD turnkey solution that includes product design, test and manufacturing services.
In recent years, there has been a rise in the demand for storage especially SSDs, in both consumer and enterprise applications. The increase in demand has in turn, boosted the need for SSD testing solutions in manufacturing. The newly launched PCIe SSD functional test platform has been developed on the back of the company's experience, having served the SSD market, and provided design and manufacturing services to tier one customers for over a decade. The test solution has been validated for both sample production and mass production, and its stable performance has been well received by customers.
The enterprise PCIe NVMe Gen3 SSD testers utilize different types of adapter cards and brackets to support various SSD form factors such as U.2 and HHHL/FHHL. Customers can thus speed up their time-to-market with these testers that can be configured according to production demand.
The company also offers its customers, customized SSD test modifications such as NVMe SSD test for dual-channel ports, power supply monitoring and parameter adjustment of IO tools, which help to reduce total test time. With the continuous improvement in PCIe technology, the firm expects to introduce PCIe NVMe Gen4 SSD test solutions in 2020 that will align with customers' future demands.
"SSD manufacturing has been a part of USI's portfolio since 2000 and the company has been working on improving its quality, automated process deployment and test capabilities. Our efforts have resulted in securing confidence from tier one customers," said Daimon Lee, associate VP, data network storage business unit, USI. "With the SSD technology trending towards higher density, larger capacity, varying designs and faster performance, test solutions have to be optimized to ensure flexibility and cost-effectiveness. USI is committed to research and develop highly efficient integrated services for product design, test and manufacturing to the SSD market."
About USI
USI, Universal Scientific Industrial (Shanghai) Co., Ltd., provides design, miniaturization, material sourcing, manufacturing, logistics, and after services of electronic devices/modules for brand owners. USI is a member of ASE Technology Holding (TWSE: 3711, NYSE: ASX) and has years of experience in the electronics manufacturing services industry and leverages the technology of ASE Group, which enables the company to offer customer diversified products in the sectors of wireless communication, computer and storage, consumer, industrial, and automotive electronics worldwide. The firm has sales service network in America, Europe, and Asia, and manufacturing sites in Mainland China, Taiwan, Mexico and Poland.