HPE to Resell Komprise
Recruiting Chris Moore SVP WW sales and Randy Hopkins VP global systems engineering and enablement
This is a Press Release edited by StorageNewsletter.com on July 16, 2019 at 2:00 pm
Komprise Inc. announced two milestones in its global expansion – a deal with HPE to resell Komprise through the HPE Complete program, and the appointment of two key executives to accelerate international growth.
The appointments come at a time of record growth for Komprise. In February, the company announced a $24 million series C rounding.
Komprise has appointed Chris Moore as SVP WW sales and Randy Hopkins as VP global systems engineering and enablement.
Chris Moore is a sales leader with more than 25 years of experience in driving high growth and successful exits of multiple startups including Codenvy (Red Hat), Kace Networks (Dell), AvantGo (IPO, Sybase) and Genesys (IPO, Alcatel).
Randy Hopkins has over 25 years in technical leadership roles creating enablement programs for enterprise companies, including two start-ups Data Domain (IPO) and Nimble Storage (IPO) and leadership roles at Pure Storage, EMC, Dell, and HPE.
"We are excited to have Chris and Randy on board especially with their proven background accelerating growth in successful startups," said Kumar Goswami, founder and CEO,Komprise.
Komprise in HPE Complete
The company is joining the HPE Complete Program, enabling HPE to resell the Komprise data management software together with its own scale-out storage solutions to enterprise customers across the globe. After several months of progressing through the pilot and validation phase, the collaboration is now being offered to customers.
The solution combines the Komprise data management software that works across NAS and clouds with HPE storage. As a result, enterprise customers around the world now can dynamically and cost-effectively manage unstructured data growth while reducing complexity.
See the Komprise – HPE Reference Architecture.
"Komprise's data management platform provides exceptional analytics capabilities and highly flexible management of data assets, enabling more efficient on-premises and hybrid cloud architectures," said Marty Lans, GM storage connectivity & HPE Complete, HPE. "Our collaboration with Komprise extends our focus on helping our customers create solid infrastructures to manage and unlock the true potential of their data."
Under the HPE agreement, combined Komprise and HPE solutions are available now throughout the Americas and EMEA HPE channel and enterprise sales force. The Complete Program is built on technologies and products that complement HPE servers and storage backed by the reliability of HPE's interoperability assurance.
Resource:
Komprise Product Page on HPE.com
Comments
No surprise to read the HPE Complete news and the extension of the team.
This is a hot category grouping various topics around a pretty wide umbrella today. We can mention Tiering/Offloading, Copy/Replication, NAS Migration, Native object support (illustrating again what we said for very long time that S3 is the de-factor standard) and Analytics.
This last feature is even more than a feature and represents a key function needed to understand files environments, access patterns and users behaviors.
This Analytics became a core component of several products to offer a global unstructured data catalog and finally one of the market battle is on this aspect: understand the enterprise data landscape.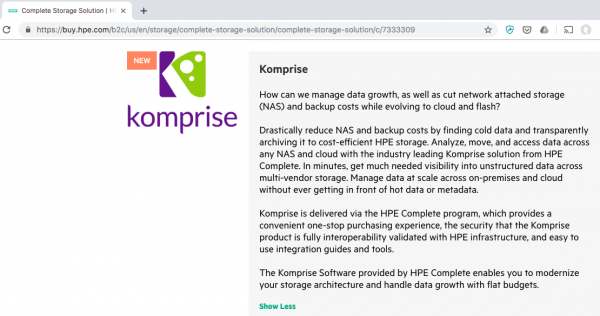 The company continues to grow at a rapid pace with today more than 150 customers with 600% increase on its existing installed base. Komprise won a deal to manage a 85PB file environment.
Not easy for competition such Point Software and Systems, Data Dynamics, Seven10, StrongBox, Atempo with Miria, Datadobi, NetApp sometimes and even IBM trying to find a spot to land and grow.
We also talked recently with Andy Hill, VP of EMEA sales, Komprise, and he shared with us interesting information. 70% of his European deals are new projects and in majority file environments consider NetApp, Isilon and Windows FS and on the other part AWS, Cloudian, StorageGrid, and ECS. Others vendors being really anecdotic. A bit of surprise as IBM reseller didn't yet take off on both sides files and objects but HPE really needs this with the exotic and funny storage strategy partnering with so many players.
We also understand that Komprise plans to announce some interesting key features after the summer related to the cloud.
Founded in January 2014, Komprise has raised 3 rounds for a total of $42 million being pretty frugal with VC money and investments in order to keep control of their destiny. The firm is very often listed as a M&A targets and we won't be surprised to see the company landing somewhere as the solution is pretty unique on the market. Somewhere between $200 and $300 million should be a good range for a win-win transaction.