Elastifile: Support for SMB 3.1 Storage Protocol on Cloud File Service
To manage scalable file storage service on Google Cloud
This is a Press Release edited by StorageNewsletter.com on June 12, 2019 at 2:26 pm
Elastifile Ltd. announced that the Server Message Block (SMB) 3.1 storage protocol is supported and available for early access on its Cloud File Service, a managed, scalable file storage service on Google Cloud.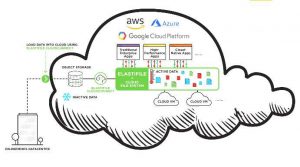 By adding SMB to the service's pre-existing support for the NFS protocol, it is delivering compatibility for a broader range of enterprise applications and use cases. Users can register for access to SMB on Elastifile's service.
Frequently leveraged in Windows environments, SMB is a client-server communication protocol used to manage network resources, including storage access. It provides standardized connectivity between file systems and enterprise applications and is an alternative to the popular NFS protocol. It is commonly used in a variety of demanding enterprise use cases, including file sharing, media rendering, seismic simulation, financial modeling. In addition, end user applications such as Adobe Premiere video editing software, also typically connect to storage using SMB.
"By adding support for SMB, we've made it easy for Windows-based workflows to reap the benefits of Elastifile Cloud File Service," said Adi Sprachman, VP, product management, Elastifile. "With support for all zones, all regions, and now both NFS and SMB, our cloud-native solution is well-positioned to address the full spectrum of enterprise use cases on GCP."
To enjoy the firm's Cloud File Service users specify their desired storage capacity and select a service level aligned to their budget and performance requirements. Service levels can later be adjusted on-demand, as desired, enabling customers to start small and expand performance or capacity later as dictated by the demands of their evolving workflows. Every service level delivers a suite of cloud-native enterprise features, including snapshots, multi-zone support, asynchronous replication, and full support for API-based control. Finally, the cost of the service is integrated into Google Cloud's pre-existing billing infrastructure, so customers do not need to change their existing payment process.
The company's solutions are available on Google Cloud Platform (GCP), Amazon Web Services (AWS), and bare metal on-premises environments, with Microsoft Azure availability coming soon.
Read also:
Elastifile Enhanced API For Cloud File Service Scalable File Storage on Google Cloud
Allows users to automate use of cloud file storage to optimize range of workflows.
June 7, 2019 | Press Release
Google Cloud Next: Elastifile Container File System for Kubernetes
For Google Cloud Platform Marketplace
April 19, 2019 | Press Release
Elastifile Announces Self-Service Availability for Fully-Managed, 'File Storage'-as-a-Service on Google Cloud
$0.10/GB/month, billable by hour
April 4, 2019 | Press Release
500% Quarterly Revenue Growth for Elastifile
From 3Q to 4Q FY18 [with our comments]
March 14, 2019 | Press Release