New Way of Storing Old Files on Dropbox
Cold storage on own dedicated storage infrastructure
This is a Press Release edited by StorageNewsletter.com on May 16, 2019 at 2:11 pm
By Dropbox Team
Three years ago we launched Magic Pocket because we scaled so much we had to build our own dedicated storage infrastructure.
Click to enlarge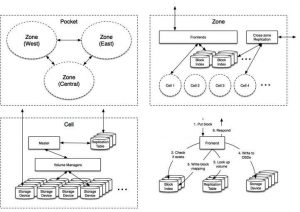 Now this multi-exabyte storage system stores and serve more than 90% of our users' data. We're continually working on improving the system to optimize performance for our particular use cases. In 2018, we became the first major tech company to adopt SMR technology, which added hundreds of petabytes of new capacity to Magic Pocket. Today, we're announcing an advancement in our storage technology for less frequently accessed files, called cold storage. This new storage tier improves efficiency and lowers costs, while maintaining standards for reliability.
The company's users are much more likely to access recently uploaded files compared to those uploaded years ago. So we divided file access into two categories-warm and cold, based on how frequently they're accessed-and assigned them to the appropriate storage tier.
The warm tier remains our standard Magic Pocket system, which has high storage density and fast network connectivity. Our cold tier runs on the same hardware and network but saves costs through reducing disk usage by 25%, without compromising durability or availability. The end experience for users is almost indistinguishable between the two tiers.
About how we built our cold storage system, read our tech blog post.