Big Switch Extends Big Cloud Fabric Automation to Nutanix ROBO Edge
With integrated networking designation
This is a Press Release edited by StorageNewsletter.com on May 16, 2019 at 2:08 pm
Big Switch Networks, Inc. announced at Nutanix, Inc.'s annual .NEXT Americas conference that it has been awarded the 2019 Nutanix Elevate Technology Alliances: Solutions Innovation Partner of the Year Award for Big Switch's Big Cloud Fabric (BCF) solution, for its data center private cloud and ROBO edge use cases.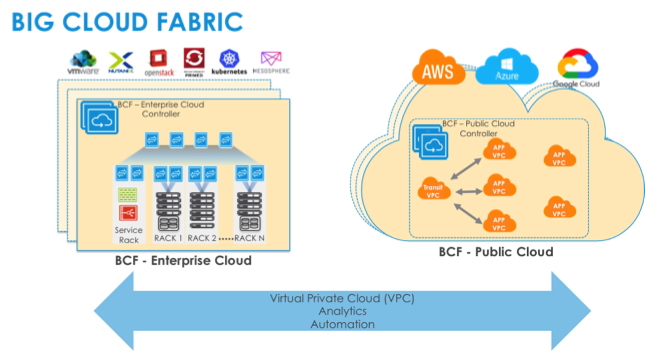 BCF achieved Nutanix Ready AHV with integrated networking designation, enabling physical network automation through integration with Nutanix AOS, the HCI foundation of Nutanix's Enterprise Cloud OS, and Nutanix's AHV virtualization solution. AHV is an enterprise grade virtualization solution that is included with AOS, which can reduce costs and simplify virtualization management. Both companies have several customers leveraging the joint solution.
As customers extend computing environments to ROBO locations with Nutanix HCI, they also need a fully automated, zero touch physical network that provides visibility. To meet this emerging edge cloud use case, Big Switch is extending BCF's automation with HCI to ROBO edges.
Customers can now deploy lower-density, and hence lower-cost, switches thus optimizing rack space and power while ensuring Capex reduction with commodity open networking switches and hardware vendor choice.
Customers also benefit due to end-to-end consistency across data centers and edge clouds, including common cloud-style enterprise virtual private cloud (E-VPC) provisioning, common operational model, and single API interface. Big Switch's Multi-Cloud Director (MCD) further ensures 'one dashboard' management paradigm across dozens of data centers and edge locations, thus streamlining global provisioning and delivering centralized visibility and inventory.
"We are thrilled to have honored Big Switch at .NEXT Anaheim this year for its continued success with our customers," said Jay Chitnis, senior director of strategic alliances. "BCF is a highly complementary networking solution, offering automation of network provisioning and seamless integration with AOS. Joint customers benefit from full visibility of their data centers, providing them with a seamless way to manage multiple clouds and manage their Nutanix deployments at scale."
Big Switch is transforming data centers by leveraging public cloud constructs as first principles for architecting enterprise private clouds. BCF is a Virtual Private Cloud (VPC)-based logical networking fabric, optimized for Nutanix Enterprise Cloud, due to its native integration and network automation for HCI operations. With the BCF and AHV solution, DevOps teams can now experience the same agile operational workflows, automation, and simplicity of network provisioning as experienced in the public cloud, in their on-prem private clouds and ROBO edge clouds.
With BCF, networks operate with the same ease and agility that Nutanix provides for storage and virtualization. Network automation and real-time visibility remove bottlenecks typically experienced with traditional designs that are manual, switch-by-switch architectures, based on legacy CLI commands. The BCF controller acts as a single point of integration with Nutanix Acropolis through Prism Element to offer Enterprise-VPC (E-VPC) logical networking to provide the following benefits: automation, visibility, troubleshooting, and analytics.
"Successful data center transformation necessitates infrastructure that is built with cloud architectural principles and delivers cloud-style speed, simplicity and economics. Both Big Switch and Nutanix have embraced cloud principles as first principles to architect enterprise private clouds and hence our partnership is a natural one," said Prashant Gandhi, chief product officer, Big Switch Networks. "The AWS-style network simplicity and automation of Big Cloud Fabric, based on VPC on-prem technology, delivers the best networking solution for Nutanix AHV, bringing DevOps teams unprecedented cloud-speed agility for any application."