Robin.io in Technology Collaboration With Red Hat
To bring data management to power stateful applications on Red Hat OpenShift
This is a Press Release edited by StorageNewsletter.com on May 14, 2019 at 3:09 pm
Robin.io, (Robin Systems, Inc.) provider of the hyperconverged Kubernetes platform, joined Red Hat's technology partner program, Red Hat Partner Connect, and ROBIN Storage has achieved Red Hat OpenShift Operator Certification.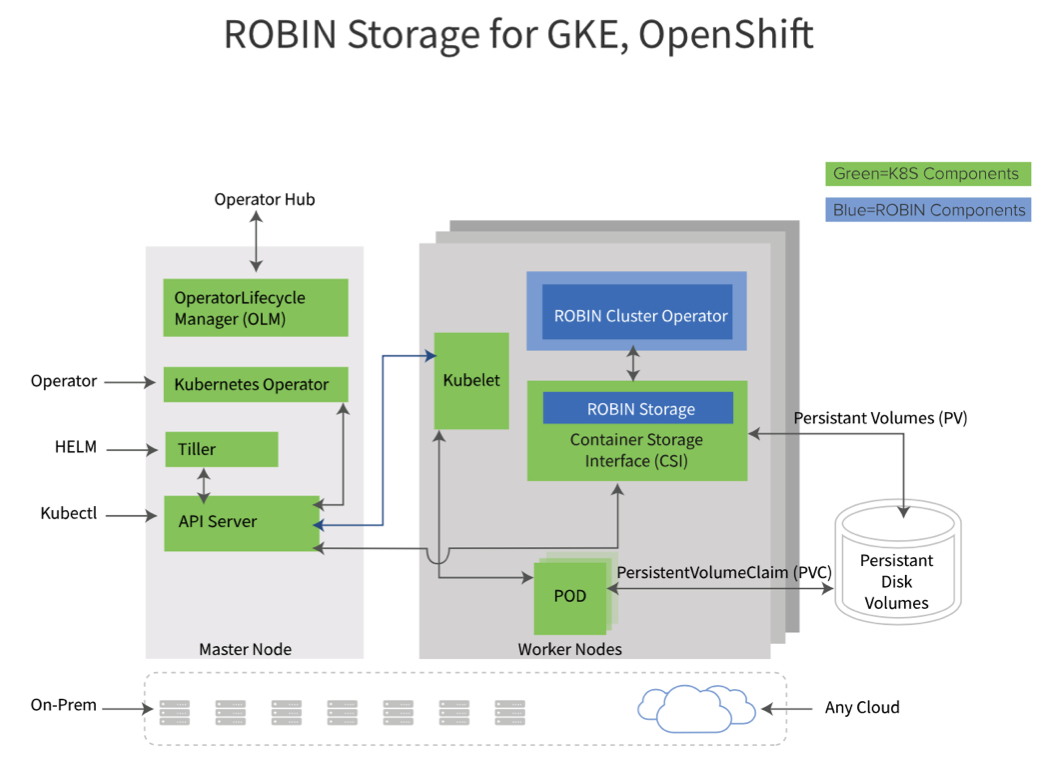 OpenShift Operator Certified, the ROBIN Storage Operator provides data management capabilities for running enterprise stateful workloads on OpenShift.
ROBIN Storage will be featured on the OperatorHub and by declaring it as the storage class, operators and applications can gain the data management capabilities for more effective life cycle management.
Backed by the engineering-engineering partnership with Google Cloud Platform that was announced at the Google Cloud Next '19, ROBIN Storage enables customers to bring enterprise stateful and data-intensive applications including MySQL, Postgres, MongoDB, MariaDB, Elastic, Kafka, Splunk etc. to Kubernetes platforms such as GKE/Anthos and Red Hat OpenShift.
ROBIN Storage Operator on OpenShift brings: 
Application-aware storage with data management capabilities to Kubernetes-native frameworks including Helm and Operators
Bare-metal performance for running enterprise-critical applications
Enterprise data services such as inline compression, thin provisioning and data-at-rest/at-motion encryption.
Powerful hybrid cloud capabilities such as cloning an application using the snapshot feature and rehydrating in multiple availability zones
Support for rapid failover of pods to meet enhanced application SLAs
ROBIN Storage is architected to address the needs of customers implementing a hybrid strategy and/or multi-cloud strategy which involves migrating apps plus data from on-premises data centers to the cloud. The OpenShift Operator Certification provides additional validation for customers running ROBIN Storage with Red Hat OpenShift to have a better experience when onboarding enterprise stateful workloads.
"The number of stateful workloads being deployed in containers by public cloud infrastructure as a service (IaaS) providers and the number of pulls from container registries of popular repositories, such as MongoDB, MySQL and PostgreSQL, is rapidly increasing," according to a January 29, 2019 Gartner report, An I&O Leader's Guide to Storage for Containerized Workloads, by VP analyst, Julia Palmer and distinguished VP analyst, Arun Chandrasekaran.
"We're excited about collaborating with Red Hat, a leader in the Kubernetes ecosystem, and ROBIN Storage being a certified block storage solution for OpenShift to run stateful applications," said Partha Seetala, co-founder and CTO, Robin.io. "ROBIN Storage allows all lifecycle operations to be performed in the context of the entire application, not just the storage volumes – making a difference for enterprises. We look forward to a long relationship with Red Hat to support OpenShift customers in modernizing stateful applications to achieve greater agility, efficiency and portability."
"In working with Robin.io in the Red Hat OpeShift Operator Certification we are thrilled that Robin.io Operator is available on Red Hat OpenShift Container Platform, the industry's most comprehensive enterprise Kubernetes platform," said Julio Tapia, director, cloud platforms partners ecosystem, Red Hat. "Kubernetes Operators are appealing because they help encode the human operational logic normally required to manage services running of a Kubernetes-native application and aim to make day-to-day operations easier. By providing Operators on Red Hat OpenShift, users can begin experiencing the next level of benefits from a Kubernetes-native infrastructure, with services designed to 'just work' across clouds where Kubernetes runs." 
About Red Hat Operators and OperatorHub.io
Introduced by CoreOS in 2016, and championed by Red Hat and a large portion of the Kubernetes community, the Operator pattern enables a new way to automate infrastructure and application management tasks using Kubernetes as the automation engine. With operators, developers and Kubernetes administrators can gain the automation advantages of public cloud-like services, including provisioning, scaling, and backup/restore, while enabling the portability of the services across Kubernetes environments regardless of the underlying infrastructure.
ROBIN Storage Operator will be available on the Operator Hub.io and as a Red Hat OpenShift Certified Operator. Robin showcased the solution at the Red Hat Summit in Boston, MA on May 7-9, 2019. ROBIN Storage is also available at Google Cloud Platform Marketplace.