NetApp: ONTAP 9.6 Data Management Software, and NVMe AFF A320 Storage System
For hybrid multicloud with simplicity, operational efficiency and data protection
This is a Press Release edited by StorageNewsletter.com on May 13, 2019 at 2:33 pm
NetApp, Inc. announced ONTAP 9.6, a midrange, end-to-end NVMe AFF A320 storage system and an expanded portfolio of services to help businesses maximize the value of their data.

The company's cloud-connected flash solutions, an element of a Data Fabric strategy, provide the simplicity, operational efficiency and protection needed to support innovation, add performance and power the demanding data sets and technologies, such as AI or 5G networks. The firm delivers everything that companies need to build their own Data Fabric that spans public cloud, private cloud and on-premises environments. With Nthe company's solutions, this Data Fabric can deliver applications that engage users and can provide analytics that turn insights into a competitive advantage.
AFF A320

"As enterprises evolve to new, more data-centric business models where data is a key strategic resource, data availability requirements are on the rise," said Eric Burgener, research VP, infrastructure systems, platforms and technologies group, IDC. "NetApp's cloud-connected flash solutions, coupled with their Data Fabric strategy, provides the performance, availability, agility and simplicity enterprises undergoing digital transformation need in their hybrid cloud infrastructure to create and leverage innovative business opportunities."
"In advances that are coming our way, like 5G networks, we can see that a company's ability to generate, gather and disseminate a massive volume of data will be enabled like never before and companies that aren't ready are going to be overwhelmed," said Joel Reich, EVP, storage systems and software, NetApp. "With NetApp ONTAP, organizations can overcome the challenges introduced by these data-intensive technologies and cutting-edge innovations with a smart, powerful, and trusted solution that maximizes the value that organizations can derive from data."
Maximizing value in hybrid cloud
By accelerating applications painlessly and by delivering simplicity and security for a future-proof infrastructure, ONTAP 9.6 data management software allows organizations of all sizes to maximize the value of data and take on new data-driven initiatives.
It includes the following enhancements:
Midrange end-to end NVMe system
Last year the company introduced the AFF A800, an end-to-end NVMe system with performance and data services that are backed by the 'Efficiency Guarantee'. With this announcement, the firm has extended these benefits to the mid-range market.
The AFF A320 system enables customers to:
Accelerate traditional and emerging enterprise applications such as artificial intelligence and deep learning, analytics, and databases with low latency.

Reduce data center costs by consolidating applications with a powerful system.

Future-proof their environment with NVMe technology, 100GbE, and cloud integration.
Click to enlarge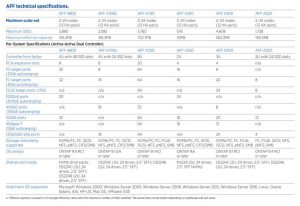 Expanded services portfolio to meet broader customer needs
Customers can rely on the company's standards-based best practices and engineers to improve and performance and to protect against business disruption and data loss.
The company's expanded services portfolio includes:
SupportEdge Prestige offers a high-touch, concierge level of technical support that resolves issues faster through priority call routing. Customers are assigned a designated team of the firm's experts and receive specialized reporting, tools, and storage environment health assessments.

Tiered Deployment Service accelerates time to value for the firm's technology and reduces the risk of improper installation or misconfiguration. Three quality options include 'Basic, Standard and Advanced Deployment', each aligned to customer business objectives.

Managed Upgrade Service is a remotely delivered service that reduces security risks by ensuring the company's software is always up to date with security patches and firmware upgrades.
Click to enlarge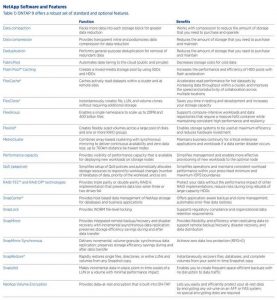 Resources:
Blog: AFF A320: NVMe Building Block for the Modern SAN    
Blog: Drive More Simplicity, Efficiency, and Security with ONTAP 9.6