Portworx Enterprise V.2.1 Cloud-Native Storage and Data Management Platform
Solving challenges for deploying stateful containers: security and DR, enterprise security controls and Zero RPO DR extend applicability of Kubernetes in enterprise
This is a Press Release edited by StorageNewsletter.com on March 29, 2019 at 2:24 pm
Portworx, Inc. announced Portworx Enterprise 2.1, an update to its cloud-native storage and data management platform with features focused on security and DR.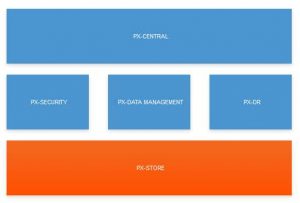 New role-based access controls come as part of PX-Security, enabling organizations to set access ownership and access controls on a per container data volume basis, integrated with their corporate authorization and authentication system.
Portworx is also introducing PX-DR, which enables DR with zero data loss, known as RPO zero, between data centers located in a single metropolitan area. This release makes Portworx Enterprise a cloud native storage and data management platform that offers role-based data access controls and RPO zero DR integrated with Kubernetes.
Click to enlarge

Enterprises of all sizes and industries are leveraging cloud-native technologies like containers and Kubernetes to transform business. However, more than 57% of enterprises list security as the top barrier limiting container adoption, with over 20% listing DR as the top barrier. By solving these  barriers, the company provides enterprises with confidence that their applications can safely and securely run on the Kubernetes platform, and recover if a failover occurs.
"Adoption of container technologies is rapidly increasing in the enterprise, with nearly half of businesses already running apps on Kubernetes in production. But Kubernetes alone is not able to meet the complex requirements that today's businesses face," said Murli Thirumale, co-founder and CEO, Portworx. "Unless Kubernetes can be augmented to meet the requirements of mission critical enterprise applications – data security, data protection, backup and recovery, SLA management, and compliance – its power to drive digital transformation will be incomplete. Portworx is solving the hard, non-negotiable business requirements for running data services in containers with the aim of enabling complete digital transformation."

PX-Security
Traditional authentication systems are typically implemented via integration with enterprise-standard systems like Active Directory or LDAP. Kubernetes does not currently enable organizations to authorize and authenticate access to data using these tools. This means businesses could potentially have an authorized Kubernetes user who is able to access a data volume that may not be appropriate for their role or job.
The company's role-based security features extends the Portworx Enterprise platform for new classes of applications with sensitive data. The core feature of PX-Security was previously container-granular bring-your-own-key encryption. Now, PX-Security is extended to include container-granular role-based authentication, authorization, and ownership in addition to encryption. Organizations can now set access controls on a per container data volume basis, integrated with their corporate authorization and authentication system.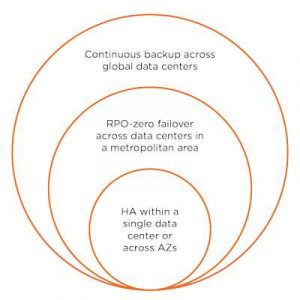 PX-DR
No truly mission critical application can run in Kubernetes without a strong DR plan. With Portworx Enterprise 2.1, the firm takes the first step towards Kubernetes-native DR by introducing PX-DR. It enables two additional levels of , a protection beyond single-data center and multi-availability zone HA that is available. First, DR with zero data loss between data centers located in a single metropolitan area. Most cloud providers and co-location facilities popular with enterprises have data centers located in major metropolitan areas, providing a range of data centers that can serve as a Kubernetes DR site. Examples include, but are not limited to, Azure US East to AWS US East; Azure Germany Central to AWS Europe Frankfurt; Google Cloud sia-east2 to Azure East Asia; any AWS ata center to 'Direct Connected Colo' facility.
Second, the company's solution enterprise also provides an additional level of DR for geographically dispersed data centers with continuous incremental backups. Taken together, the solution provides three levels of HA and data protection for mission critical apps: within a single data center or multi-availability zones; across data centers or clouds within a metropolitan area; and across data centers spanning the world.
"Cloud native technologies like Kubernetes enable a modern foundation for speed and openness to build the best solutions for our customers. Yet data security, mission critical stateful apps and always-on data are always top of mind, and solutions for these are an important part of our container strategy," said Dave Carlisle, CTO, global, Hewlett Packard Enterprise Development LP. "Portworx is helping us realize our own digital transformation goals and is a foundational part of our stack. Portworx has solid tech, great people and great support backing us up – you can't ask for much more."
The features are available in Portworx Enterprise 2.1 beginning April 20, 2019.
Resources:
Companies use Portworx   
Kubernetes Storage
Read also:
Portworx Lands Oversubscribed $27 Million Series C
Total of $55.5 million in financing to date
March 21, 2019 | Press Release