Tuxera Teams With Marvell
For joint offering demonstrating shared NVMe-oF SSD storage for automotive ECUs
This is a Press Release edited by StorageNewsletter.com on March 22, 2019 at 3:08 pm
Tuxera Corporation, a storage software and networking technology company, announced its co-operation with Marvell Semiconductor, Inc., to bring scalable shared storage infrastructure to autonomous and connected cars.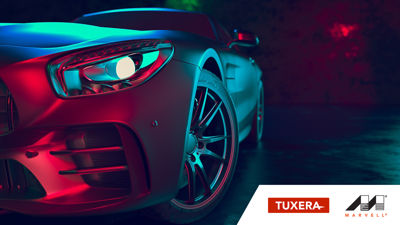 Combining Tuxera's storage software expertise and Marvell's connectivity and NVMe-oF SSD storage technology, the companies are tackling the growing demand for reliable storage – enabling data-driven applications for Tier-1s and OEMs. The companies are showcasing their joint PoC at Embedded World 2019, with the live demonstration accessible to the public during the show hours at Tuxera's booth.
"We are proud to announce our collaboration with Marvell and to showcase our combined technological offering. Connected cars are becoming extremely data-driven. There are more and more use cases where same data needs to be accessible for multiple domains of the car. This makes the traditional storage stack of the car extremely inefficient – creating a demand for more advanced alternatives. Working together with Marvell, we are enabling these trends – offering a multi-purpose centralized storage infrastructure with minimal footprint for the hardware stack. We look forward to continuing our co-operation with Marvell," says Severi Tikkala, director of automotive business development, Tuxera.
"Applications such as Advanced Driver Assistance Systems, infotainment and telematic control units are driving increased bandwidth requirements in the vehicle, making the connected car a data center on wheels. However, traditional architectures bring islands of storage in each individual system, which can result in over-subscription of NVMe SSDs, eMMC or UFS flash storage. Through our collaboration with Tuxera, we are demonstrating a new approach that enables file sharing between different electronic systems in the car. Marvell expertise in data center storage along with Tuxera software provide a cost-effective and scalable platform to share data between systems for improved manageability and reliability," said Johnny Lam, director of automotive business development, Marvell.
As new data-driven applications continue to arise in the ECUs, it becomes critical that the network access data locally to make immediate decisions in a car. Marvell's NVMe-oF SSD controller and networking switching technology coupled with Tuxera technology is designed to help accelerate data and storage in a car reliably and securely. The storage infrastructure continues to gain in complexity and such environments define high-requirements for storage in a car, creating a demand for innovative solutions that can handle the high bandwidth of data, while keeping the infrastructure cost-efficient.
Showcasing the partnership at Embedded World
Tuxera and Marvel showcased a proof of concept of their joint offering at the Embedded World 2019 exhibition in Nuremberg, Germany on February 26 to 28. Technologies used in the project include Tuxera's VelocityFS in a multi-OS environment and Marvell's NVMe-oF to NVMe SSD converter controller, NVMe SSD controller and networking switch products, showcasing connectivity between multiple computing devices.