Embedded World: Greenliant Systems Showcased PX Series SATA 2.5-Inch, SATA M.2 2242 and CFast ArmourDrive SSD
With TLC 3D NAND flash memory and 6Gb SATA interface
This is a Press Release edited by StorageNewsletter.com on March 5, 2019 at 2:36 pm
Greenliant Systems Ltd. expanded its portfolio of ArmourDrive SSD modules with PX Series SATA 2.5″, SATA M.2 2242 and CFast products to give customers a wider choice of form factors and capacities.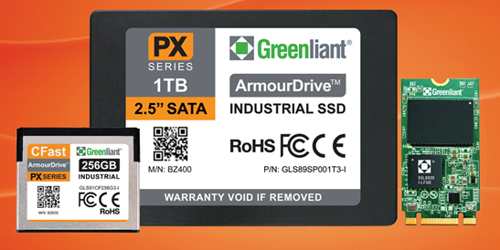 ArmourDrive SSDs can be used in a variety of embedded systems that require reliable, rugged and removable storage.
These products join mSATA and SATA M.2 2280 in the ArmourDrive family of industrial temperature (-40°C to +85°C) SSDs that are capable of withstanding extreme environments.
The company's industrial SATA M.2 2242, SATA 2.5″ and CFast storage products are the latest additions to its growing ArmourDrive portfolio. These products join SATA M.2 2280 and mSATA ArmourDrive SSDs, giving customers a wider choice of form factors and capacities for reliable removable storage.
Using TLC 3D NAND flash memory and supporting a 6Gb SATA interface, PX Series ArmourDrive products provide cost-effective and performance removable solid state storage for industrial, transportation, networking, medical, video and imaging applications. ArmourDrive SSDs support advanced power-fail data protection and are tested for shock and vibration.
"The introduction of our 2.5″, M.2, CFast ArmourDrive products bolsters Greenliant's commitment to being a 'one-stop shop' for high-reliability storage," said Arthur Kroyan, VP, business development and marketing, Greenliant. "By offering a growing portfolio of industrial SATA SSDs in BGA and removable form factors with capacities ranging from 2GB to 2TB, Greenliant addresses the needs of a wide spectrum of embedded applications."
The company is sampling SATA M.2 2242, SATA 2.5″ and CFast products to customers on select product engagements, and expects to start shipping in volume production in early 2Q19.
The company has previewing the expanded ArmourDrive lineup at Embedded World 2019 in Nuremberg, Germany, February 26-28.