Greenliant Unveils High Endurance SSDs
Can reach up to 250,000 program/erase cycles.
This is a Press Release edited by StorageNewsletter.com on December 18, 2018 at 1:13 pm
Greenliant Systems Ltd. introduced a class of ultra-high endurance SSDs that can reach up to 250,000 program/erase (P/E) cycles.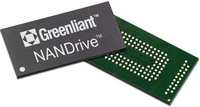 These 1-bit-per-cell (SLC) SSDs are part of EnduroSLC product line, which offers various endurance specifications – 50,000, 100,000 and 250,000 P/E cycles-for demanding industrial applications.
NANDrive SSDs, enabled by EnduroSLC technology, provide embedded systems designers with more options when choosing storage products for long life applications. Using NAND flash management algorithms and hardware ECC capabilities, the company can increase the life of its reliability NANDrive SSDs for customers requiring superior endurance and data retention for extended periods of time.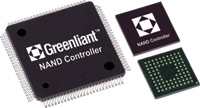 High endurance NANDrive SSDs are suited for write-intensive applications used in high temperature, high stress environments, such as aviation, rail transportation, marine equipment, seismic instrumentation, data loggers, base stations, industrial control and factory automation.
The firm's NAND controllers optimize NAND flash use and extend the lifespan of aging NAND, achieving the longest device lifetime possible. All EnduroSLC-based products operate at industrial temperatures, between -40 and +85°C.
"Greenliant's EnduroSLC Technology takes NAND flash management to the next level, achieving ultra-high endurance capabilities unparalleled in the industry," said Arthur Kroyan, VP, business development and marketing, Greenliant. "With EnduroSLC-enabled SSDs, it is now possible to meet the most challenging data retention requirements for applications with write-intensive workloads."
The company is sampling 50K, 100K and 250K endurance eMMC 5.1 NANDrive SSDs to customers on select product engagements.