Electronica: Greenliant Sampling 87 PX Series SATA M.2 ArmourDrive SSD
32, 64, 128, 256, 512GB, and 1TB, up to 550/500MB/s sequential R/W
This is a Press Release edited by StorageNewsletter.com on November 23, 2018 at 2:16 pm
Greenliant Systems Ltd. is growing its portfolio of ArmourDrive SSD modules with the introduction of 87 PX Series SATA M.2 products.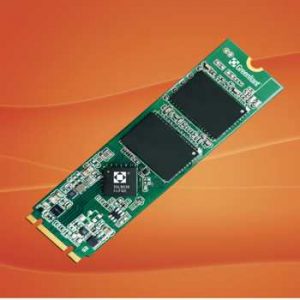 Designed for embedded systems requiring removable storage that can operate in extreme environments, industrial temperature (-40°C to +85°C), SATA M.2 ArmourDrive SSDs are built in the widely used 2280 form factor.
With reliability and low power consumption, the SSDs can be used in a multitude of applications, including IoT devices, industrial automation, servers, networking equipment, digital signage, surveillance and video conferencing systems.
It supports the SATA 6Gb interface and can reach up to 550/500MB/s sequential R/W performance. Using 3-bits-per-cell (TLC) 3D NAND flash memory, 87 PX Series SATA M.2 ArmourDrive is tested to give customers cost-effective and reliable removable solid state storage for space-constrained systems.
Benefits of 87 PX Series SATA M.2 ArmourDrive SSDs include:
Capacities: Available in 32, 64, 128, 256, 512GB, and 1TB

Industrial temperature: Operates between -40°C and +85°C

Built-in ECC: Uses advanced LDPC bit error detection and correction optimized for 3D NAND

Flash management: Extends SSD longevity using dynamic and static wear leveling

Data security: Supports 'Secure Erase' for quick data wipe/factory reset
"With the introduction of SATA M.2 ArmourDrive, we continue to expand our range of industrial SSDs for high growth networking, security and video markets," said Arthur Kroyan, VP, business development and marketing, Greenliant. "SATA M.2 ArmourDrive offers a greater selection of capacities and builds upon Greenliant's mSATA ArmourDrive valued by customers for its reliability, data security and long-term support."
The company is sampling 87 PX Series SSDs to customers on select product engagements.
Read also:
Electronica: Greenliant Showcases NANDrive and ArmourDrive SSD Series
NANDrive in three different interfaces: eMMC, PATA, and SATA
2018.11.16 | Press Release