Supercomputer: Pavilion Data Demonstrated Fast Rack-Scale Flash Array
Write speeds of 60GB/s for single system or 15GB/s per rack-unit with RAID-6 enabled
This is a Press Release edited by StorageNewsletter.com on November 21, 2018 at 2:36 pm
Pavilion Data Systems, Inc. announced the latest version of its rack-scale flash array, delivering high write performance and bandwidth.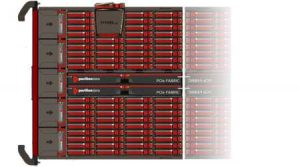 The company achieves write speeds of 60GB/s for a single system or 15GB/s per rack-unit with RAID-6 enabled, allowing high-ingest, low-latency applications such as large-scale data analytics to process larger volumes of data faster. This product release also includes encryption-at-rest with third-party key management framework integration for protecting sensitive user data in high-security environments.
The company has demonstrated multiple high-performance workloads at SC18, in Dallas, TX. The firm has used genomics multivariant testing analysis to demonstrate rack-scale shared NVMe storage to accelerate human genome analysis. The company has showcased the results of the SPEC-FS benchmark in a clustered file system environment using GPFS with shared, rack-scale flash storage.
"At the Texas Advanced Computing Center (TACC) we are committed to enabling discoveries that advance science and society through the application of advanced computing technologies. The performance offered by Pavilion Data systems, along with their flexibility and adherence to standards, will help us to provide researchers with unique data-intensive computing resources," said Chris Jordan, lead, data management and collections group, Texas Advanced Computing Center.
"Achieving this level of performance is an exciting milestone for us as we continue to deliver the performance, functionality and reliability that enable our customers to realize the benefits of disaggregated storage in rack-scale environments. Thanks to industry leaders such as Texas Advanced Computing, we are able to define a product roadmap that is disrupting traditional thinking about high-performance storage architectures," said Gurpreet Singh, CEO, Pavilion Data.