Zadara Storage Adding AFAs, Advanced Features to Service Offering
With compression and de-dupe
This is a Press Release edited by StorageNewsletter.com on 2018.10.12
Zadara Storage, Inc. announced enhancements to its service offering, focusing on eliminating the technical, operational, and financial risks associated with enterprise storage and management.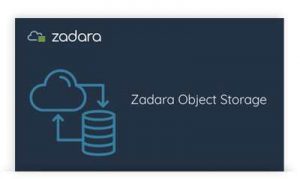 The expanded service portfolio is the result of over 1.5 years R&D effort and represents a significant development to its storage-as-a-service value proposition, especially in the flash storage market. The company's offering includes an all-flash array that features data reduction techniques such as compression and deduplication. This lowers customers' TCO as the firm's usage-based pricing model means that they only pay for the storage they consume.
Further enhancements include:
Security enhancements for increased peace of mind: The company has introduced a number of enhanced security features in order to keep its customers' critical data safe in the face of increasingly sophisticated threats. These include dual-factor authentication and integrated McAfee, Inc.'s anti-virus protection. In addition, encryption is available for object storage and supported at the container level.

Troubleshooting: The firm's customers can take advantage of a performance monitoring tool which allows them to check and monitor the behaviour of each element that can affect overall storage performance. This helps them to locate potential bottlenecks and troubleshoot performance issues before they affect the end-users.

Erasure coding for higher reliability: Zadara Object Storage supports erasure coding that provides protection from double failures at 66% capacity utilisation.

Improved management portal for increased manageability: The next generation of the company's offering also includes key enhancements to its web-based management portal, all aimed at improving manageability. These include a brand dashboard providing an overview of storage health, capacity and performance. A complementary provisioning portal provides further insights into storage usage and efficiency.
"The enhancements to our service offering support our mission to deliver zero-risk enterprise cloud storage. We are proud of our ability to provide customers with all the features they expect from an enterprise storage solution as a fully-managed service. But it is not only about technical prowess; by offering all these services within our pay-as-you-go model we help customers eliminate unnecessary investments and reduce their TCO," said Nelson Nahum, CEO and co-founder, Zadara.
"Last year we switched to all-SSD storage for performance reasons. Zadara's new deduplication and compression capabilities reduce our capacity requirements by 30%, allowing us to scale up while driving costs down", said Bernie Velivis, manager, cloud operations and services, Omnitracs.
The company uses a combination of industry-standard hardware and patented firm's software to deliver enterprise storage and management - with the convenience of the cloud. Customers have flexibility of choice when it comes to their installations as the company supports all protocols, data types and locations. In addition, thanks to the firm's usage-based pricing model, customers only pay for the storage they consume, meaning they can scale their capacity up and down as needs change.
The company's solution is available via public clouds, including AWS, Google Cloud Platform and Azure, MSPs, data centres, colocation partners, and on premises in customers' data centres.