Commvault GO: Infinidat Shows InfiniGuard 3.0 BC Solution
Up to 40PB capacity, expanding API integration and InfiniMetrics support, doubling number of front-end ports, supporting 16Gb FCl or 10GbE, and adding NetBoost support for Oracle-RMAN on AIX and NetBoostFS for Linux
This is a Press Release edited by StorageNewsletter.com on 2018.10.12
Infinidat Ltd. showcased its InfiniGuard 3.0, the company's recently updated BC solution, as well as the company's tier-1 storage solutions and services for on-premises data protection at Commvault GO in Nashville, TN.
Click to enlarge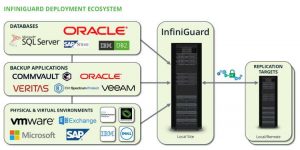 InfiniGuard offers availability, restore performance and ease-of-use for companies that place the highest value on their BC capabilities.
"In the time InfiniGuard has been in the marketplace, we have received an incredible response from customers, validating the need for higher capacity while delivering market-leading restore performance," said Robert Cancilla, EVP, business development and global alliances, Infinidat. "There's no doubt that InfiniGuard addresses a need not addressed by others in the marketplace. We look forward to attending Commvault GO and sharing more about Infinidat's storage solutions."

InfiniGuard 3.0 updates include:
Doubling the single rack usable capacity to two petabytes, increasing the effective capacity up to 40PB, while maintaining restore performance

Expanding the API integration and InfiniMetrics support for more comprehensive system monitoring and management

Doubling the number of front-end ports, supporting 16Gb FC or 10GbE

Adding NetBoost support for Oracle-RMAN on AIX and NetBoostFS for Linux
Visitors will learn how Infinidat's architecture enables better restore performance and higher availability with better overall TCO at scale than other broadly implemented, purpose-built backup systems.