Final Figure: 96 Million HDDs Shipped in 2Q18, Up 3% From 1Q18, Same Number in 2Q17 – Trendfocus
WD regained top position in front of Seagate and continuing to largely beating Toshiba.
This is a Press Release edited by StorageNewsletter.com on August 30, 2018 at 1:44 pm
This is a report entitled SDAS: HDD Information Service – August 17, 2018 CQ2 '18 Quarterly Update and Revised Long-Term Forecast published by Trendfocus, Inc.
CQ2 '18 Exabyte Grow to 214.60 On Modestly Higher HDD Unit Shipments
Higher-capacity nearline mix boosts average capacity and revenue
for the quarter
HDD Market Summary, CQ2 '18
Total HDD Market Shipments, by Supplier, Units (in million)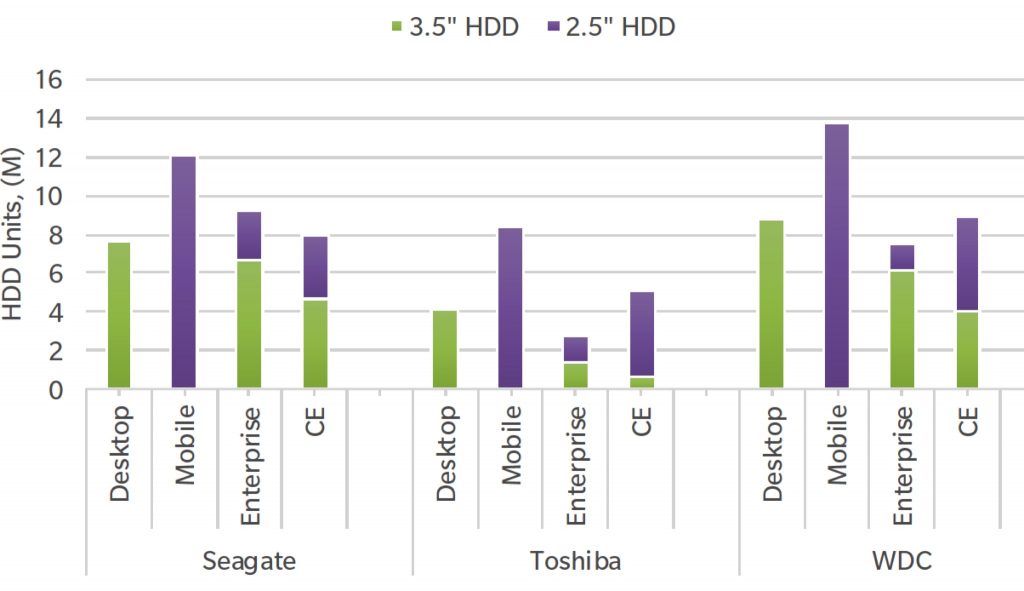 Total capacity shipped grew by 5.2% Q/Q to 214.60EB, breaking the previous record of 204.07EB set in the quarter just prior.
The first two calendar quarters of the year are generally the lowest points of the year for HDD sales because of softer PC and game console sales, and CQ2 unit shipments were just marginally better than CQ1 at 96.38 million.
The bright spot of the market continues to be the nearline HDD market, which posted another solid quarter with nearline HDD sales reaching 14.15 million units and totaling 104.35EB in CQ2. Client (mobile and desktop) HDD sales were lower Q/Q at 54.90 million, while CE HDD volumes grew solidly to 21.92 million as game console makers ramped up pre-holiday production.
Nearline, or capacity enterprise HDD, demand from hyperscale customers remained strong, posting another unit and capacity shipment record. Nearline capacity shipped of 104.35EB represented nearly 49% of all HDD exabytes in CQ2 '18. Reflecting the high capacity mix, 43% of all nearline units shipped were at capacities of 10TB or higher. On the performance enterprise side of the market, units slipped 4.4% sequentially to 5.41 million units. With shifts in the supplier base for performance enterprise HDDs expected in 2019 along with sustained demand in cost-sensitive OEM enterprise systems, shipments in 2018 will hold essentially flat to the prior year, before continuing to give way to SSDs and other end-market changes through 2022.
Seagate's market lead over WDC was short lived, as WDC regained the top position by shipping 39.03 million or 40% market share. Seagate's shipments for the quarter totaled 36.94 million, up slightly from the prior quarter while Toshiba's shipments slipped marginally Q/Q to 20.41 million.
For the industry, revenue for the quarter improved to $6.52 billion, up from $6.46 billion in the prior quarter.
The nearline HDD segment is the only segment still aggressively seeking to increase per-drive capacity, as 1TB/disk mobile and 2TB/disk desktop designs seem more than sufficient to meet most client capacity requirements. Given the physical space constraints of nearline HDDs, HDD companies are utilizing alternative technologies and increasing disk counts to achieve higher storage capacities. SMR recently launched in 14TB nearline HDDs, and the technology will be used for the several generations even as HAMR (heat assisted magnetic recording) and MAMR (microwave assisted magnetic recording) are introduced.
Seagate is forging ahead with HAMR and the company confirms it will have limited volumes of HAMR-based HDDs in 2019 while Western Digital is committed to MAMR for its next generation products, and the company claims it can achieve over 4Tb/inch in time.
The first two quarters' totals are on pace with early year projections, and HDD unit shipments are expected to decline 3.2% in 2018.
Application-wise, nearline HDDs are tracking better than projections and will be able to offset the slightly lower client and CE sales. Exabytes shipped for the year will end higher than the original forecast due to strength of the higher-capacity nearline HDD volumes.
Revised Long-Term Forecast
NAND supply reached equilibrium with demand as expected, and SSD adoption is accelerating again with pricing declines. This will have the most visible impact on the mobile HDD segment, as notebook PCs migrate to SSDs, but the strength of the nearline HDD market will offset some of the mobile HDD volume loss. The outlook for the CE market, which is dominated by game console and surveillance, has not changed materially from earlier this year, and the forecast remains relatively intact.
The 5-year HDD forecast has been updated, and it reflects only a minor change from the forecast published earlier this year. Unit shipment CAGR through 2022 remains in the same range as before at -4.8% given the modest changes to the client PC and CE market outlook.
Given the declining market outlook, HDD companies have begun to adjust resources. Western Digital recently announced it will be closing its Kuala Lumpur HDD factory by the end of next year. More consolidation is expected as the HDD total TAM continues to shrink to around 300 million within five years. However, despite manufacturing (assembly) capacity declining, HDD companies will still have to invest in testing capacity and heads and media in order to keep up with nearline HDD market growth.